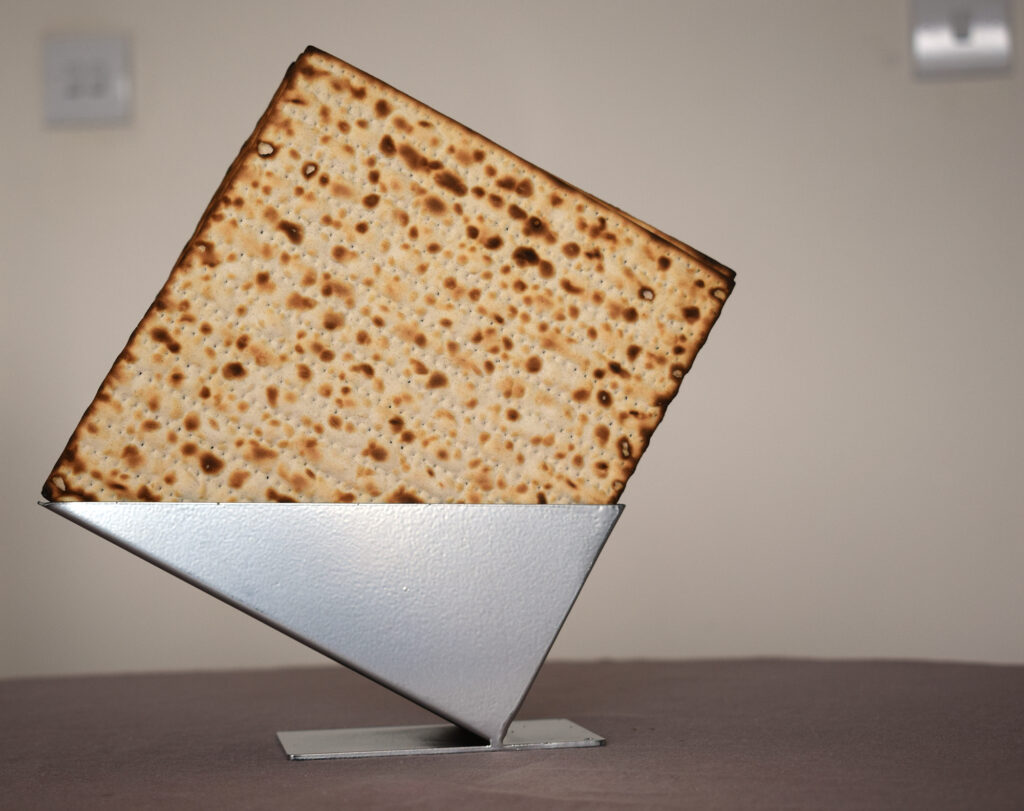 Photo: Courtesy of Judaica in the Spotlight
Product: Pyramid Matzah Holder
Material: Metal (comes in a silver or a gold version)
Dimensions: L 19 cm, W 8 cm, H 8 cm
Our verdict: Perfect addition to any Passover table!
Are you looking for something new to add to your Passover table? If you tend to celebrate the holiday in a larger group, you will be too familiar with the annual question about where to put all the Matzot for your guests. On individual side plates? Piling them for at least four people on a separate plate and putting it in the middle of their section of the table? Won't this be a massive waste of space? How about only distributing the Matzot when required? Now we can all agree that this is far from ideal! Don't worry, we have the solution for you.
Or, we should rather say that Artori Design has the solution for you! Artori Design is known for their beautiful decorative metal kitchen and home accessories for the contemporary home, ranging from kitchen towel holders to bookends. Just in time for Passover, Ori came up with a spectacular Upright Matzah Holder!
Inspired by the shape of Egyptian pyramids, this stunning Matzah holder offers a very elegant way to serve your Matzot. The best part? You will be able to save a lot of space with this wonderful design on your dinner table! (Which of course is a big plus when it comes to storing it as well.)
We love clean designs when it comes to ritual objects as it fits anything else there may be on the table. You can go all out with the colour of your table linen, your table runners, as well as your chinaware; as long as the ritual items have a clean design, everything will fit together perfectly.
Are you invited to someone's place and don't know what to bring? Give the gift of space! Opt for one of Artori Design's stunning Upright Matzah Holders! They come in gold or silver, fit any table décor, and are easy to clean. On top of it, they are not just stylish and very chic, but affordable as well! A wonderful and very unique hostess gift for anyone close to you.
Order yours now to receive it in time for the holidays!
Photos: Courtesy of Judaica in the Spotlight
Did we get you into Passover mood? Then have a look at the beautiful Seder plates and Matzah Covers that will go wonderfully with this design.
40 + Seder Plates To Fall In LOVE With
15 + Matzah Covers & Afikoman Bags
We also suggest pairing Ori's unique design with Yael Harris Resnick's "Splitting of the Sea" artTrivet table runner. They will go wonderfully together!