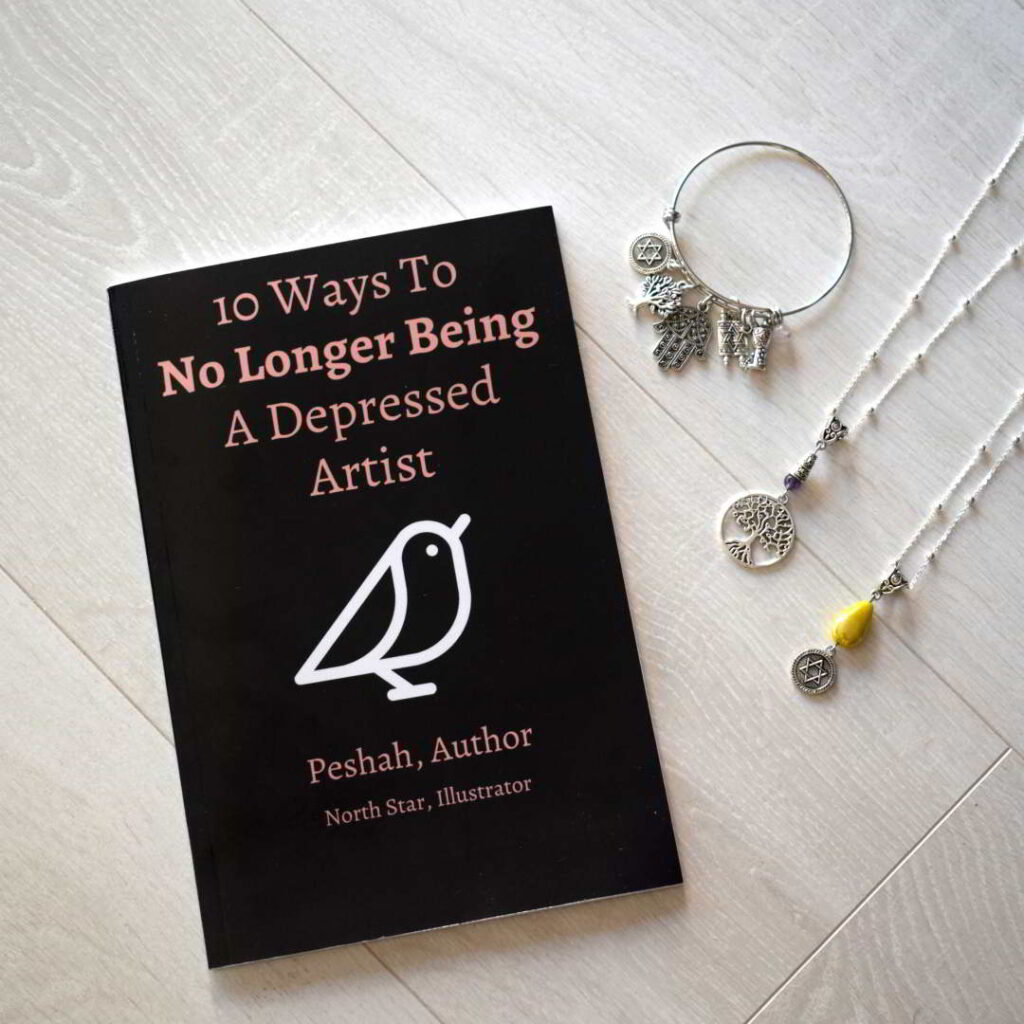 Image: Courtesy of Judaica in the Spotlight
First and foremost, we would like to thank Peshah Ann for kindly sending us a complimentary copy of her beautiful guidebook as well as some of her jewellery pieces for review.
Description:
10 Ways To No Longer Being A Depressed Artist is a quick read, filled with insights shared by the two most adorable companions – Swanky Genius and Lamp The Cat. It's sure to make any creator who feels stuck leave inspired!
Review:
Short, sweet and straight to the point. The ultimate feel-good guide you shouldn't miss from your bookshelf!
Peshah Ann has succeeded in creating the perfect pick-me-up for anyone who is feeling a bit down about their artistic work and life as a full-time artist. Her positivity and kindness can be felt on each and every page of this lovely guidebook. It reads like a hug on paper. Judgement free.
We can highly recommend 10 Ways To No Longer Being A Depressed Artist to anyone who feels that they are struggling in their artistic career.
Peshah's guidebook also makes the ideal present to gift to your artist-friends who have voiced that they are feeling depressed about their work and how artists are perceived in the world.
Her easy-to-follow steps are truly helpful and highlight wonderfully how you can enjoy creating again and focus on the bigger picture, while slowly but surely building your brand. Stress-free.
You can purchase your own copy of 10 Ways To No Longer Being A Depressed Artist here.
Peshah does not only spread joy with her writing but with her jewellery creations as well. You may have come across her brand, 12:13 Jewelry, before. Her designs are beyond gorgeous and make a fantastic addition to your own jewellery box as well as a superb present for someone close to your heart.
Interested in finding out more about both the author and illustrator of 10 Ways To No Longer Being A Depressed Artist? We have interviewed both of them for our magazine in the past.
You can find Peshah's interview here and North Star's here.
Happy Reading!