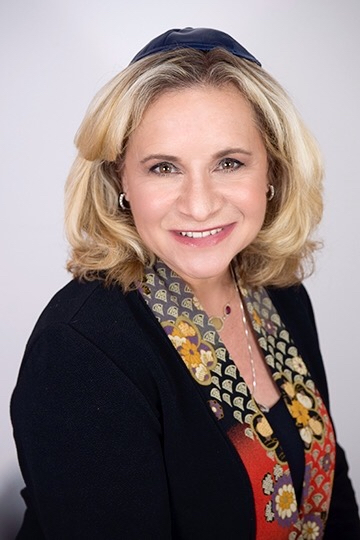 Photo: Courtesy of Cantor Katchko-Gray
Photo Credit: Kristen Jensen
Tell us a little bit about yourself and your background.
I'm a fourth-generation cantor, who loves folk music. I grew up on cantorial music from my famous grandfather, Cantor Adolph Katchko, my wonderful father, Cantor Theodore Katchko, and my mom, a great pianist and accompanist, organist Rita Katchko.
I especially loved the music of James Taylor, Judy Collins, Joni Mitchell and self-taught guitar from those musicians' recordings.
I started doing art seriously in high school, but maybe it started as a child making clothes for the troll dolls and decorating their homes from liquor store boxes and discarded things.
I'm a mom of four boys, now grown, with three amazing young granddaughters, and a grandson from my husband's oldest son.
What inspired you to become an artist?
I love being creative! As a musician it may be natural to explore and create. I drew, did clay and sculpture, weaving in high school and did some in college as well. When I met a woman who did Swedish weaving it got me very interested. I like the idea of making my four sons a handmade tallit to treasure.
What is your speciality?
I'd have to say Swedish weaving, though using sea glass on instruments is another favorite thing to do. Swedish weaving has been therapeutic for me, and I've made over a hundred or more prayer shawls, probably more – I can't count. I have a book out, Prayerful Creations which is a nice way to show my work.
Where do you take your inspiration from? Are you pursuing any themes?
I love Judaica, so I always use Jewish symbols, Jewish stars, Torahs, etc.
I love using colors in creative ways and like to find interesting combinations. Purples, greens, blues, shiny silver and gold are favorites.
Which project have you enjoyed working on the most so far?
That's hard to say. Every Tallit is unique and I love so many of them. I especially enjoyed recently making a Tallit for cellist Julian Schwarz, who plays the Kol Nidre at Central Synagogue. I made his Tallit with two lines of the Kol Nidre – his two favorites that he gave me. It is so special to see him wear it as he plays Kol Nidre. I just love that!
I also love to use personal fabric and incorporate that into the Tallit. My rabbi has a few that I made using pieces from the jacket that his mother, of blessed memory, wore to his Bar Mitzvah. Every time he wears it, he can feel his mother hugging him. I love that!
A rabbi passed away from our merged congregation, and I used a piece of his tie for a torah binder that I donated to the temple. When his mother saw it, she was overcome with emotion and I made her a challah cover using the same fabric, from a tie of her beloved son. Things like this make me happy.
What do you want to achieve with your work and what are your wishes for the future?
I just hope to continue and make special Tallitot for people who love to pray and wear them. I would like to find more cantors and rabbis who are interested in a personal tallit, the kind that I can make.
Where can we find your work?
The hashtag #prayerfulcreations showcases my work, my website is called www.cantordebbie.com , and my book Prayerful Creations features my designs as well.
I was just published in the book Modern Judaica as well. They did a lovely interview with photos of my work.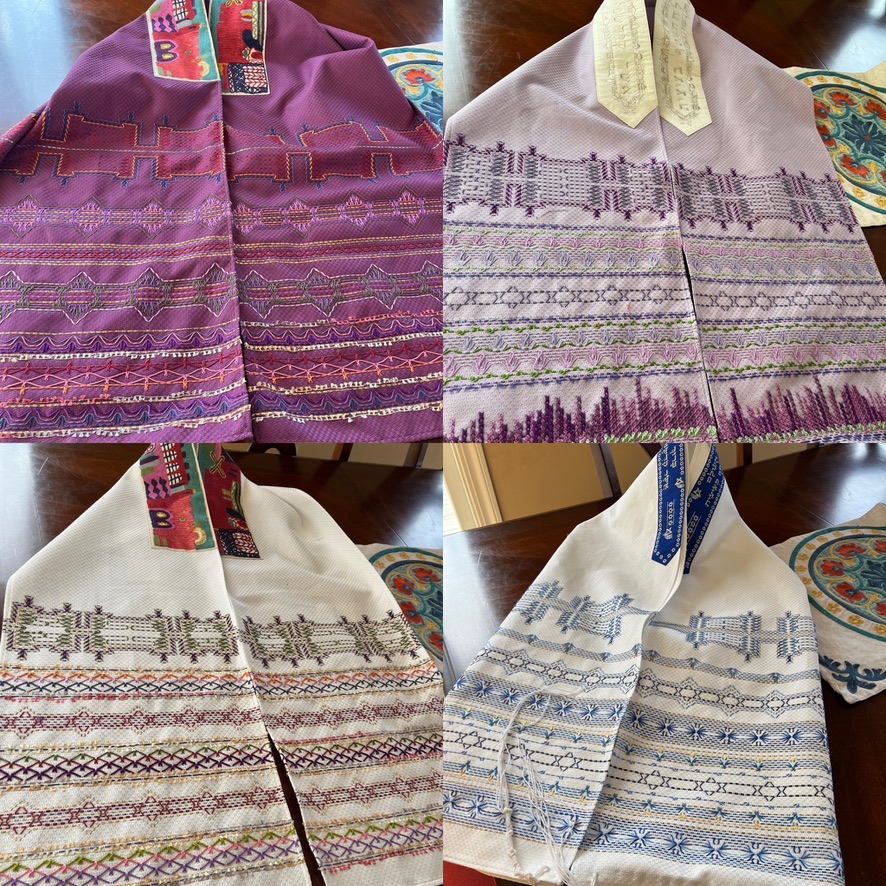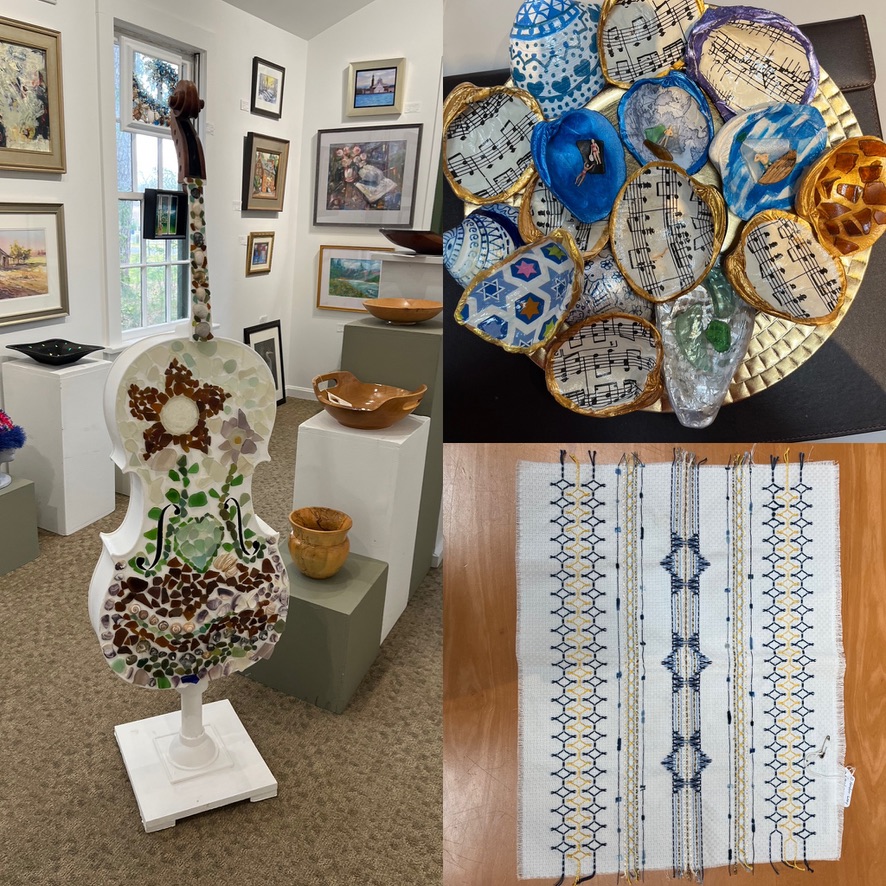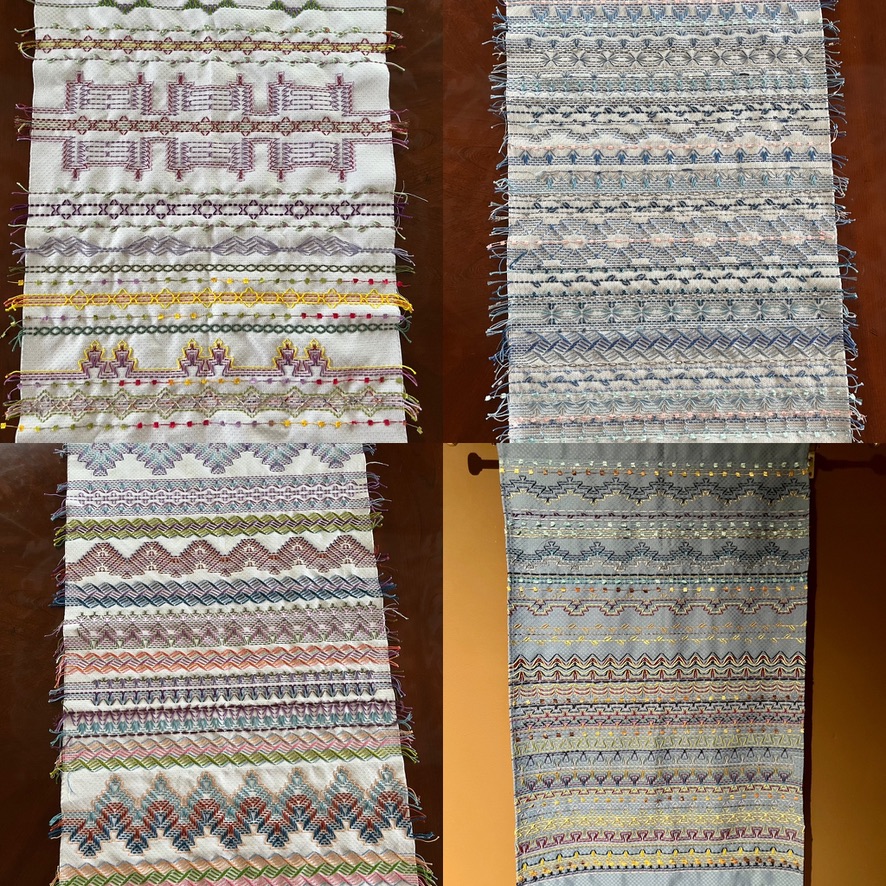 Photos: Courtesy of Cantor Katchko-Gray