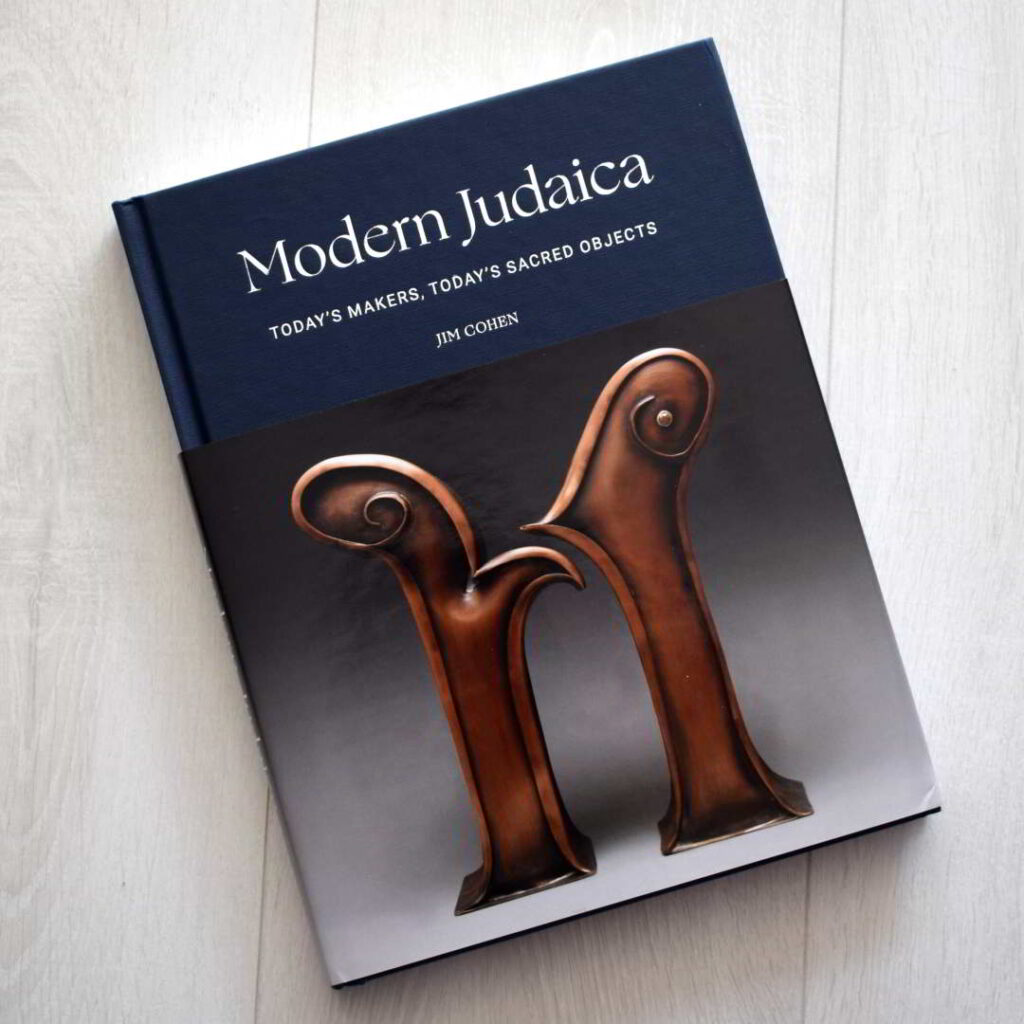 Image: Courtesy of Judaica in the Spotlight
Book Description:
For anyone with an interest in Judaica and sacred objects, this book presents some of the most outstanding examples of contemporary Judaica that have been created over the last 30+ years. Fifty-three makers have told their stories in their own words, giving incredible insights into why they make Judaica and what it means in their lives and in their journeys as artists. The featured works include Seder plates, ketubah (Jewish marriage documents), kiddush cups, hand-lettered Torahs, and even a Tefillin Barbie. Stretch your perception of Judaica and gain insights into the next generation of makers and how Judaica responds to significant social issues affecting Jews and the world population as a whole. More than 250 color photographs illustrate the makers' works, and Jewish artists from the United States, Israel, Australia, Canada, the Netherlands, and the United Kingdom are featured.
About the Author:
Jim Cohen is a metalsmith, past president of the American Guild of Judaic Art, and past board member of the Society of North American Goldsmiths. He has exhibited and spoken on Judaica across the United States and lives in Durham, North Carolina.
Independent Review by Miriam P.:
First and foremost, we would like to thank Jim Cohen and Schiffer Publishing for sending us a complimentary copy of Modern Judaica: Today's Makers, Today's Sacred Objects.
As you already know, we are great admirers of Jewish art and celebrate it every single day. There is no better feeling in the world than being able to share this with you, dear readers. Especially on a day like this when we have the opportunity to introduce you to two of our greatest loves married into one: a book about contemporary Judaica.
Reading Modern Judaica: Today's Makers, Today's Sacred Objects you will learn about the history of Judaica art as well as what inspires some of the most talented contemporary artists in their work. This personal touch is something I have enjoyed tremendously! While we have interviewed many of the featured artists in this book for our magazines throughout the years, it is wonderful to meet them again in this format as well as learn about others.
You can feel the admiration and love for Judaica art on each and ever page of this beautifully curated book. It is a gorgeous read. Second to none. The stunning photography does not only show the beauty of each and every individual design, but captivates you in a way that you cannot help but join into the celebration of Jewish art as a whole in all its glory. The extensive list of artists portrayed in this wonderful book will make anyone appreciate what it means to be an artist in our time and day.
Modern Judaica: Today's Makers, Today's Sacred Objects is a testament to a lifelong dedication to Jewish art. You will have fallen in love and purchased your next Judaica piece long before you turned the last page of this gem. With so many exquisite designs, it is impossible not to.
As an art-loving bibliophile, I cannot bear the idea that this marvellous book disappears in your bookshelves after reading it, dear friends. In my opinion, it must be constantly on display in your home. Preferably as a coffee table book.
A close friend of mine, a local interior designer, tends to say the following: "Coffee table books are the perfect way to elevate your home. They do not solely act as a focal point but introduce your guests to what it is that makes your heart sing and help share a bit of your own personality with your visitors from the moment they enter the room."
What better way to share your love for Jewish art with the world?
Time to spoil yourself with your very own copy of Modern Judaica: Today's Makers, Today's Sacred Objects. But do not forget your loved ones while placing your order! This brilliant book will make a treasured gift for any art aficionado in your life.
You can purchase Modern Judaica: Today's Makers, Today's Sacred Objects in your favourite independent bookshop as well as at the following places, among others:
etc.