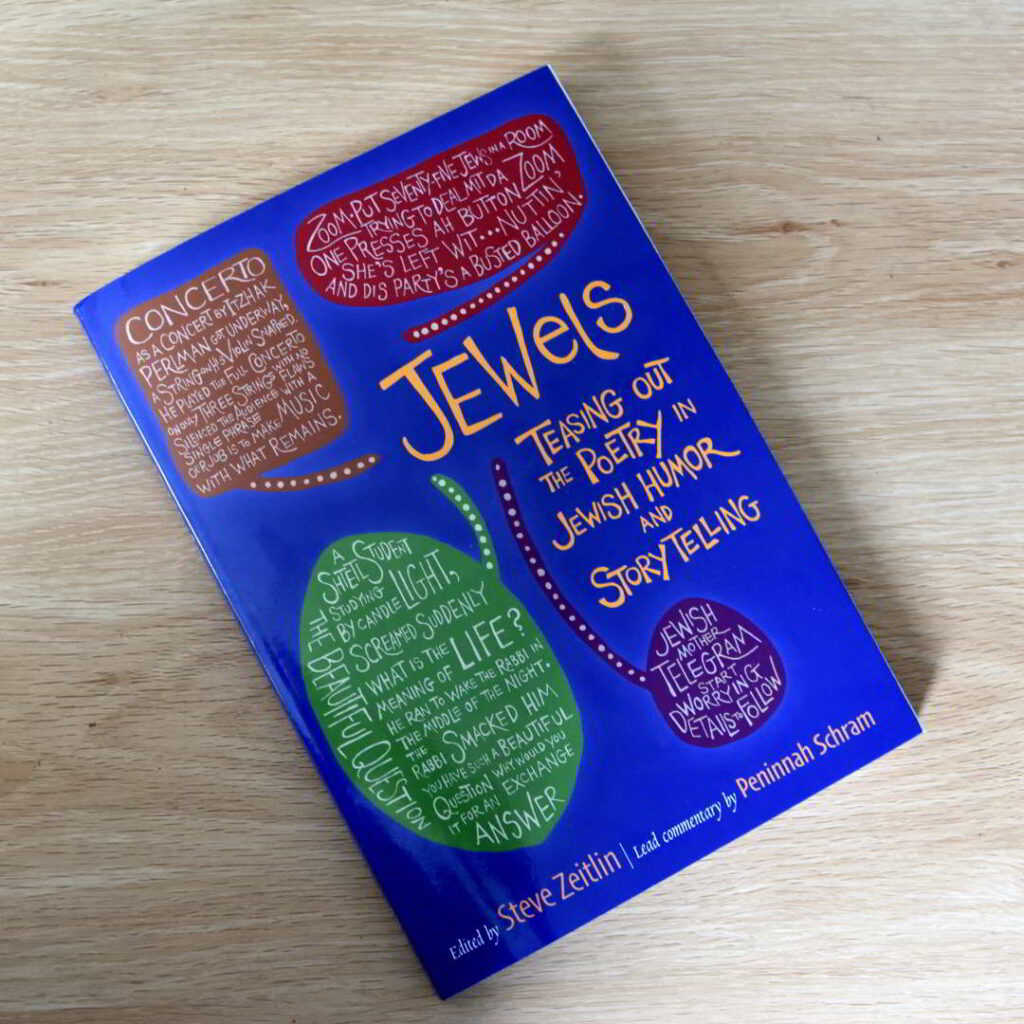 Photo: Courtesy of Judaica in the Spotlight
Book Description:
JEWels is the first of its kind: the living tradition of Jewish stories and jokes transformed into poems, recording and reflecting Jewish experience from ancient times through the present day. In this novel hybrid—jokes and stories boiled down to their essence in short poems—Jewish witticism is preserved side by side with evocative storytelling and deepened with running commentary and questions for discussion.
Illuminated here are jewels from journeys, from the Old Country, from Torah, shaped by the Holocaust, in glimpses of Jewish American lives, in Jewish foods, in conversations with God, and on the meaning of life. Jewish comedians (Lenny Bruce, Jackie Mason) appear alongside writers and musicians (Elie Wiesel, Sholem Aleichem, Itzhak Perlman) and Hasidic rabbis (the Baal Shem Tov, Rabbi Nachman of Breslov), yet most of the tellers are ordinary Jews. In this cacophony of ongoing dialogue, storytellers, rabbis, poets, and scholars chime in with interpretations, quips, and related stories and life experiences.
About the Author:
Steve Zeitlin is the author or coauthor of several award-winning books on America's folk culture, including Because God Loves Stories: An Anthology of Jewish Storytelling and The Poetry of Everyday Life: Storytelling and the Art of Awareness. He coproduced the storytelling series American Talkers for NPR's Weekend Edition Sunday and Morning Edition and is the recipient of the American Folklore Society's Benjamin Botkin Award for lifetime achievement in public folklore.
Independent Review by Miriam P.:
First and foremost, we would like to thank the Jewish Publication Society for sending us a complimentary copy of JEWels – Teasing out the Poetry in Jewish Humor and Storytelling.
JEWels is not a poetry book in the traditional sense. It is much more than that.
The beautiful cover art by Andrea Strongwater, showcasing some of the gems that can be found within this charming book, invites you to dive into this lovely compilation of Jewish wisdom.
A mixture of poems, jokes, outtakes of beloved stories, and memories, you will be able to immerse yourself in Jewish folklore like never before. As a reader you will quickly realise how precious each and every piece included in this book is and how needed this book is in today's world!
Divided into a variety of sections with similar themes, this collection of well-selected pieces truly has something for everyone. Many of the writings that can be found in JEWels come with their own commentary, helping the reader dive a little further into the story behind.
One cannot compliment the wide range of different perspectives that can be found in this book enough. The comprehensive compilation of poems, jokes, and stories, ranging from the humorous to the more serious and mysterious, makes the perfect introduction to Jewish folklore.
An element of the book I have truly enjoyed, were the Questions for Discussion Steve Zeitlin has put together for each of the individual sections. Perfect for any Jewish interest book club!
While a large number of book clubs may shy away from anything poetry related, I would not hesitate to suggest reading JEWels in a group setting. The questions at the end will most certainly encourage a lively discussion!
This lovely collection makes a wonderful addition to your own Jewish interest section on your bookshelf as well as the perfect present to give to fellow bookworms in your life! It also makes a wonderful gift to anyone interested in folklore, regardless of their background.
Last but not least, we invite you to follow both JEWels as well as theJewish Publication Society on Facebook.
You can purchase your own copy of JEWels on the Jewish Publication Society's website as well as your favourite bookshop's.
Interested in learning more about the artist behind the cover design? We have interviewed Andrea Strongwater a while ago for our magazine. You can read the interview here.
You can find out more about Andrea and her work on her website. Don't forget to follow her on Instagram!