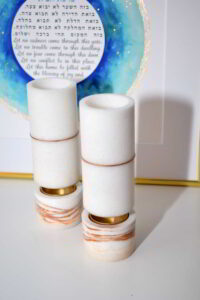 Photo: Courtesy of Judaica in the Spotlight
Sophisticated. Elegant. Gorgeous.
Those are the first three words that come to mind when unwrapping this magnificent pair of candle holders. Be prepared to fall head over heels in love with SaltwareDesign's beautiful products!
The first time we were introduced to SaltwareDesign we were smitten by the stunningly beautiful pictures we have seen of their work. Their fascinating designs have captured our hearts right from the beginning and we are delighted to tell you, dear readers, that their products are even more impressive in reality than they are on screen.
SaltwareDesign specialises in the creation of innovative tableware and Judaica objects made entirely out of salt from the Dead Sea. Their products are designed and handmade in Israel by the very talented, and highly experienced, product designer Lia Bruce.
Rest assured that SaltwareDesign will quickly become your go-to address when looking for a unique present for someone dear to you. SaltwareDesign's innovative creations make a wonderful present for someone with a deep connection to the land of Israel as well as for design aficionados all around the world who are always looking for something truly unique to add to their office or living space.
Our team is honoured to have had the opportunity to review SaltwareDesign's unique candle holders for you.
Something we love about the brand, except for how each and everything about it radiates how passionate Lia is about her work, is that we have never seen anything like it. The uniqueness of it all. It is refreshing to see someone create something new the world has never seen before.
The tastefully designed candle holders will add a touch of refined sophistication to your Friday night ritual. Luxurious in design, and affordable at the same time, you will enjoy inviting this unique pair of candle holders into your home and using it for Shabbat and on Jewish holidays. Can you celebrate your heritage in a more meaningful? We do not think so.
Contemporary yet timeless at the same time, this striking pair of candle holders will instantly turn itself into a beautiful focal point in your home, creating a warm and welcoming ambiance for everyone to enjoy.
You can purchase SaltwareDesign's marvellous pieces here.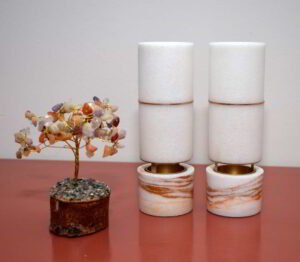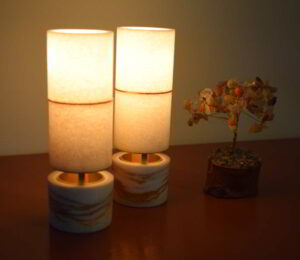 Photos: Courtesy of Judaica in the Spotlight