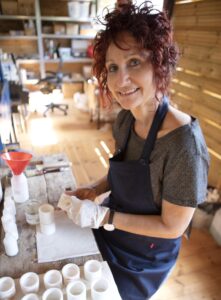 Photos: Courtesy of Lia Bruce
Tell us a little bit about yourself and your background. What inspired you to become an artist? What is your specialty?
I was born in Tel Aviv. I studied architecture at the Israel Institute of Technology (Technion) in Haifa followed by a degree in Fine Art at Ramat Hasharon School of Art and a Master's Degree in Industrial Design at the Bezalel Academy in Jerusalem. I was always fascinated with salt and practised with the substance in many of my early art works, especially installations I made with the grains.
During my Master's Degree, I continued working with salt trying to reach new possibilities of working with it. While exploring new ways, I was introduced to a research that took place at the Hebrew University. In collaboration with the scientists, I started experimenting different manufacturing methods using salt.
The scientists' motivation was finding a way to use 20 million tons of salt left as a by-product of the Dead Sea harvest. I joined with my artistic and cultural interest.
The result of this is my initiative, "Saltware Design", where I combine the scientific innovation with my artisan skills and the long heritage of salt and its symbolism.
How and where do you work?
After finishing my degree, I decided that I must continue with the process myself. I had such an urge to design with salt. I simply fell in love with the results I achieved!
There is a gap that needs to be bridged between the scientific and the practical. I dedicated the last year for that. Most specialists, as mechanical or chemical engineers have never worked with salt, tried to advise me with their experience with metal powders and others but this is an entirely different approach. After all, it was a lot of self-seeking and discovery.
My studio is located in a renovated train wagon in the midst of a natural Mediterranean garden at the back of my house. I named it "The Saltshaker" and I love working there!
The artefacts are all hand-made. Each one is made of several components. The technology is innovating as salt grains were never used for making solid artefacts, but I made it all one by one. All parts are sealed and then assembled together into a product.
What is the most indispensable item in your studio?
Years ago, I used to teach art in a kibbutz. The lessons took place in the old carpentry of the kibbutz. At a certain point, the kibbutz wanted to build a new neighbourhood and tear down the building. All the equipment was thrown out because there was no place to store it.
It was heart breaking for a craftsperson like me. I took some boxes and put some tools inside and brought them to my studio. Those rubbed and rusted tools have a special place in my heart.
Where do you take your inspiration? Are you pursuing any themes?
My grandma used to sew small cotton bags and put salt inside so we could take it with us wherever we go – as an amulet. During my research about salt, I have encountered with so many stories and metaphors from all around the world regarding salt. Alchemists had considered it as one of the TRIA PRIMA, the fundamental substances of the universe … I have so many inspirational sources… but maybe above all, in visual terms, the Dead Sea and its landscape. It is a major source where this process has evolved from, and its natural beauty certainly influenced my design work.
Do you do bespoke work?
I just started this initiative so for the moment it is irrelevant. The instruments for production are rather expensive, as they need to be made of stainless steel. So designing any bespoke work would require ordering special moulds.
What projects are you currently working on?
I have started with very few objects that I believe would be of interest to spiritual communities who see the Holy Land and Dead Sea as a major inspiration for them. I also believe that the sustainability of the products will capture hearts and will be liked by the consumer.
What is your favourite item in your current collection?
I think, the candle holders. Salt has a cubic structure. When it's pure it is translucent. This quality and others inspired me to design those special kind of candle holders.
I named it ORRA – as a feminine form of light for the Hebrew word 'or'=light. I chose the feminine version, as it is traditionally the mother who lights the candles. It also resembles the word AURA, which I liked in conjunction to the mother that radiates light on her surroundings.
Which project have you enjoyed working on the most so far?
I enjoyed very much working on the saltshakers. Although they look very simple and generic, they inherit within them a long tradition and history, which most people these days aren't aware of.
Salt has been a very dear substance until the Renaissance and Saltshakers were specially designed for monarchs. It was served only on dining tables of aristocrats; who else could have afford it? This is why the phrase "The salt of the Earth" is used to describe precious and high-moral person.
As an artist and designer, the meaningful role of an object is a strong motive for action.
What do you want to achieve with your work and what are your wishes for the future?
I very much believe in salt as a substitute material for polluting materials used in industry. I think this is just a small step that I took towards the huge potential this manufacturing process can impact the future.
I have so many more ideas for other products and I hope to be able to fulfil them in the near future. My interest and love has always been the raw material as well as to its meaningful role in culture.
Where can we find your work?
Etsy shop:
https://www.etsy.com/shop/SaltwareDesign
Website:
Facebook:
https://www.facebook.com/SaltwareDesign/
Instagram:
Pinterest:
https://www.pinterest.com/brucelia364007/_created/
Photos: Courtesy of Lia Bruce