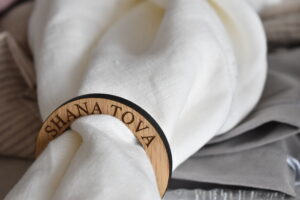 Photo: Courtesy of Judaica in the Spotlight
Product: Oak Napkin Rings
Our Verdict: Fabulous
Where to buy: www.dankejudaica.com
We are delighted to have the opportunity today to introduce you to Danke Judaica's gorgeous Jewish themed oak napkin rings, which are available in two version; engraved with the words "Shabbat Shalom" or "Shana Tova."
Both Shabbat and Rosh Hashanah are occasions in the Jewish calendar when family and friends come together, and share delicious food with one another, while engaging in deep conversation. Community is very important in our culture and therefore hosting plays a very big role in most Jewish families.
Whether it is a formal or a much more casual affair, laying the table is something we always enjoy doing. As we tend to already know a couple of days in advance how we want to decorate the table, it is always the last point on our to-do list for the day itself.
A detail we never leave out when laying our Shabbat or holiday table are napkin rings. It's all in the detail and what a beautiful detail Danke Judaica's napkin rings make!
The beauty of napkin rings is that they make a table so much more elegant with so little effort, even if the design you go with is on the more casual side! Especially, when it comes to anything wooden.
Danke Judaica's design is of high quality and so wonderfully versatile that it can transform any dinner table within seconds. It will quickly become one of your family favourites you wouldn't want to miss on your table for the important moments.
If you have a small family, we highly recommend ordering at least ten of each so that you have enough for when you are hosting and do not have to start mixing and matching designs. Larger families we recommend to purchase 20 or more.
Danke Judaica's napkin rings make a fantastic present as well. Surprise your loved ones this Rosh Hashanah with their own set of Shana Tova napkin rings! A fantastic way to show you care even if you can't be together in person.
If you want to learn more about Shari Black, the designer behind Danke Judaica, we invite you to read her interview with us here. Make sure to follow her on Instagram and Facebook as well to keep up with all of their new designs.
Photos: Courtesy of Judaica in the Spotlight