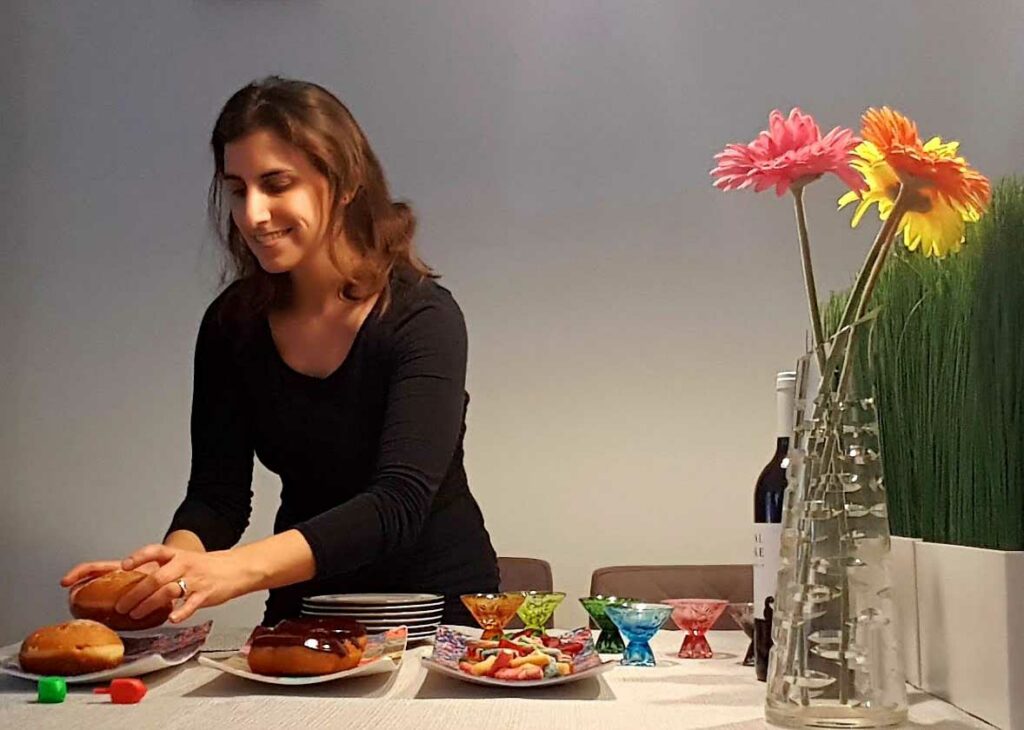 Shari Black is a graphic designer and book editor living in London. She runs the Judaica brand, Danke, designing unique, modern challah covers, challah trays and other Judaica items.
Tell us a little bit about yourself and your background.
I'm a mother of three little boys, living in London. I did a degree in English and Film, which led to my day job as a kids' book editor. However, over the years I've developed my digital design skills, teaching myself Photoshop and Indesign, and doing graphic design work for local businesses. It's a creative outlet that I really enjoy. Years ago, my mom, Karen Last, started Danke. She is very creative and wanted to create beautiful, modern Judaica. All the original Danke designs are hers, although I helped out with the Photoshop designing when needed. I'm now running Danke and coming up with my own designs and product ideas, trying to get our products into stores, and dealing with the business side of things, but I'm still constantly calling my mom for her opinions and advice – sorry, mom!
What inspired you to become an artist?
I've always enjoyed art and loved colour, but I never really excelled at it in school. I'm not particularly skilled at drawing or painting. I do have a creative eye, though, and I really like prints and patterns, so once I discovered Photoshop, I was eager to practise and learn new skills and put them to use wherever I could! Designing for Danke lets me be really creative, and I love seeing the finished products.
How and where do you work?
I work at home on my laptop. I'm normally curled up on the sofa in the evenings, working on new designs, ordering stock, and emailing my manufacturers and customers. I run Danke from my house. We are still a small business, so I don't have masses of stock at any one time. At the moment, my dining room table is home to a huge pile of challah covers that have just come in. (Luckily, we're out for meals this Shabbat!) Once I've sent out current orders, I'll store the rest in a cupboard that my kids can't reach.
What is the most indispensable item in your workshop/studio?
My computer!
Where do you take your inspiration? Are you pursuing any themes
Danke is all about taking traditional ritual objects, like challah covers, and making them contemporary. So we try to keep a balance between old and new. For example, one of our most popular designs (Silver Burst) is actually a photo of an heirloom piece of silver that we digitally manipulated to create a really cool, beautiful print. I'm not consciously pursuing a theme at the moment, but our latest collection ended up drawing inspiration from natural materials, such as marble and wood, with a touch of art deco geometry and gold thrown in.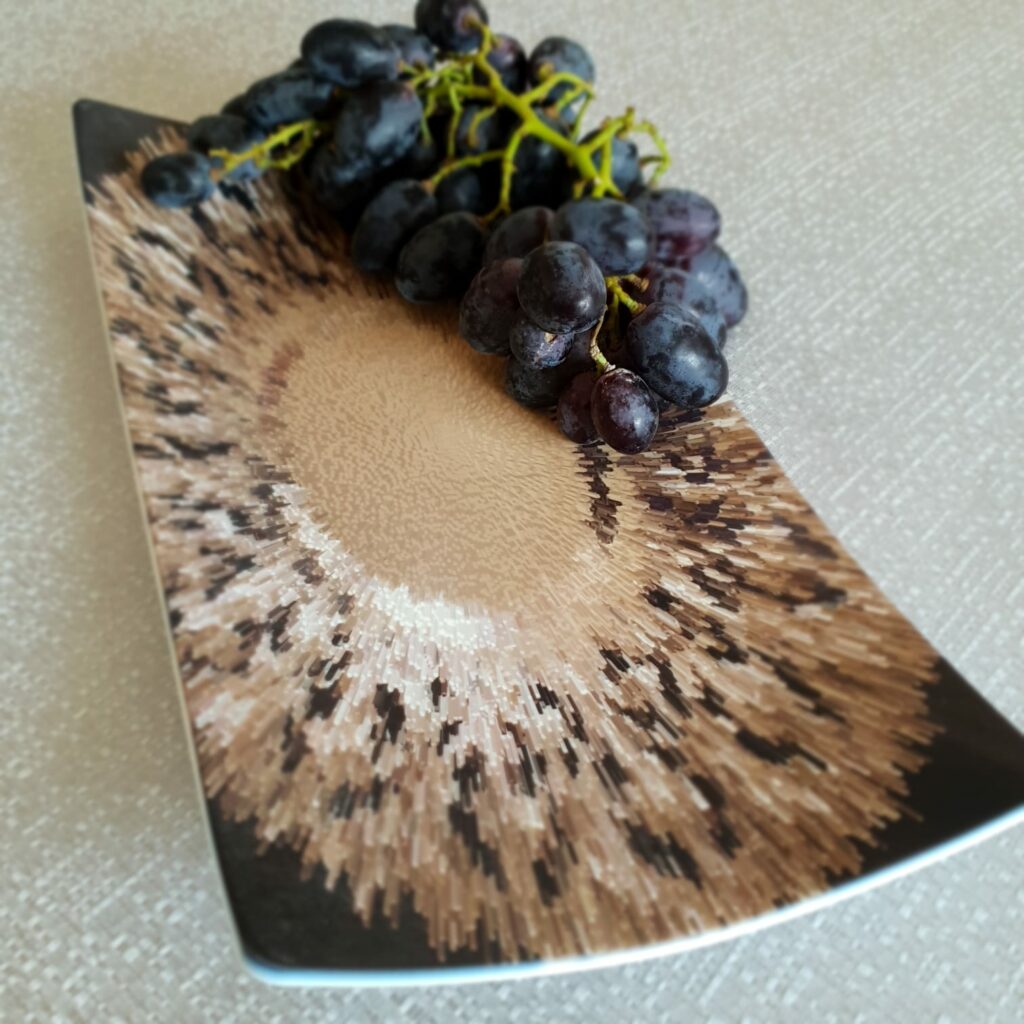 What projects are you currently working on?
I am trying to design a new product, which is more giftware than Judaica, but it's proving really tricky. I'm dealing with different manufacturers than I'm used to, so it's all about learning the technicalities of a new material. I've just launched our new hadlakat nerot perspex blocks, which are so beautiful. There was a lot of trial and error getting them right, but I'm really happy with the end result. I'm also trying to grow the business and get our items stocked in stores worldwide.
We are now in a few stores in London, New York and Canada, but I think I'll need to take a trip over to the US at some point because buyers are reluctant to purchase products without seeing them in person (understandably).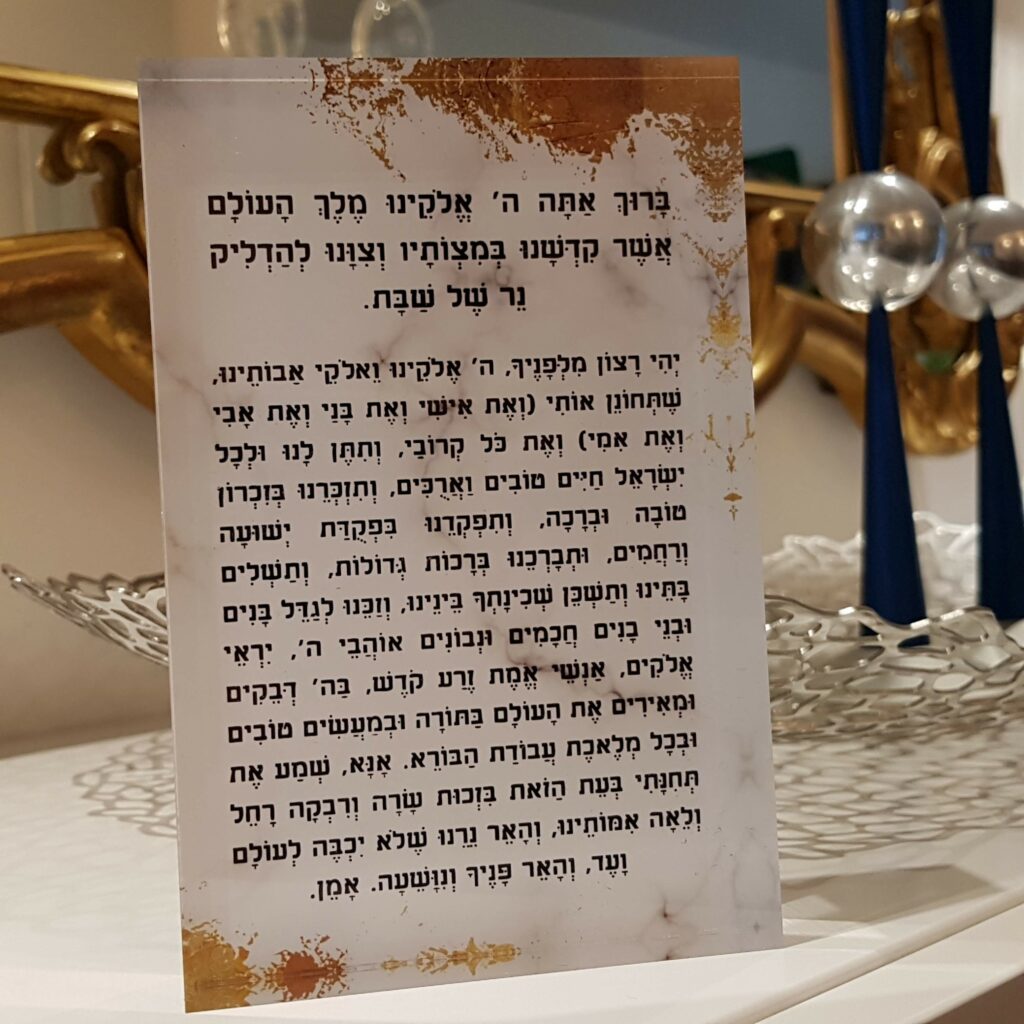 What are your favourite items in your current collection?
I absolutely love the Jagged challah cover design. It is so unusual, the details are so SHARP, and the colours are a really gorgeous mix of wood and concrete tones. I also love the Gold Leaf challah cover because those blues with gold are probably my favourite colour combination. The design really captures the Danke ethos of mixing the old (gold leaf) with the new (distressed blues).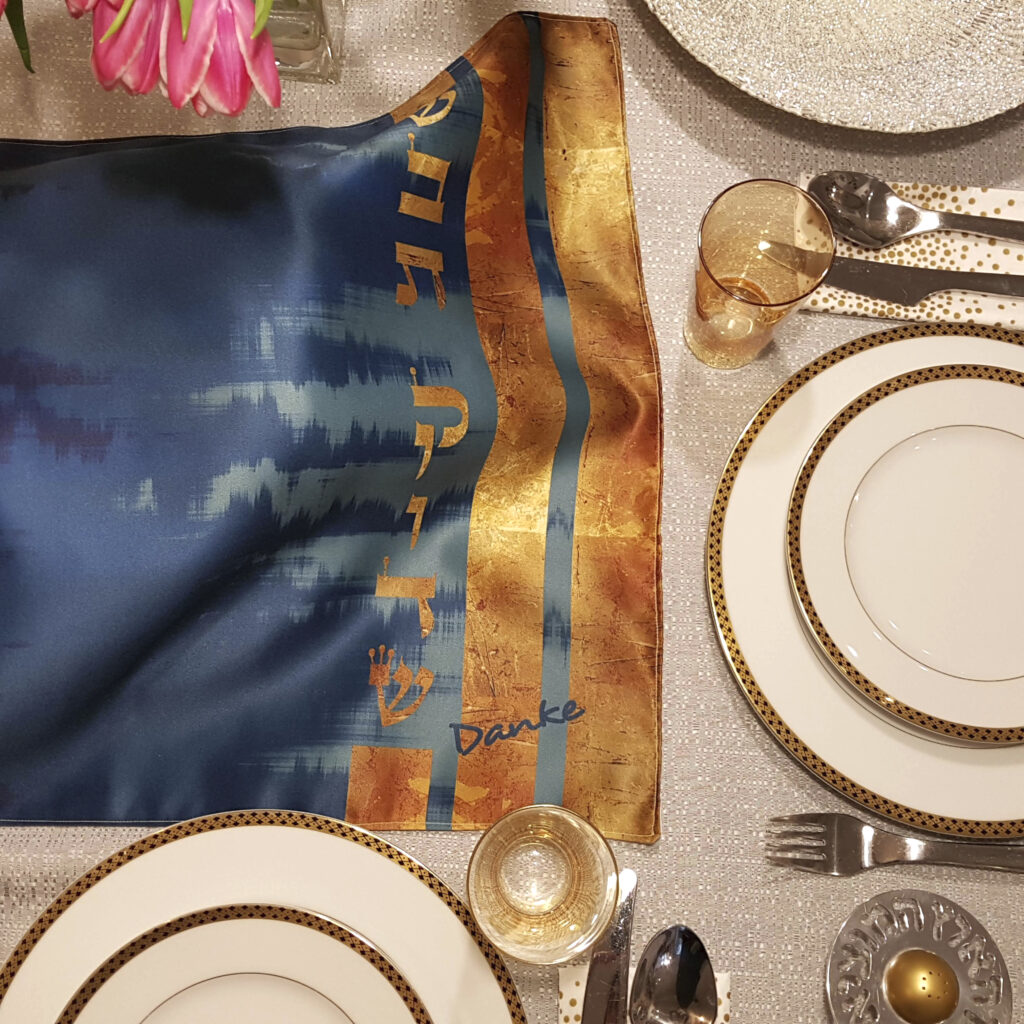 How do you know when a piece is finished?
Working for myself is great because I can take as long as I want on a design. I am a perfectionist, so I know it's complete when I have nothing left to tinker with. And once it's received the seal of approval from my parents and siblings, of course. (They always have an opinion!)
Do you do bespoke work?
Yes. We can customise our challah trays with different wording. This has proved really popular: lots of people purchase these as gifts. I also do bespoke challah covers for weddings and bar/bat mitzvahs, and corporate and charity clients. I'm currently working on a challah cover for a charity that incorporates words to do with kindness into the design. The charity will give these as gifts to their biggest donors, and I will be donating a percentage of sales of this challah cover to the charity.
Which project have you enjoyed working on the most so far?
I'm new to running this business. It's only been four and half months! I've loved learning the ropes, building the website and getting to grips with social media and product photography.
What do you want to achieve with your work and what are your wishes for the future?
I want to keep creating new, unusual Judaica that is both beautiful and functional. I want our products to be something you've not seen before – but not something too crazy that you'd never want to actually put it on your Shabbat table! In the future, I hope I'll be able to devote more time to Danke, and maybe cut down my day job. It would mean I can give more time to developing Danke, and obviously working for myself would mean I can spend more time with my family!
© Danke Judaica