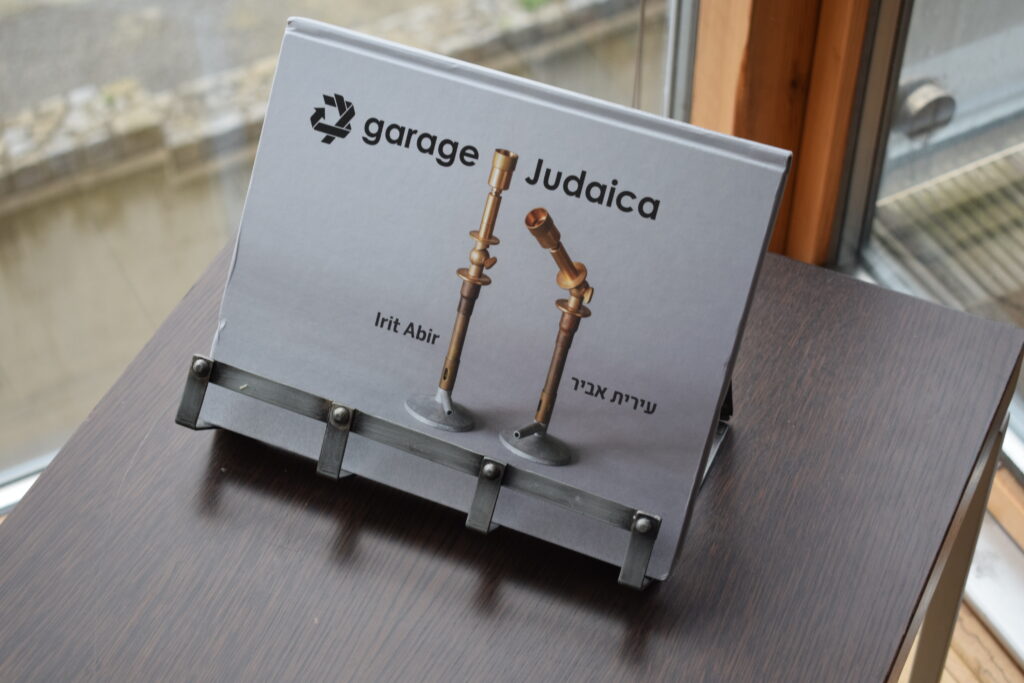 Photo: Courtesy of Judaica in the Spotlight
Product: Coffee Table Book
Our verdict: Informative and decorative at the same time – a must have!
What makes an item Jewish? Depending on whom you ask, you may answer. Let's agree that it is one of those questions that invites a variety of answers and with it, opinions we may or may not agree with.
We've recently had the opportunity interviewing Irit Abir of garage Judaica for our magazine and are delighted to be able to introduce her coffee table book to you today. Irit's unique approach to Judaica will make you rethink your own views of what actually makes an item Jewish, and we can assure you that you will love each and every bit of it!
Being a group of bookworms interested in art and design, we got very excited when the book arrived at our doorstep.
Irit's book is full of surprises. The first one is how you open it. Right to left? No. Left to right? Wrong again! You open it like a wall calendar. Bottom to top. That's right, that's also how you read it! Expect the unexpected. In a very positive way.
The moment you start reading this book you will be captivated by the fascinating wealth of information it contains. Rabbi Lila Veissid explains the use of each and every item wonderfully. Something else we enjoyed a lot were the personal stories and anecdotes by the many guest writers who have participated in creating this impressive book.
Irit's beautiful designs have been photographed by the talented Orit Arnon and are a sheer joy to look at. Seeing the designs makes you want to buy a bigger place to be able to invite them all into your home. Her designs are edgy and functional, what else can you ask for in a unique piece of art?
We are fascinated by Irit's approach to art and design. Using industrial ready made materials in her designs, she creates unique one-of-a-kind pieces you will enjoy looking at, as well as displaying in your personal space for the entire world to see. It's very interesting to see how items that were used beforehand for something entirely different are being transformed into something new that is yet so familiar you easily recognise what it is supposed to be used for in your home rituals. Irit designs, re-purposes, and assembles all of her creations by herself. Her modern interpretation of shapes and forms are an inspiration for anyone interested in sustainable art and a sustainable world as a whole.
Irit's book is wonderfully structured and very easy to follow. The Judaica items are organised in three different sections. In the first one, you will learn about items that are traditionally used on a daily basis, such as a Mezuzah or Tefillin. The second one focuses on objects that are being used on a weekly basis, like Shabbat candles or a Havdalah spice box, and the third section focuses on Judaica that is being used on a yearly basis, examples would be a Passover Seder Plate or a Hanukkah Menorah.
The book was beautifully printed in Israel and makes a wonderful present for any anyone interested in art and design. You can order your copy here.
Photos: Courtesy of Judaica in the Spotlight
Book Design: Ori Kerman