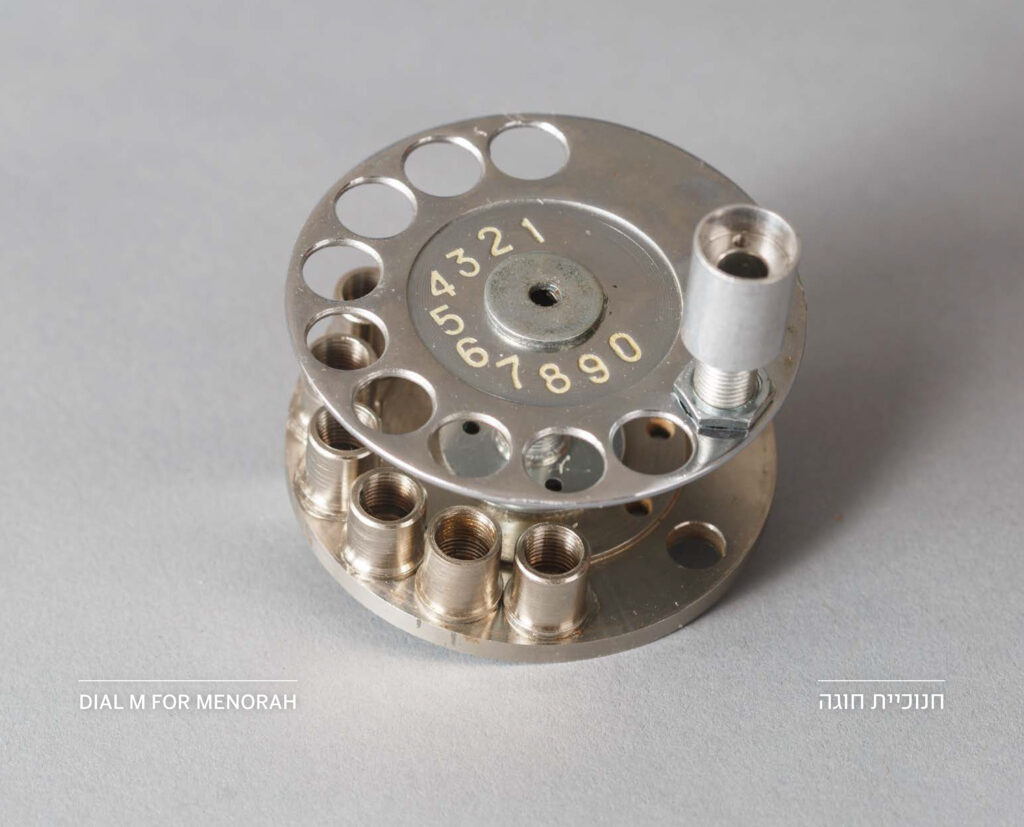 Dial M for Menorah
Photo: Courtesy of Irit Abir / Photo Credit: Orit Arnon
Tell us a little bit about yourself and your background.
I'm an Israeli architect and designer, graduate of the Faculty of Architecture in the Technion, Haifa. I work in my own studio, designing residential and public buildings, and also work on different art projects, including illustration and design.
What inspired you to become an artist?
I'm not sure what makes an artist. Everyone can present themselves as an artist, but it doesn't necessary make them one. I consider myself as an architect, and I believe my work in other fields reflects that.
What is your specialty?
This varies with time. My day job, so to speak, is to architecturally design spaces, furniture etc. I also like drawing and assembling mixed medias. In recent years I have created garage Judaica: a line of custom made, one-piece objects, re-purposed and assembled, using industrial materials and ready-mades, rather than traditional materials, creating a sustainable, modern and secular interpretation of shape and form of Jewish ritual objects. The project was exhibited in a solo show, in the art gallery of the Faculty of Design at HIT, Holon, 2018.
garage Judaica was now also compiled a limited edition art book, a sort of a "Jewish coffee table book". The book includes images of the art work, annotated by Rabbi Lila Veissid. This Hebrew-English book also features a variety of texts, by leading Israeli authors, artists and academics.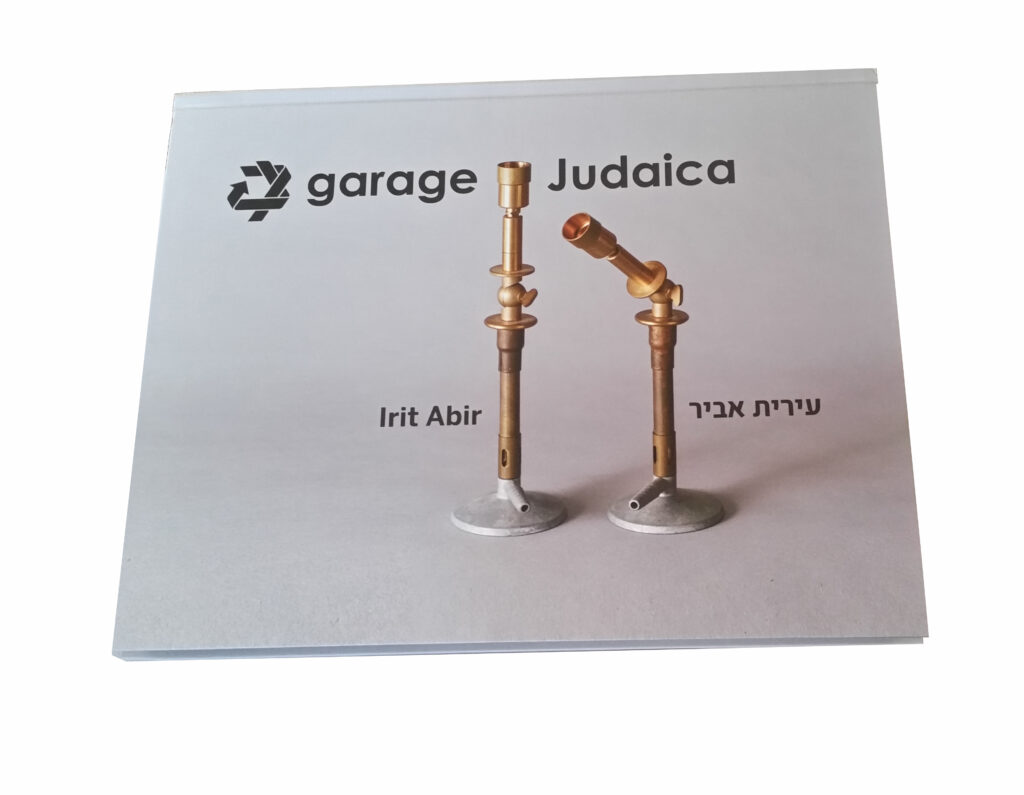 garage Judaica
Photo: Courtesy of Irit Abir / Photo Credit: Orit Arnon
How and where do you work?
My studio is part of my home. I think most people in creative jobs carry their work around with them, wherever they go, and can get inspired anywhere. I always sketch, and collect bits and pieces of ready-mades and found objects.
What is the most indispensable item in your studio?
My imagination.
Where do you take your inspiration? Are you pursuing any themes?
A few years ago at Hanukkah, when my daughter was young, I realized that we didn't have a menorah in our home. As a collector of industrial junk, I assembled a recycled one from a tractor's cogwheel and a few nuts and bolts. It seems to me that for many of us secular or pluralistic Israeli Jews, our inherent cultural Jewish identity bursts forth when we become parents. Suddenly, it's important to us for our children to experience the customs of our childhood and sing the holiday songs that we ourselves sang with our parents and grandparents.
My background is completely secular. My Jewish identity is cultural, not religious, it is who I am; it is the knowledge that my father's grandfather was a rabbi in Lithuania. It is what connects me to my ancestors who chose to migrate to Israel starting with the First Aliyah at the end of the 19th century, and to my relatives who have lived for many generations in the USA, and it is a part of my identity that I pass on to my daughter. I began to think about the plasticity of this object, the idea of recycling that it is based on, and the cyclicality of the cogwheel that suits the holiday's repetitiveness. The believing Jew is required to carry out a repetitive ritual of ceremonies in different time cycles that fit into one another, and each such ceremony has a designated object that serves as a work tool. I began to think about other items, and to realize how wide the spectrum of Judaica is. From there the path to designing and creating additional items for this collection while reusing industrial objects and materials was short and obvious for me. In order to understand what they were used for, and so I could create my own modern, industrialized interpretation, I had to read and seek material about the meaning and function of most of them.
As a starting point I decided to deal only with objects that are part of private practice, used at home and not in public, viewing worship as a personal, private practice. The collection and the book do not presume to be a complete or comprehensive lexicon of Jewish ceremonial objects, but rather to cast light on the aspect of the cycle of time and life. The axis of the discussion of the objects is the combination of the cycles of time: the understanding that ritual objects are used repetitively in these time cycles in changing, containing units: daily, weekly, or seasonal/yearly use, which are continually repeated.
The garage Judaica series was created entirely from objects that have been recycled and changed their purpose. In the process of creating the items I decided to make use of industrial materials and "ready-made" – objects that are in their second life cycle, or possibly their third or fourth, rather than the usual, traditional materials.
Collection, playing, connecting and recycling are processes that I have dealt with in work for years, and here they connected optimally with the usefulness of the objects and with my statement about this cyclicality.
The series is a contemporary, personal, secular, sustainable interpretation of the structure and form of Jewish ritual objects, and the life cycle of changing Jewish culture.
Do you do bespoke work?
I do, either for exhibitions, such as a piece made upon request to the Jerusalem Biennale 2019, and of course for customers. I take orders for custom-made items. Each garage Judaica object is by definition a one-piece object.
What was the first artwork you ever sold?
I actually don't recall the very first one, but am very excited about the most recent purchase. The Museum of the Jewish People at Beit Hatfutsot, Tel Aviv, has acquired my ironic Passover plate for their new wing permanent collection and display.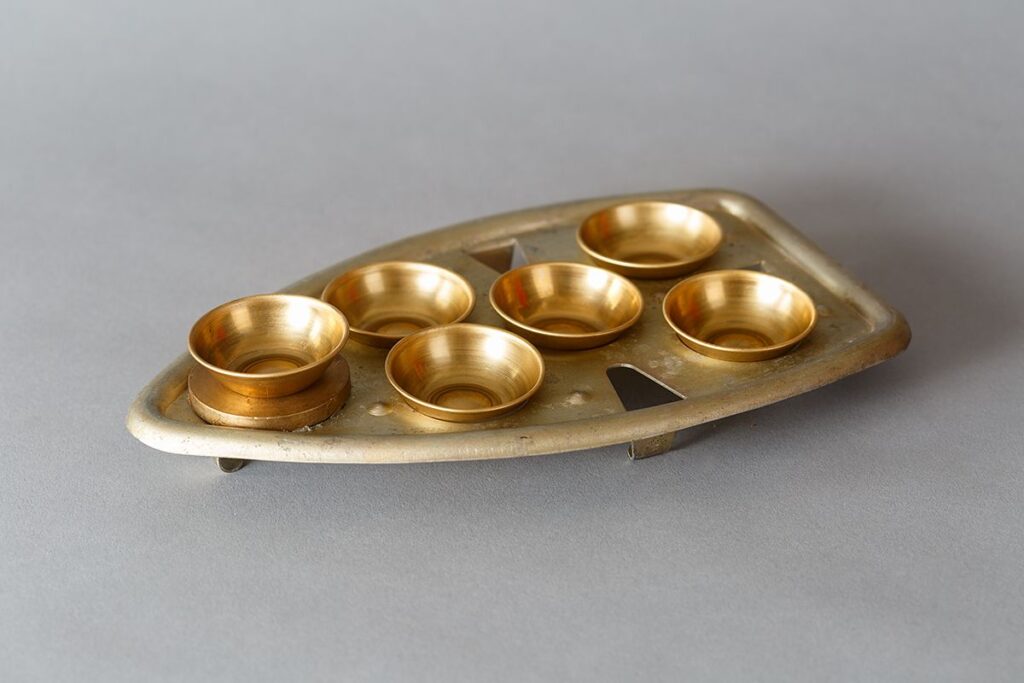 Ironic Passover Plate
Photo: Courtesy of Irit Abir / Photo Credit: Orit Arnon
What do you want to achieve with your work and what are your wishes for the future?
During the work process I realized how limited the pool of accessible knowledge about our ancestors' culture available was to people other than those who believe or who are in a process of becoming religious. I realized the project could serve as a cultural guide to Judaica, and open a gateway to a discussion of the multifaceted significance of modern Jewish identity.
I hope to reach Jewish communities around the world, and keep being invited to present my work in exhibitions.
I wish myself to always keep on creating new projects.
Where can we find your work?
Some garage Judaica items are on exhibit at Let There Be Laughter – Jewish Humour Around the World – at The Museum of the Jewish People at Beit Hatfutsot. Tel Aviv. Some items are on display at several other museums and exhibitions in Israel, and some have been recently presented at the Jerusalem Biennale 2019.
The garage Judaica book is available at museum shops and selected book shops in Israel, and can also be ordered online.
garage Judaica website: http://garagejudaica.com/
garage Judaica on Facebook: garage Judaica
Left to right: Kiddush Cups, Hot 'N' Cold Handwashing Cups, Elijah Cup
Photos: Courtesy of Irit Abir / Photo Credit: Orit Arnon