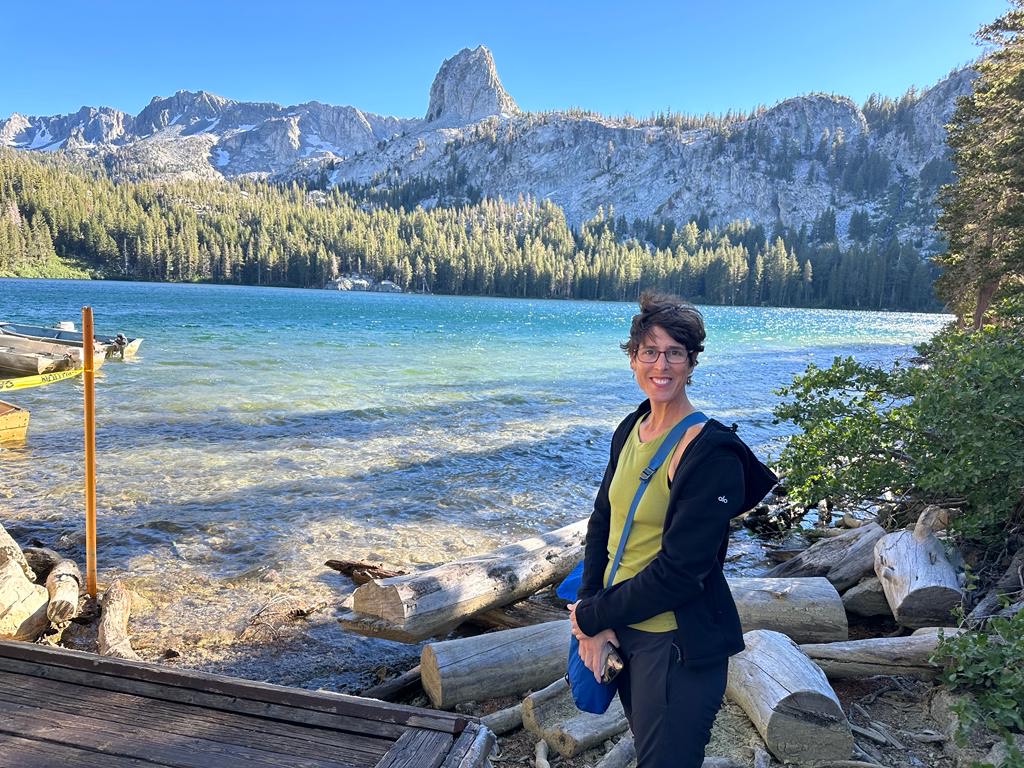 Photo: Courtesy of Challah Covers by Diana
Tell us a little bit about yourself:
Hi! I grew up in Los Angeles, CA as a secular but rather curious Jew. As a child I was enrolled in Sunday school with my two sisters but after two years my parents decided that going to the USC football games was a more worthwhile use of their money. Me and my sisters loved going to the football games and cheering for my dad's alma mater. When I was in my early 20's I learned about Aish Ha Torah and their 20 something program for Jewish singles to meet like-minded singles and learn about their heritage and I was hooked and for the first time in my life I was learning about my Jewish history and customs.
I met my husband at Aish Ha Torah, and we have two beautiful children that were brought up in Judaism with the community and supporting Jewish Day School education.
Creating challah covers came to me by accident, I found some crystals that I used to adorn my clothes back in the 80's while I was going through storage one day. I was so excited remembering how much fun I used to have bedazzling my clothes and I thought it would be fun to make something with my daughter, she was about 6 at the time.
So, I laid everything out that I had for crafts and voila, challah covers came to mind!
The first few I/we made were not very good, but I felt we were on to something that could be special. We kept working on our method and designs and the materials and now have what is a stunning, luxurious, spiritual work of art for the Shabbat or Holiday table.
After many years of making my challah covers for friends and family as a hobby, I have decided it's time to bring my beautiful challah covers to my community make my dream of Challah Covers by Diana becoming a well-known and cherished item that everyone wants for their Shabbat tables worldwide.
What inspired you to become an artist?
My inspiration was bashert as I had no intention of becoming an artist nor did I ever feel I had any artistic skill. This just spoke to me. I find the work challenging, imperfectly beautiful and meditative. My inspiration continues because I love creating images that hold spiritual meaning and create vivid prisms of light on the holiday table. Each challah cover I make feels like my pride and joy, and I look forward to seeing a person's joy when they receive their challah cover.
What is you speciality?
My specialty is making 100% handmade luxurious Challah Covers. I take pride in using only the best materials, such as Silk, Linen and Swarovski crystals. I place the crystals one at a time by hand, choosing the colors I feel best compliment the feel and message I hope to achieve. I also work with people to make challah covers to their specifications which is so fun. I especially enjoy working with a couples in matching the style of their wedding, colors, font, images, or personalizing the writing. I do everything I can to make their challah cover a piece of art that the family will cherish for generations.
Where do you take your inspiration from? Are you pursuing any themes?
My inspiration comes from nature and from Jewish symbolism. The tree of life is probably my main inspiration and I have made several modern adaptations to the design depending on the meaning someone wishes the tree to represent for them. For instance, I have the traditional white crystal tree of life, I have my rainbow tree which is a whimsical take on the tree of life which also symbolizes equality and human rights. My dove carrying an olive branch design signifies our wish for peace and a healthy earth where humans, plants and animals can thrive. I also heard once that a bird can be symbolic of a loved one watching over us. The Hamsa is full of mysticism and the Star of David is a pure reminder of the beauty our heritage holds and to cherish it and keep it alive. Additionally, I am inspired by the custom orders I have done, they are fun and personal and make my customers happy.
Which project have you enjoyed working on the most so far?
My art is dedicated creating unique, handmade challah covers. I find each piece that I create to be incredibly rewarding. I wish I could just make challah covers all the time regardless of trying to establish a startup Judaica business. I find it to be fulfilling and mindful work.
What do you want to achieve with your work and what are your wishes for the future?
My dream is to become a brand that every Jewish family knows about and to be in as many homes as possible. I want to be Challah Covers by Diana, the most beautiful and meaningful designer of handmade challah covers in the world of Judaica. It is my dream that I become successful and show my children that I never gave up on my dream. I want to show women that they have the power to be self-sustaining and take care of their family with their own skill, hard work, perseverance and desire to succeed. I have never believed in myself, and I have been ashamed that I have been dependent on my partner, unable to give my children the life they need, I hope to finally change that and stand on my own two feet doing something I love.
Where can we find your work?
Currently I have an Instagram page that shows a sample of my work: Challahcoversbydiana
I plan on getting a website and professional reels of my work to best show their true beauty. It is a work in progress.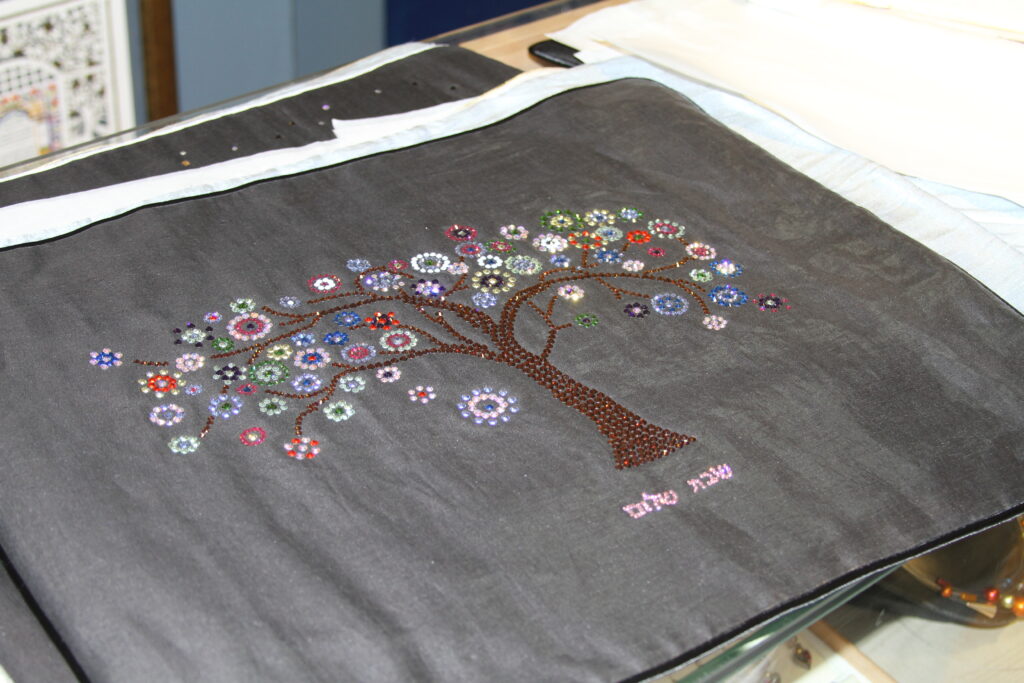 Photos: Courtesy of Challah Covers by Diana