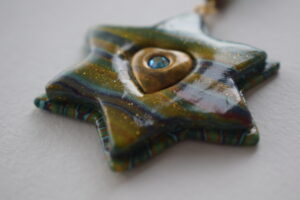 Photo: Courtesy of Judaica in the Spotlight
Product: Keychain
Material: Polymer Clay, Beads
Our verdict: Superb design!
At Judaica in the Spotlight, we love receiving surprises in the post! Especially, when we don't expect anything. Isn't it wonderful to know people are thinking of you? That's what life is all about! Meaningful connections. It doesn't matter if you know someone for a month, a year, or a decade; if you click, you click.
A few days ago, a very special parcel has reached us all the way from Israel. In it was the beautiful keychain you can see in the picture above. Isn't it lovely? We were impressed with the stunning design! The mesmerising colours, the colour coordinated beads, and the heart in the centre of the Star of David made us smile. A wonderful reminder that we are all part of something bigger, regardless where we live.
Robin Rotfleisch is the artist behind the keychain. She specialises in polymer clay Judaica art and is particularly well known for her one-of-a-kind keychains and Mezuzot.
What we love about this keychain the most is how versatile it is! You can obviously use it for your keys, but you could also hang it on your handbag, or even on to your wall. Robin's design are so artistic you will want to display them in a prominent part of your home! We believe that at least one of her keychain designs should join your Hamsa wall very, very soon!
Do you have a colour combination you like? Tell Robin about it! She would be delighted to create something very special and unique for you!
If you are planning a wedding, we can highly recommend working with her on your wedding favours. Who wouldn't want a one-of-a-kind design to cherish forever as a reminder of your special day with your wedding colours incorporated? Contact her directly and let her know what you envision!
You can see of all Robin's current designs on her website.
Make sure to also follow her on Social Media:
If you would like to learn more about the artist behind this beauty, we invite you to read the interview we have conducted with Robin not too long ago. You can find it here.
Photos: Courtesy of Judaica in the Spotlight