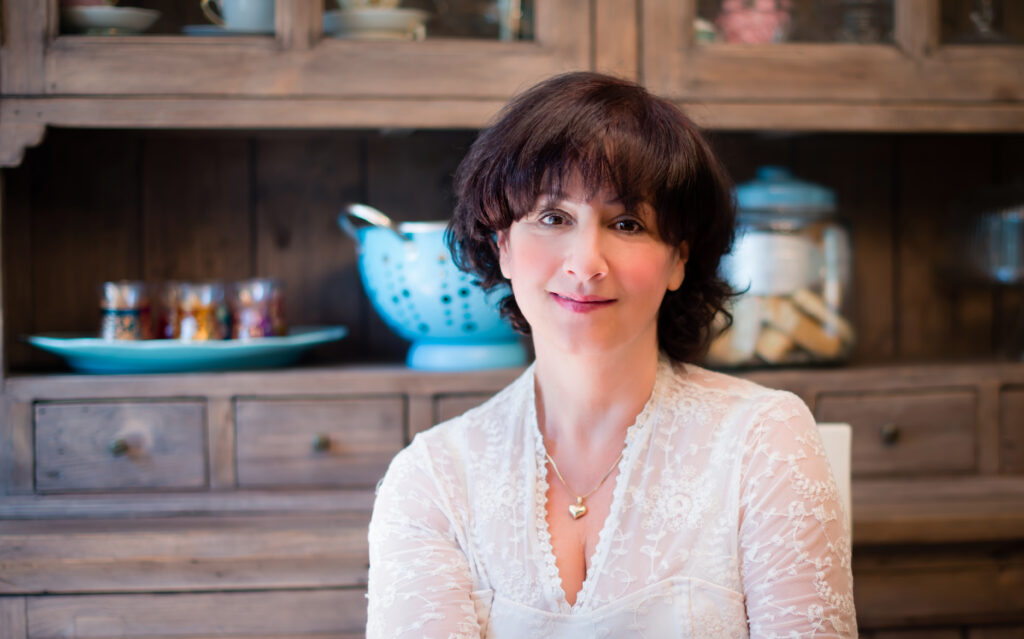 Marcy Goldman, is a IACP Julia Child Cookbook Award nominee, professionally trained master baker and host of www.betterbaking.com. Since 1997, Betterbaking.com has welcomed millions of home bakers who appreciate original, unique recipes, along with professional baker's techniques and secrets. Goldman has also been a contributor to Martha Stewart, The New York Times, The Washington Post, Bon Appetit, Epicurious, Costco Connection and a leading voice at Medium.com. Her best-selling cookbooks including When Bakers Cook, A Passion for Baking, A Treasury of Jewish Holiday Baking, Best Bagels, Best Biscotti, Best Holiday Cookies and The Best of Betterbaking.com. Visit www.Betterbaking.com for more recipes your free bonus subscription to BB with purchase of her cookbooks.
Tell us a little bit about yourself and your background.
I was born and still live in Montreal. As a kid, I was always writing diaries or stories and similarly, I was always in the kitchen, making concoctions. I guess I started both writing and baking when I was about seven. I was allowed a free rein in the kitchen as a small girl and while I began mostly cooking somehow I naturally gravitated to baking which to me seemed more magical and complex. As a teen and pre-teen, I read cookbooks and developed my own 'lesson plans' which is how I learned the basics (rouxs, cream puffs, pies, roasting – the whole range of baking and cooking). Montreal is also a diverse, international city with fine restaurants, great bakeries, pastry stores, bagels shops and more – It was a great backdrop to learn more about 'food'. In my twenties, thwarted as a writer, I began baking professionally, supplying cafes and restaurants with carrot cake, cheesecake, muffins, etc. I developed recipes for other establishments as well as a bakery and restaurant consultant. Having already had my English Degree from McGill, I decided to fortify my culinary abilities with formal training as a pastry chef from the Quebec Hotel School.
One day, pregnant with my first son, and enroute delivering carrot cakes, I realized I would have to segue to do what I Ioved but in another way since I was starting a family. I realized I could combine both my passions (writing and baking) and started freelancing as a feature food writer for the New York Times, Chicago Tribune, Washington Post, Bon Appetit, et al. Food feature work gave me a platform and that then enabled me to pitch my first cookbook, A Treasury of Jewish Holiday Baking to Doubleday in New York. And that was the beginning of my cookbook career!
When did your passion for cooking begin?
As mentioned above, it began when I was a little girl. My mother wasn't that domestic and my grandmother, who was blind, lived with us. Food was a way to take care of and impress my grandmother. It also launched a kitchen journey that I immediately embraced. It was nourishing on so any levels.
You have written an array of cookbooks. What gave you the inspiration to write them?
The first cookbook, Treasury of Jewish Holiday Baking came out of the fact that I contributed so many Jewish holiday food features as a freelancer. I thought at the time, wouldn't it be nice if someone put this amazing tradition (Jewish baking) in one book. Then I realized – I guess someone was me. So I wrote a proposal, found an agent and the book sold to the publisher immediately. (Almost all Jewish cookbooks at the time were about cooking with a little bit about baking.)
I always loved cookbooks as a reader and overall, my inspiration to write them came from being a fan of cookbooks and of cookbook authors myself (Julia Child, James Beard, Time Life Cookbook series). There was, until not that long ago, a beautiful tradition in cookbook writing – people bought and 'devoured' cookbooks – as much for the recipes, as well as the techniques shared in them and the 'voice' of the author. I admired cookbook authors and while I never really 'decided' to become one things just evolved down that path. Each cookbook I've done is a different 'place' on my culinary journey.
The Best of Betterbaking.com was the best of my original creations at the outset of my website presence. A Passion for Baking is simply an over-the-top celebration of great baking and remains one of my best-selling books along with A Treasury of Jewish Holiday Baking. When Bakers Cook was my response in a cookbook to the question: Yes, you bake but can you also cook?" The Baker's Four Seasons to me, is the world of baking in a seasonal symphony and coincides with how we live and baking which is by the seasons. I love that book! I think it's as personal as my first cookbook but the most 'lyrical' cookbook I ever did. The Newish Jewish Cookbook is in some ways a companion cooking book for my Jewish Holiday Baking cookbook. I always wanted to put all the 'best' Jewish cooking recipes in a cookbook. I created so many recipes over the years and my vision for this newest cookbook was to offer inspired classic recipes along with innovations and global flavours that both boomer and millennials would both appreciate. It's also a 'you don't have to be Jewish' sort of cookbook, i.e. it's for anyone who loves great, flavourful food that happens to have a wonderful founding tradition underlying each recipe.
How long did it take you to write each of your cookbooks?
That's a tricky question! It takes years of recipe creation to have enough of a repertoire of recipes that would make up a book. Then it's about a year of solid writing, recipe testing, editing and production until the book is ready for release.
What do you enjoy most about writing a cookbook?
I love building things or creating and in many ways, a cookbook is like building a house – it's a big and noble project with both large-scale structures to it as well as details. I enjoy writing the headnotes, working with my recipe testers and imagining someone opening my cookbook one day and saying: I want to make this, I want to make that – I want to make it all!
Of all the recipes you have published, which one is your favourite?
That's like asking which is my favourite son (I have three sons). That said, I think the Passover Mock Chestnut Torte with Matzoh Buttercrunch (aka Matzoh Crack which I invented) is to me, totally inspiring in all ways. It tastes amazing, it's Passover correct, it looks gorgeous, it's easy, it freezes, it's impressive and it uses a common ingredient as a secret taste/texture enhancer. On my top recipe list there's also: Lawsuit Muffins, Matzoh Buttercrunch, Lemon Pizza, Caesar Salad Bread, August Moon Cauliflower Soup, Bakery Style Hamantashen Dough, Apple Challah for the Jewish New Year and two that are dear to my heart: My Mother's Apple Cake (totally different than any other) and Moist and Majestic Honey Cake.
How did you decide which recipes to include?
A recipe has to be easy to do, taste amazing, have spirit, soul, and some 'roots' (a bit of history of context or a reason that it's special). I also create cookbooks that are 'balanced' between contemporized classics and edgier things that draw a reader and home cook 'in' to the kitchen. I try and offer recipes I think will be loved for a long time – not just for one trendy year. I also have a test recipe template for my testers and one of the questions on the test form is: Is this a ten or an eight or so/so? Is it easy? Would you make it again? A recipe has to score top marks in all categories.
Are there any ingredients you are particularly excited about?
I like great, fresh spices of course but am devoted to Nielsen Massey Vanillas, Boyajian orange and lemon oils, and the dried fruits from Bellaviva Orchards. In general terms, I still get passionate about unbleached or organic all-purpose or bread flour – so much potential! Add to the list, sweet butter, organic eggs and fresh baking powder, and kosher salt (which is the best salt to bake with!). If I had to choose one ingredient aside from flour and butter, it probably would be Nielsen Massey vanilla – any type. It sounds like I'm advertising but their vanillas (which are kosher) are the linchpin of all my baking recipes.
Which dish would you recommend to someone who has never tried traditional Jewish cuisine before?
I think I would suggest any of my briskets, or the Friday Night Chicken from The Newish Jewish Cookbook. I'd also suggest my version (New Way Potato Latkes) to every and anyone! Of course, I'd suggest Matzoh Buttercrunch, my honey cake, and rugulah and hamantashen…there's really no limit.
Where can we find your cookbooks?
My media kit has all my social stuff – My cookbooks are on Amazon (all sites) and Barnes/Noble, Chapters Indigo very soon and Itunes store for the book. My books are available in print and ebooks.
© Marcy Goldman