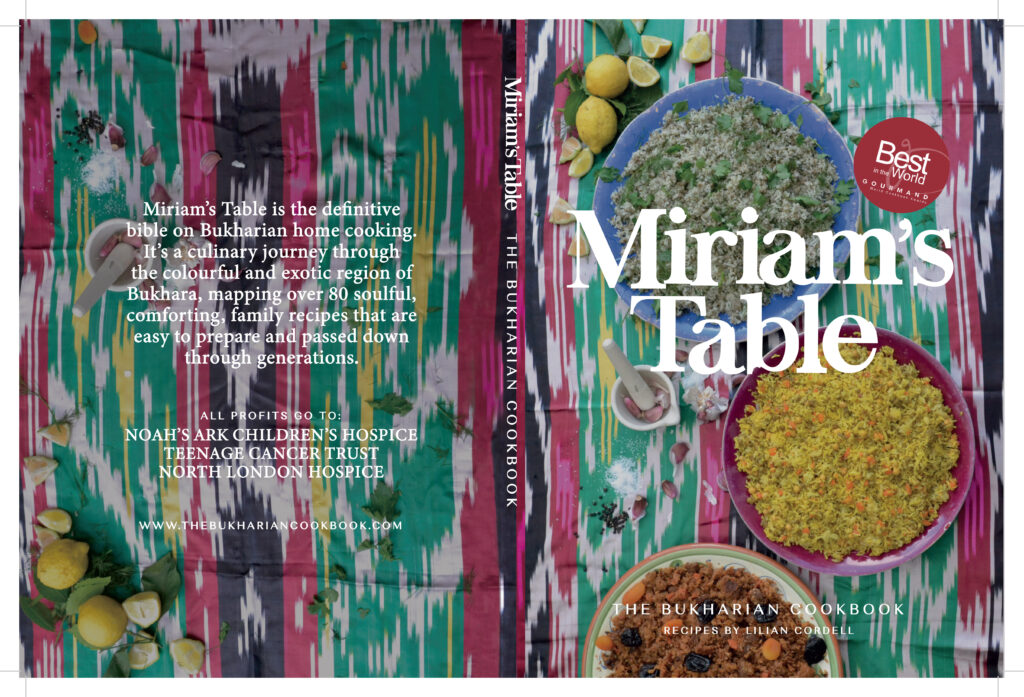 Lilian is the author of Miriam's Table which has now been awarded Best Jewish Cuisine Book in the UK 2018 by Gourmand World cookbook awards. The book has been shortlisted for Best in The World in the Jewish Category where the award ceremony will be held in Macau in June 2019. Never in Lilian's dreams would such an accolade happen and the excitement mounts to know if Miriam's Table will be Best in the World.Miriam's Table is the definitive bible on Bukharian home cooking.
It is a culinary journey through the colourful region of Bukhara, mapping over 80 soulful, comforting, family recipes that are passed down through generations. This cookbook is a fuss free approach to making delicious, wholesome meals that are intended for sharing with the people you love.
All profits go to:
Noah's Ark Children's Foundation

Tell us a little bit about yourself and your background.
I was born in London, youngest daughter to Miriam and John Abramoff. My early childhood memories were filled with family and gatherings of Bukharians always in our home, eating and drinking, while my mum was cooking and baking to feed the family.
At the age of 16 I attended the London College of Fashion. Realising I had a talent for design and colour I worked in the buying department at John Lewis and then moved to buying costume jewellery and travelling the Far East and Europe.
During my married years I switched careers again and obtained an Interior Design and Teaching Certificate. My love for design, and colour was combined in my work as an Interior designer and Lecturer.
When did your passion for cooking begin?
As a child, I would watch my mum cook and bake for all the family gatherings. Every recipe in the book has been lovingly recreated and the most difficult task was to achieve the authentic bukharian taste so that every bukharian would be able to recognise the memory of the food and stimulate those taste buds.
My husband is a lawyer and many of his clients are famous chefs and for many years we would sample taste the opening of their restaurants allowing me to appreciate the vast choices of food culture.
What inspired you to write Miriam's Table?
I had written a small recipe book in 2001 Reminisces and recipes of Bukharian Jews of Samarkand. Mum and dad wrote about their background, my dad born in Samarkand in 1913 and mum born in Jerusalem in 1926, and with mum's help we wrote a dozen bukharian recipes.
Later meeting Yotam Ottolenghi who was born in Jerusalem and was familiar with bukharian cuisine. Yotam inspired me to continue to promote Bukharian cuisine and he was the one that quoted "Miriam's Table is an invaluable record of Bukharian dishes, that until now relied on word of mouth"
Mum and the rest of the bukharian women, never wrote any recipes and each recipe was handed down from the previous generation of women. The women would meet every Friday, around the community ovens, in Jerusalem. They would swop recipes and chat about their family and shiduck making.
I remember asking mum – how do you make the Pilav rice "a little bit of this, as much as it takes, a memorial glass full of rice"Writing down the weight of the ingredients took up a lot of time although it was great fun and I smile every time I think of my mother explaining how to make her mother's food.
Mum died in June 2014 and I decided as I was approaching 60, to have a great big birthday Bukharian Bake off. This did inspire me to record mum's recipes and they are a tribute to mum.
How long did it take you to write your cookbook?
The project took me a year and a half. I immersed myself totally with cooking and baking all the recipes and photographing each recipe. I had an amazing team that I had been associated with for most of my life and who knew my mum.
My neighbour Michele Simmons of 26 years who is an editor took on the task and we collated some drafts at the start of 2015. My photographer Ros Rogers who is a great friend for 30 years tirelessly with her talent photographed every recipe (that was great fun). The graphic designer is my daughter Amy Cordell, who now lives in Tel Aviv – like her grandma – left her family to live abroad.
I self-published and 1000 copies were printed and launched in November 2017.A year and a half later I have sold 965 books and I have raised £13,500 to the charities and £2,100 to Alyn Hospital in Jerusalem (I thought it was fitting for the last donation to return to Jerusalem where mum was born.)
I have raised the money, by organising cookery demonstrations; talking about memories of mum and passing down the traditional way of cooking and entertaining family gatherings.
Now completed 10 cookery demonstrations in most of North London Jewish communities – where I grew up and are still some Bukharians living.
What did you enjoy most about writing your cookbook?
Creating all the recipes so that the authentic tastes continued. Each recipe had to be weighed and tasted and photographed. I also had to have each recipe sensibility checked. My dear friend Luci Daniels helped me with her expertise in food and nutrition.I also made sure that every family member bought a copy of the book so that the recipes can continue to the next generation – LEDOR VA DOR – from Generation to Generation.
I travelled with the book to Tel Aviv, Jerusalem, Miami, Toronto, Marseille and Rome.Meeting up with the family and reigniting family traditions and reminiscing has been an amazing bonus.
There are many recipes in your book, which one is your favourite?
Each recipe is very special and evokes so many childhood Memories along with happy times of family get togethers. Chicken Pilav is always served for those very special occasions, bar mitzvahs, engagements and weddings – the all-time classic!
When I heard that my son got engaged it was a given to make the Friday night dinner with both families and I was lucky to have had the opportunity to cook Pilav and have all four grandmothers around the Friday night table as an engagement celebration. I made:
Chopped herring page 24
Avocado w techoomi page 24
Techoomi Osovoh Brown eggs page 18
Non-Toki Crisp bread page 118
Chicken soup page 34
Samouseh Meat pies page 20
Beef pilav page 56
Roast chickens page 66
Chopped salad page 88
It was an absolute banquet and I was exhausted – although this is how mum used to cook weekly.
How did you decide which recipes to include?
The recipes are all from mum's repertoire. They were all served daily, weekly and over shabbat. Difficult decisions to categorise but I had the best editor – Michele to help us along. As with every cookbook, there are, appetisers, soups, fish, the perfect bukharian rice, chicken, meat, on the side, pies and pastries, cakes and biscuits, and breads.
With every recipe there are beautiful pictures with the help of Ros, as difficult to explain what a pilav is or a sholomosh! (lentil dahl)
There are also quotes from members of the family and their memories.
Are there any ingredients you are particularly excited about?
Bukharian cuisine is noted for its choice of staple seasonal ingredients and rice plays a very large part in the recipes. Rice can be prepared in three different colours;
Red rice – Osovoh which has tomatoes and prunes.
Green rice – Buchsh, spinach and coriander with meat
Yellow rice – Seer Kaneese, with turmeric and chickpeas
All bukharian food should be enjoyed with family and friends and always be served with shots of vodka.
Which dish would you recommend to someone who has never tried Bukharan cuisine before?
The ease of cooking for a gathering or a dinner party or for a family is always the one pot dinner. Cheloh – page 30 and 32 are a soup either a meat ball soup or chicken ball soup.
An easy dinner to prepare served with white rice with its burnt bottom. The burnt bottom is always a winner and the book show you the secret of preparing foolproof rice – every grain separate and white. – page 52.
Where can we find the cookbook?
Miriam's Table can only be bought online at www.thebukhariancookbook.com
Instagram