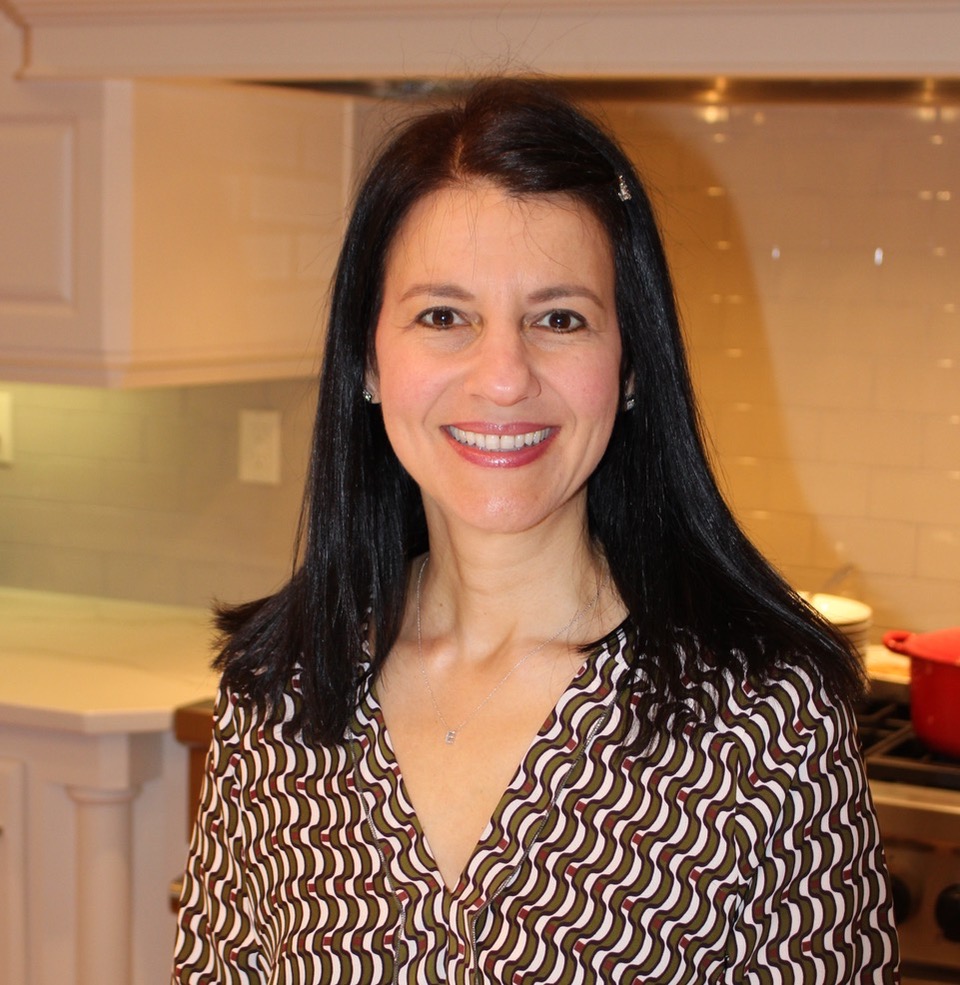 Photo: Courtesy of Estee Raviv
Tell us a little bit about yourself and your background.
My name is Estee Raviv. Born in Israel, I grew up on the sandy shores of the Mediterranean Sea. When I was young, meals were influenced by flavors of the Middle East, along with my Jewish heritage and the Eastern European traditions of my Romanian mother – an incredible cook and hostess – and Polish father, who is a Holocaust survivor. I am the author of Oy Vey Vegan, as well as a food blogger, and a regular TV guest on the most popular morning show in Portland, OR (KATU TV Am Northwest) doing cooking segments. I teach cooking classes, I am a speaker (telling my story & journey to a healthier lifestyle), but most importantly I am a proud daughter, sister, aunt, wife and mother to three amazing children. My oldest is in medical school (Sackler School of Medicine) my son is a student at Parsons, The New School in NYC doing fashion design, and my youngest just turned 12 and is attending middle school. As a family, we lived in Israel then relocated to the US, lived on both coasts and are surrounded by international friends, which helped expand my vegan cooking across cultures.
When did your passion for cooking begin?
I always appreciated good food, my mom raised us with pretty high standards. Cooking and hosting was a big part of my childhood. Our house was always open and filled with friends and family around the table.
My culinary experiences were further enriched by my family's travels around the world, exposing me to wonderfully diverse foods and traditions. I partly thank those travels for a lifetime love of art and creative expression. Graphic design, gemology and art studies led to a successful high-end custom jewelry business in Israel, and, after my move to the United States with my husband and children, work with polymer clay and photography. (Yes, From Estee's Kitchen recipe photos are my own!)
Cooking has always been my passion and relaxation, providing a creative outlet much like my artwork – with delicious returns! Whether hosting guests from all over the world or teaching cooking classes, I've always found ways to spread the love for healthy, creative cooking. It is inspiring to share my knowledge with people that do not have the same cooking experience, along with my belief that you shouldn't be afraid to try new things and explore in the kitchen. It is also great fun developing delicious vegan recipes that anyone can enjoy, and From Estee's Kitchen offers the perfect way to "spread the love."
What inspired you to write Oy Vey Vegan?
After dealing with digestive issues for years, I realized that when I got older, my body was less forgiving and my digestive issues got worse. So, I went to see numerous physicians and didn't really get answers, so I decided to start researching ways to help solve my health issues. This led me to change my diet. I tried eliminating all kind of foods and experimenting with different recipes. I was never a meat lover but was definitely a dairy one. Removing dairy from my diet made all the difference – in fact, it changed my life! My quality of life, my energy level, mood, skin, happiness, I even lost a few pounds without dieting, and yes, my digestive issues were solved! I was so happy at that point, mainly because I felt that I figured it out, that I decided to share my journey with the world by writing a cookbook and help others who might have the same health issues but don't even know where to start. I wanted to get people excited about cooking and to inspire others with mouth watering recipes. Why Oy Vey? Because when people hear its vegan they say: "oh no!" There is nothing to eat and it's probably so bad….This cookbook is a proof that vegan food can be so delicious, easy to make, complex and satisfying all at the same time.
How long did it take you to write your cookbook?
About 3 years.
What did you enjoy most about writing your cookbook?
I really enjoyed creating new recipes, recreating childhood recipes to fit them into the vegan world, especially when it turned out better than the original…I enjoyed sharing my journey in my blog and I enjoyed exposing my kids, friends and family to a whole new fascinating world!
There are many recipes in your book, which one is your favourite?
Wow! That a hard question and I'm not sure I can name only one, I can say that I go back to so many of my cookbook recipes on a daily basis, and just to name a few the "Cheesy Bites" and "Tahini Oatmeal Cookies" are extremely popular as well as my "Vegan Paté" and "Broccoli Quiche"
How did you decide which recipes to include?
Great question! I had my family serving as taste testers, and they approved each and every one of the recipes.
Are there any ingredients you are particularly excited about?
Seasonal fresh veggies and fruits! Kale and hearty vegetables in the winter, pumpkins and squash in fall, pacific northwest apples and pears, not to mention the summer berries coupled with mushrooms of all shapes and sizes
Where can we find your cookbook?
My website or Amazon, Barnes and Noble and in general, every bookstore can order the book to the store in the US, Canada and the UK.
Here are my social media links: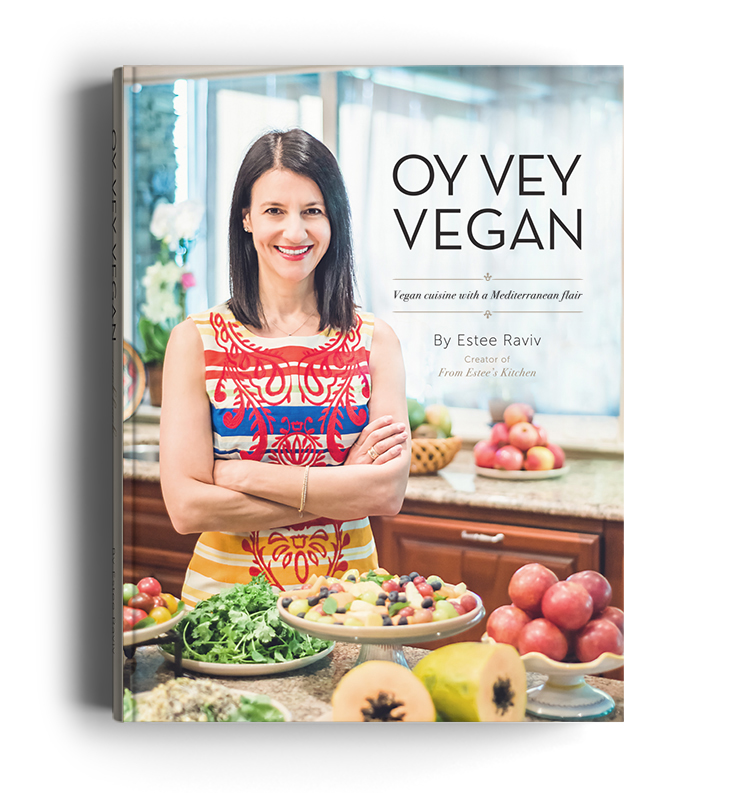 Photo: Courtesy of Estee Raviv
*Estee was so kind to share her vegan Hamantaschen recipes with us! You can find them here.*
Vegan Passover Menu Suggestion by Estee Raviv
As an appetizer, I will serve my famous Vegan Paté, which is my answer to "Chopped Liver."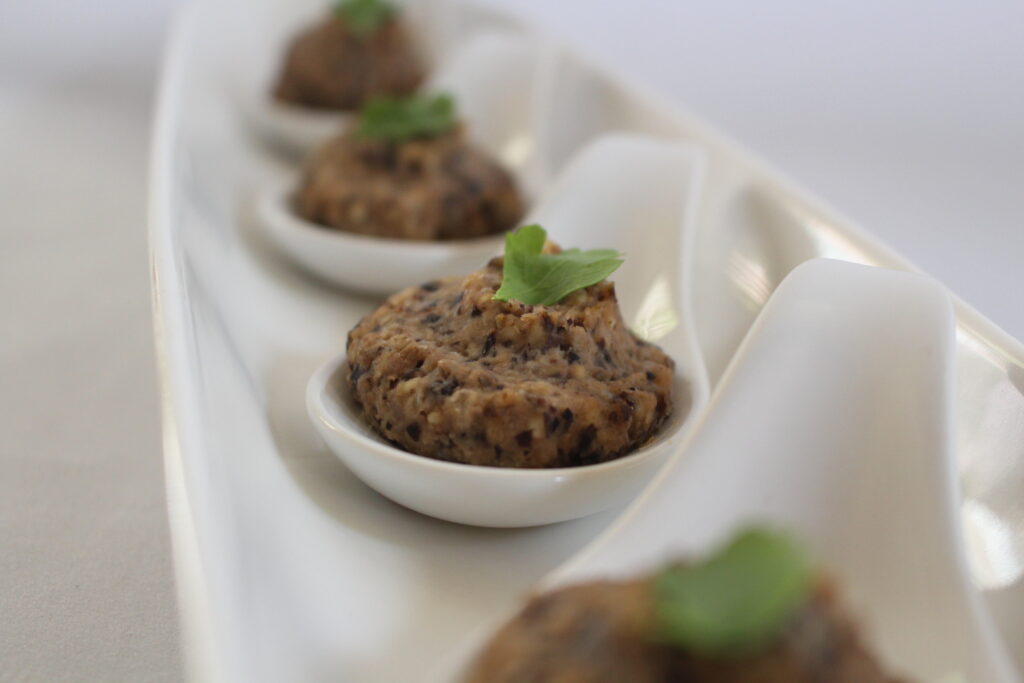 Photo: Courtesy of Estee Raviv
I always serve some type of salad and this Kale Salad is simply fabulous. You can serve it in smaller, individual, dishes for a more elegant display.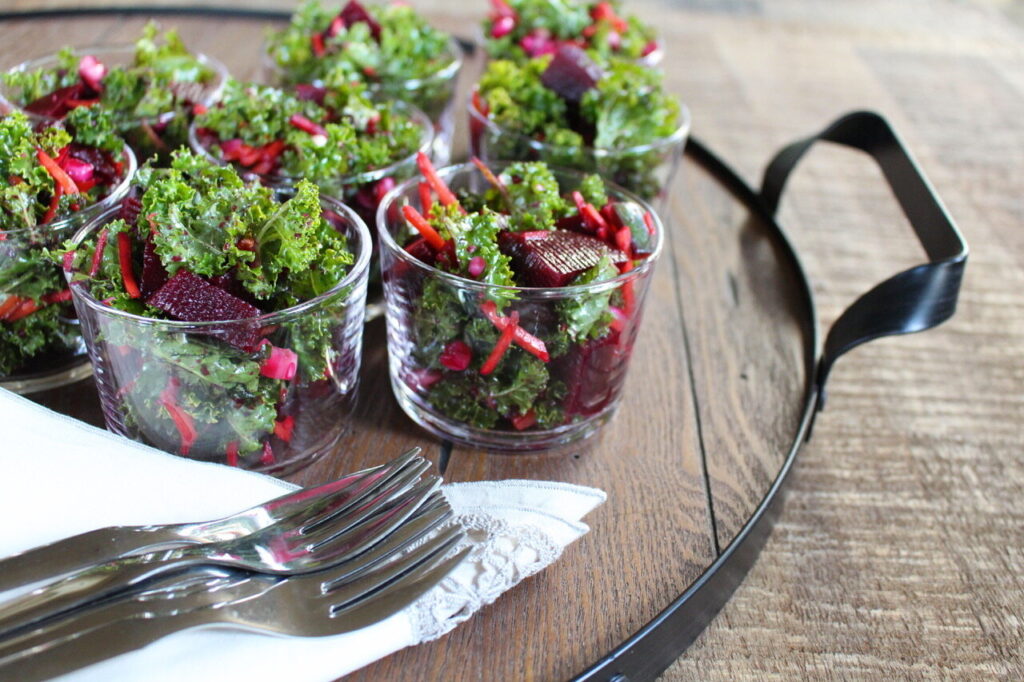 Photo: Courtesy of Estee Raviv
As a main dish, I will serve Stuffed Peppers.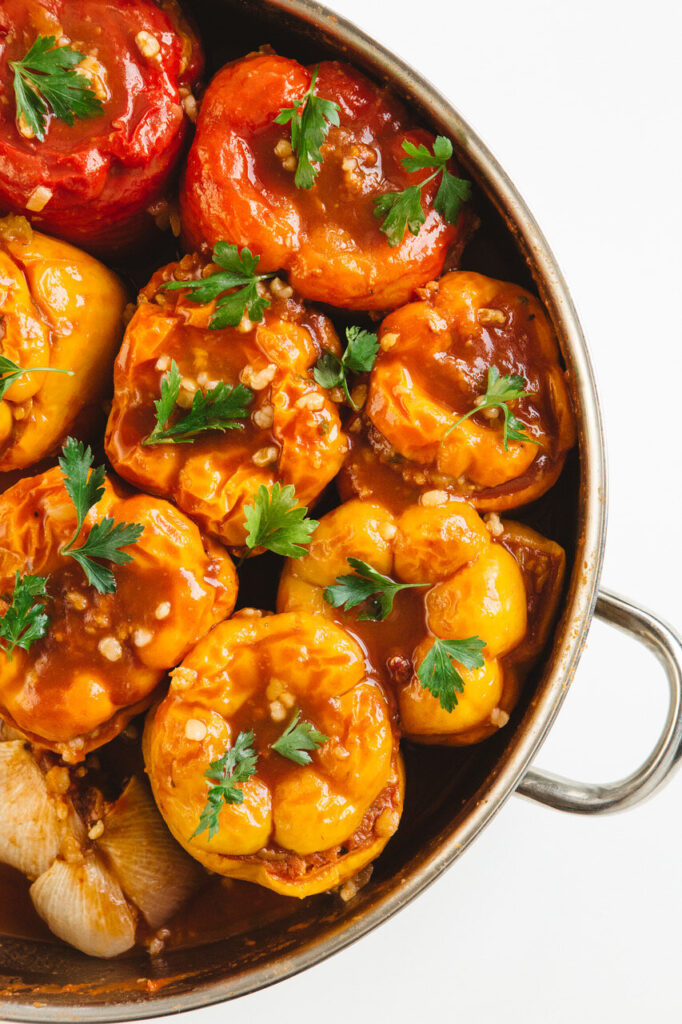 Photo: Courtesy of Estee Raviv
And for dessert, a traditional compote and my chocolate mousse cake, without crust, and served in individual dishes.
Photo: Courtesy of Estee Raviv