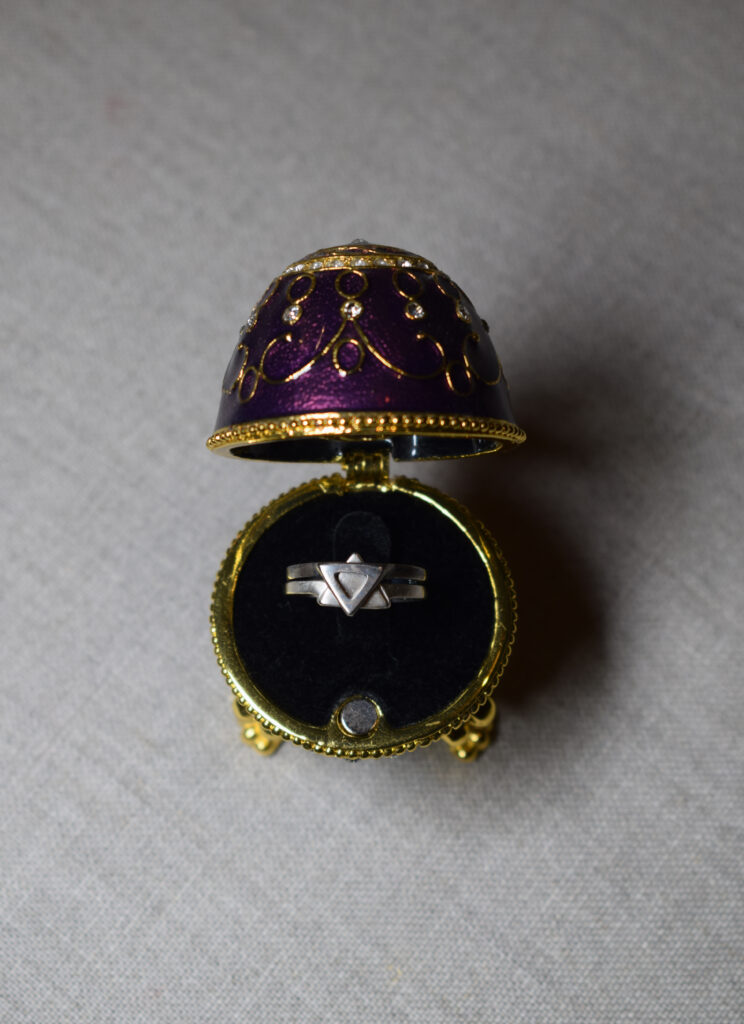 Photo: Courtesy of Judaica in the Spotlight
Product: Star of David Ring
Designer: Inbar Alezraki
Material: 925 Sterling Silver and Oxidised Silver
Our verdict: Gorgeous ring set for everyday use!
If you are someone who loves unique pieces of jewellery you will quickly fall in love with the contemporary design of this intriguing ring set. Inbar had a very unique idea when creating this versatile beauty.
This hand-made ring set consists of two triangular sterling silver rings. One of them is silver in colour, one is oxidised, hence, black. You can wear them as two minimalistic, understated, rings with pretty much any of the outfits you have in your wardrobe. The rings will always fit, which is something we do appreciate very much when it comes to jewellery.
If you stack the rings together, the shape of a Star of David becomes visible. The two toned design of the Magen David is simply marvellous. You can't help but smile every time you glance at it, especially if you are on the more spiritual side of things and see this design as much more than a fashion statement.
This ring set makes an ideal presents for yourself, your loved one, or a Bat Mitzvah girl. The eye-catching design enchants both Jews and non-Jews alike. It was very interesting for us to experience how even men asked where to get this stunning ring from as they saw the design automatically as unisex due to the oxidised silver element. Wearing this incredibly beautiful design guarantees compliments from everyone around you!
If you ask us, there is nothing nicer in this world than wearing a meaningful piece of jewellery created by someone so deeply connected to what they love.
We are thrilled to have had the opportunity getting to know Inbar and her fabulous work. You can find out more about where she takes her inspiration from in an interview we have conducted with her earlier this year here.
If you have any questions about any of her designs, your ring size, or anything else don't be shy and contact her. Inbar is very friendly, approachable, and explains everything you want to know wonderfully.
Photos: Courtesy of Judaica in the Spotlight