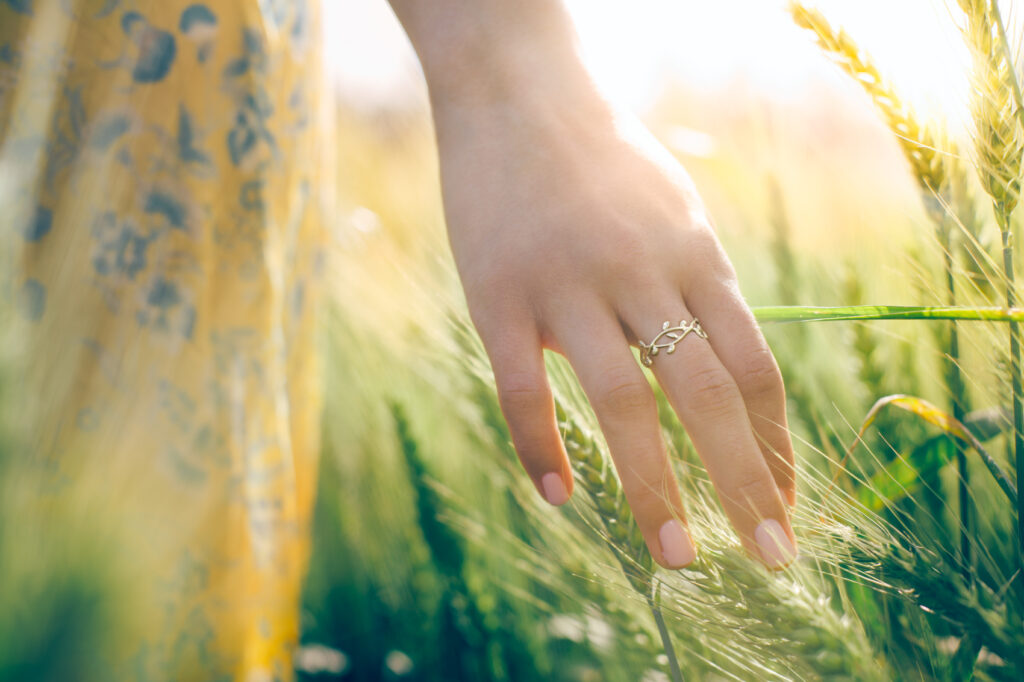 Photo: Courtesy of Inbar Alezraki
Tell us a little bit about yourself and your background.
My name is Inbar Alezraki, I was born and raised in Kibbutz Revadim in Israel and nowadays I live in the Kibbutz with my husband and 2 daughters.
I was always connected to the world of art – drawing/sculpting/crafts.
The moment I was exposed to the Jewelry world: One of the values/principles the Kibbutz teaches its children is the collaboration and economic growth in which each individual contributes from their capabilities. Therefore, in our Kibbutz, each kid spent a workday in one of the Kibbutz's workplaces: The dining room/clothing store/children's house/fields/cowshed/jewelry factory and more…

I worked at the jewelry factory, and there started my connection to the goldsmithing world.


After my military service, I studied jewelry design at the "Shenkar" College of Engineering and Design and graduated with a Bachelor's Degree in Design (B.Des).

I did my internship in the Kibbutze's factory – a large jewelry factory that specializes in jewelry design and silver with Roman glass jewelry in particular.
After the birth of my firstborn daughter, I decided I want to start an independent path and opened my business – "Inbar Alezraki Jewelry Design".
In addition to my work in my business, I also teach goldsmithing in a daycare for at-risk teenage girls. In goldsmithing, as in art, there are therapeutic techniques – When one knows how to do the right process with it, it uses a self-expressing tool and can empower the student and provide them with confidence.
What inspired you to become a jewellery designer?
As a little girl, I always knew I want to work in the art field and practice design and everything related to creativity. I especially loved connecting small pieces That was actually the beginning of my path, even before I could understand and define the meaning of it.
Because I grew up in a collaborative community, I had a dream that one day I will own something of my own – something big I will be able to voice myself through – To express my love for nature, to express my passion for connections and connectors of different shapes and materials, for making a whole out of different pieces.
I wanted to demonstrate the childhood world, that as a girl who grew up in the communal sleeping arrangements (In the past, the Kibbutz's children used to sleep at the children's houses, separately from their parents) is an unseparated part of me.
When you start to design a new collection, what is the process like? Where do you take your inspiration? How do you keep up with the current trends?
I design collections twice a year. One before the winter and the other before spring.
I live in an area in which nature is very dominant, and therefore most of my designs are influenced by my surroundings.
I also love to create out of emotions, and if I have the need to express something, it is undoubtedly going to come out as a jewel. Like the "I will bring you the stars" pendant – that is inspired by a bedtime story my father used to tell me as a little girl, every night at the children's house, about a girl who wanted her father to bring her the stars. Her father, who wanted to please her, found a solution in the reflection of the stars in the water.
What do you enjoy the most about the design process?
Because I handcraft all my pieces, and sometimes I create the same ring three times, I love to see how the jewel goes through the process from the sketch stage to the stage in which it is done, polished, and set with precious stones. It is kind of evolutionary.
What are your favourite materials to work with?
Pure gold and silver. Both metals excite me. They have so many depths, and the amount of layers and textures you can reach with them is infinite. They are inspirations themselves.
What are your favourite designs in your current collection?
The Stalks ring – Symbolizes the nature in the world in which I grew up and the concepts and symbols of that world.
The Palms pendant) "I'll Give You the Stars"(- Symbolizes the love of my parents and the confidence they granted me despite the communal sleeping arrangements.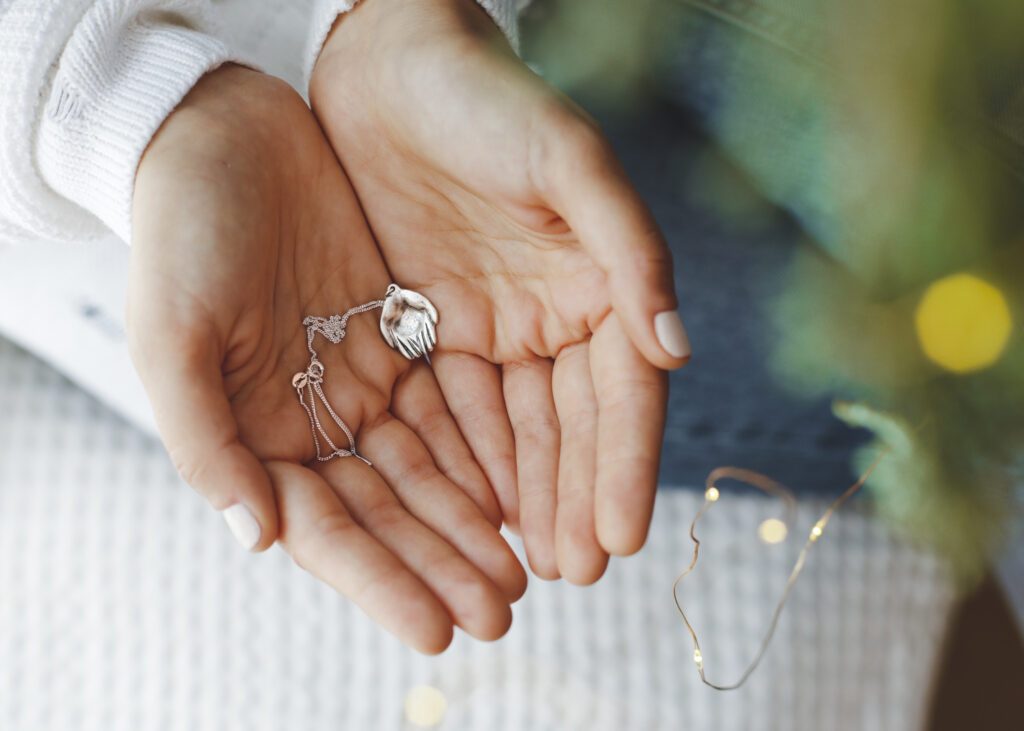 Photo: Courtesy of Inbar Alezraki
What are your wishes for the future?
That my inspiration will never come to an end and that I will keep on creating in my studio beside my home.
Where can we find your designs?
http://www.inbaralezraki.etsy.com/
Photos: Courtesy of Inbar Alezraki