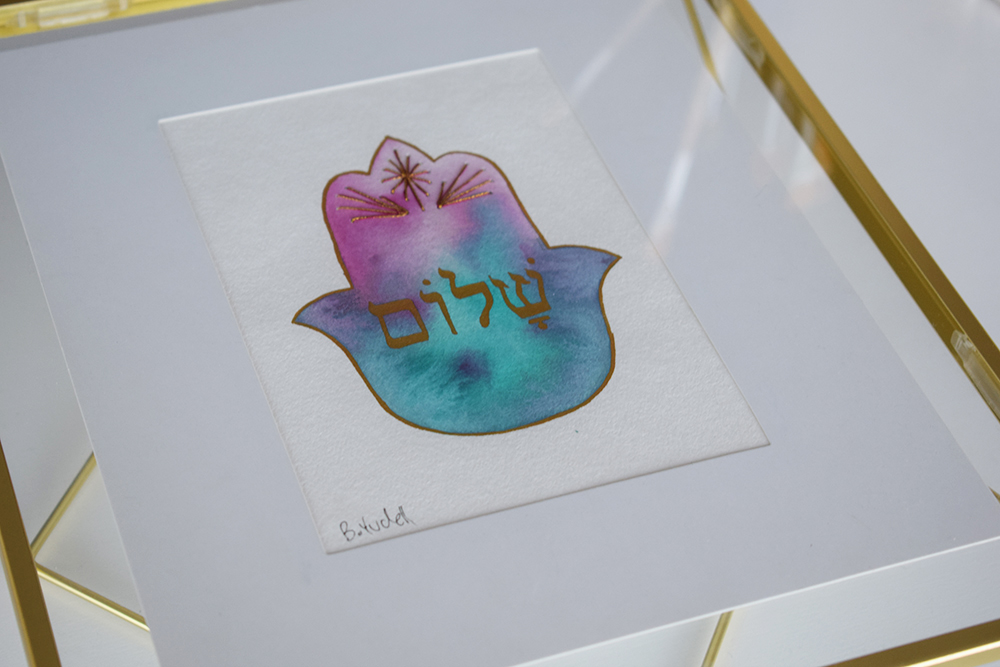 Photo: Courtesy of Judaica in the Spotlight
Products: Hamsa artwork & Greeting Cards
Our verdict: We simply adore Britt's art!
Hamsa Artwork
When we first interviewed Britt almost a year ago, we have already admired her artwork for a while. It did not take much for us to fall in love with her style, since she incorporates everything we enjoy in art. Watercolour, gold accents, calligraphy, as well as intriguing elements you usually would not find in a classical watercolour painting, such as embroidery using pearls, beads, and different coloured threads. You need to have the eye for it to be able to mix the various media and Britt certainly does. The elements she chooses always harmonise perfectly with each other and integrate wonderfully.
We have recently received one of Britt's enchanting designs in our mailbox. A unique watercolour Hamsa in which she incorporated gold accents, mesmerising Hebrew gold lettering of the word "Shalom", as well as burgundy and gold coloured threads. As we love surprises, Britt has not told us which of her delightful designs we should expect, but little did she know was that she would be spot on with her choice.
You will be easily captivated by the harmony in this piece. The colour balance, the calligraphy, the symmetry of the threads; glancing at this beautiful Hamsa when you are in need of inspiration while working you simply can't help but smile. The ideas will come by themselves.
We simply love the meditative aspect of this particular piece of art. Just seeing the word "Shalom" will fill you with inner peace. The art you display in your home should always make you feel happy.
Britt is a true artist with her entire body, mind, and soul who wants you to feel pure happiness when looking at her work, and she succeeds. You can find her magnificent artwork here.
If you love Britt's style, but have a specific design in mind, you are more than welcome to contact her. She is a lovely person who would be more than happy to bring your vision on to paper. Don't be shy!
Greeting Cards
In addition to her beautiful artwork, Britt creates lovely greeting cards. Who doesn't enjoy receiving a card or a letter in the post every now and then? If you want to surprise your loved ones with a handwritten note, you simply have to use Britt's beautiful designs. They will certainly make the receiver smile!
You can find Britt's greeting cards here.
Important Warning: You may fall so in love with Britt's greeting cards, they may just end up framed on your own wall or on your desk instead of in someone's mailbox. Keep this in mind while you are picking your cards and just add some bigger versions of the artwork of them to your cart to display in your own home
Photos: Courtesy of Judaica in the Spotlight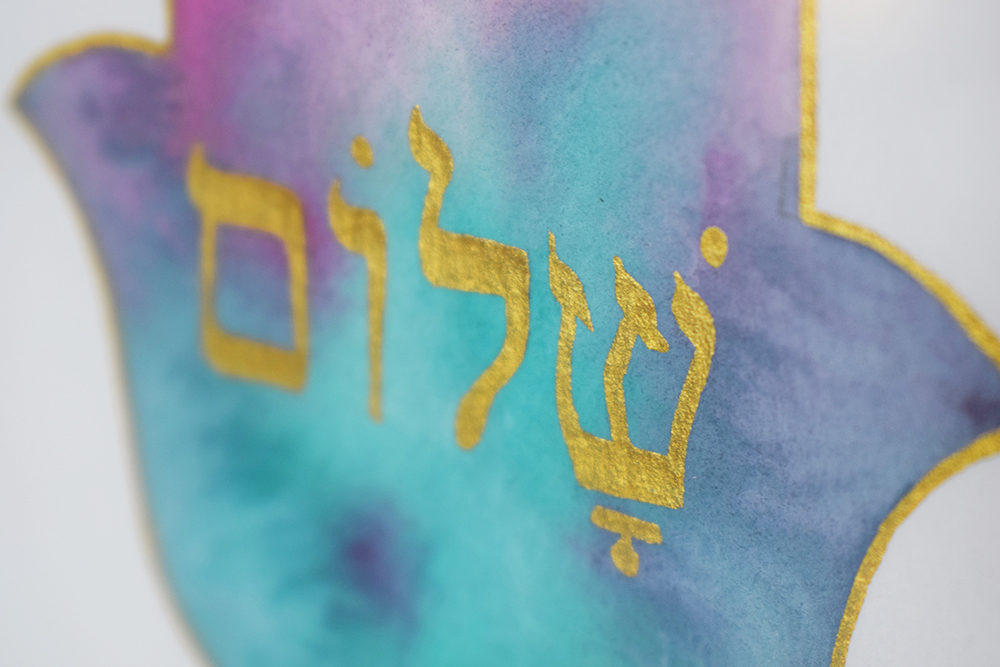 Photo: Courtesy of Judaica in the Spotlight