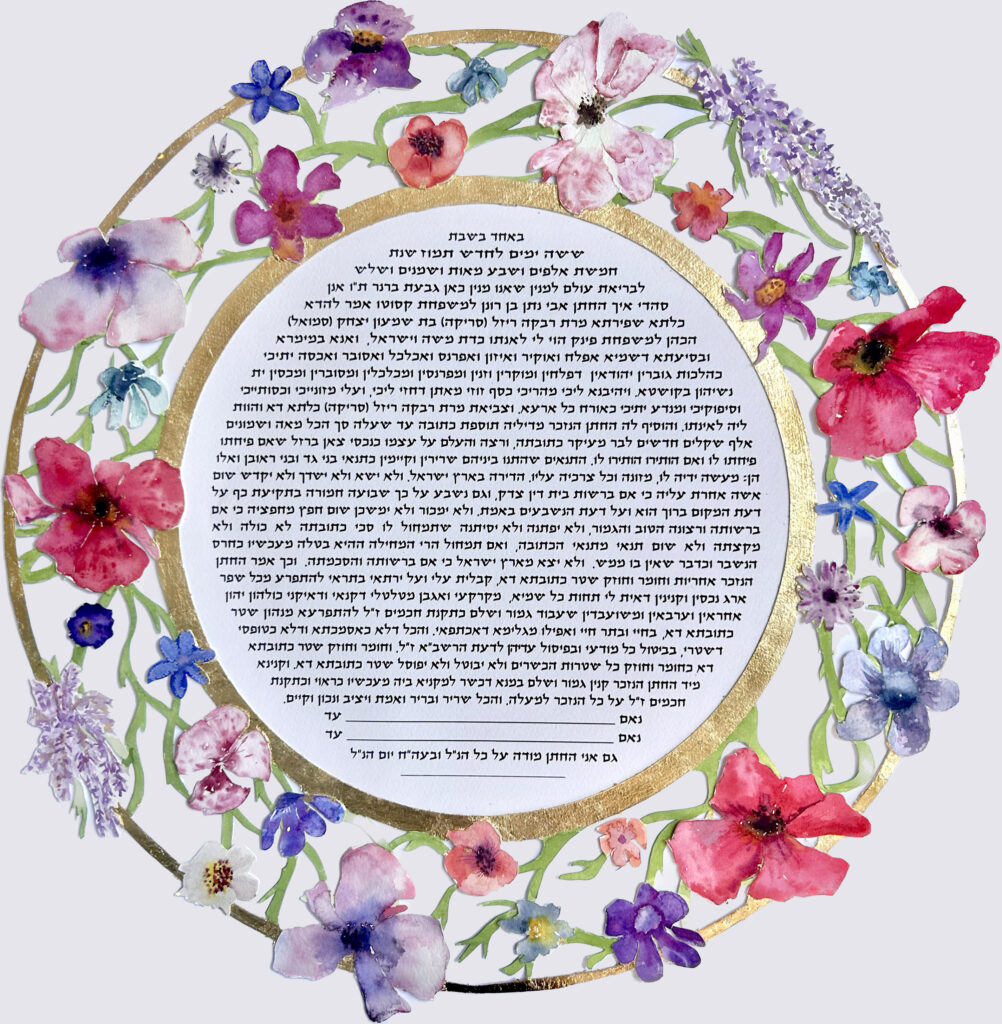 Photo: Courtesy of Meirav Finn
Tell us a little bit about yourself and your background.
I was born in Los Angeles to a modern Orthodox family, where I was raised with a love for my Judaism and a love for humanity and life. After attending University of Maryland, where I got a dual degree in graphic arts and fine arts, I became an art teacher at the Boys and Girls Club and later at Shalhevet High School in Los Angeles. Alongside teaching, I built my own art teaching business, organizing art classes for all ages and running summer art camps. One day my best friend asked me to make a ketubah for her wedding. I was honored and put my everything into it. Soon another friend asked me to make one for her wedding and I realized that I could really turn making ketubahs into a business that I would love.
What inspired you to become an artist?
I had an art teacher in highschool who recognized my creativity and never shut down my ideas as too weird. I have always been interested in why things are the way they are and I love exploring the deeper meaning of things through art. I found that I really enjoyed expressing ideas through a visual medium much more than speaking them with words. I found that when I am in the act of creating, time stops and I am in a true state of flow and oneness with the world and energy around me.
What is your speciality?
My specialty is creating floral hand-painted watercolor and papercut Ketubahs. I absolutely love the process of painting intricate flowers on watercolor paper, carefully cutting them out, and then arranging them on a background of beautifully painted branches. Collaging the pieces creates a 3D effect that brings the artwork to life and embraces the Ketubah text like a warm, loving hug.
Where do you take your inspiration from? Are you pursuing any themes?
While creating ketubahs, I think about love, connection, harmony, and what it means to build a life together. I meditate on the beautiful bond between two people in love, which mirrors the symbiotic relationships found in nature. I'm inspired by the natural world around us and how it can be a symbol for a thriving, loving marriage. I am also often inspired by the couples that commission my work. We work together to make a ketubah of their dreams. In the past I've used the color scheme of a couple's wedding florals as inspiration for their ketubah. At the wedding the ketubah flows beautifully with its surroundings.
Which project have you enjoyed working on the most so far?
Every project I work on is a new wonderful experience. I particularly enjoy working with watercolor because of the way water and pigment flow together. In particular I enjoy painting flowers because I really get to investigate G-d's creations. And when you really look at something you realize how beautiful it is. You create a relationship with the subject you are painting, and I love having a relationship to nature because it makes me feel closer to the source of everything and reminds me to stay grounded and focused on what matters.
What do you want to achieve with your work and what are your wishes for the future?
Just as nature's wonders unfold with vibrant colors and breathtaking beauty, I hope my Ketubahs serve as a reminder for couples to look at their journey together with awe and appreciation for the love they have nurtured and grown.
As for my wishes for the future, I hope to continue growing and evolving as an artist, constantly refining my techniques and exploring new creative avenues. I love creating sculpture and using unusual materials in my work. Hopefully I will expand my practice beyond ketubahs to other Judaica art and art that addresses Jewish thought and philosophy. I hope to grow my art business so I can explore new ways of creating and expressing my curiosities and observations about my environment.
Where can we find your work?
Click here for my Etsy Shop if you are interested in commissioning a custom Ketubah or buying a print.
Click here for my Instagram to check out my process as an artist and Ketubahs featured at weddings If you have any questions feel free to reach out to my email: [email protected]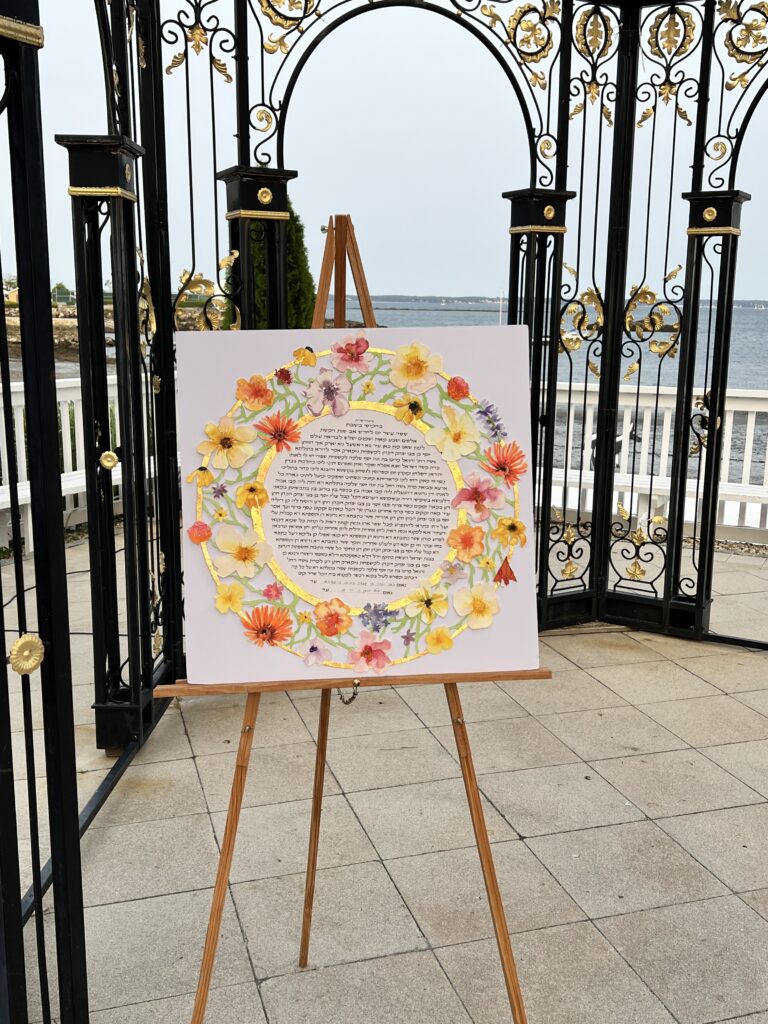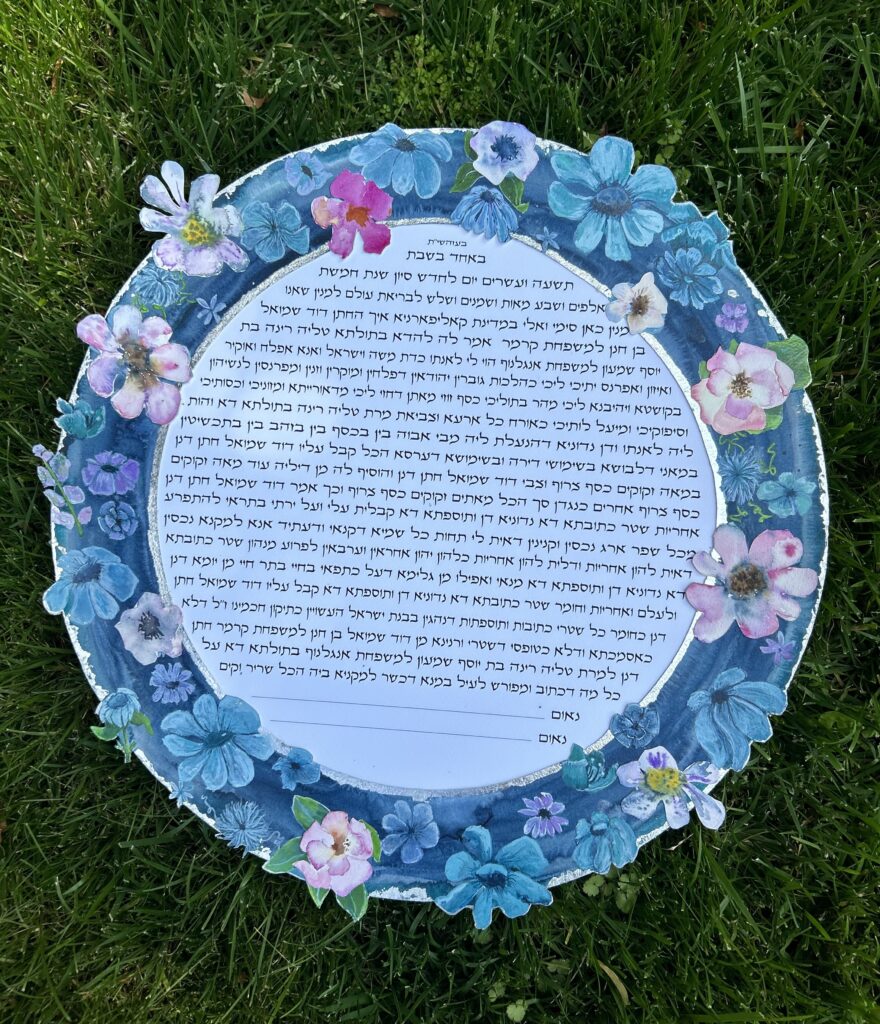 Photos: Courtesy of Meirav Finn