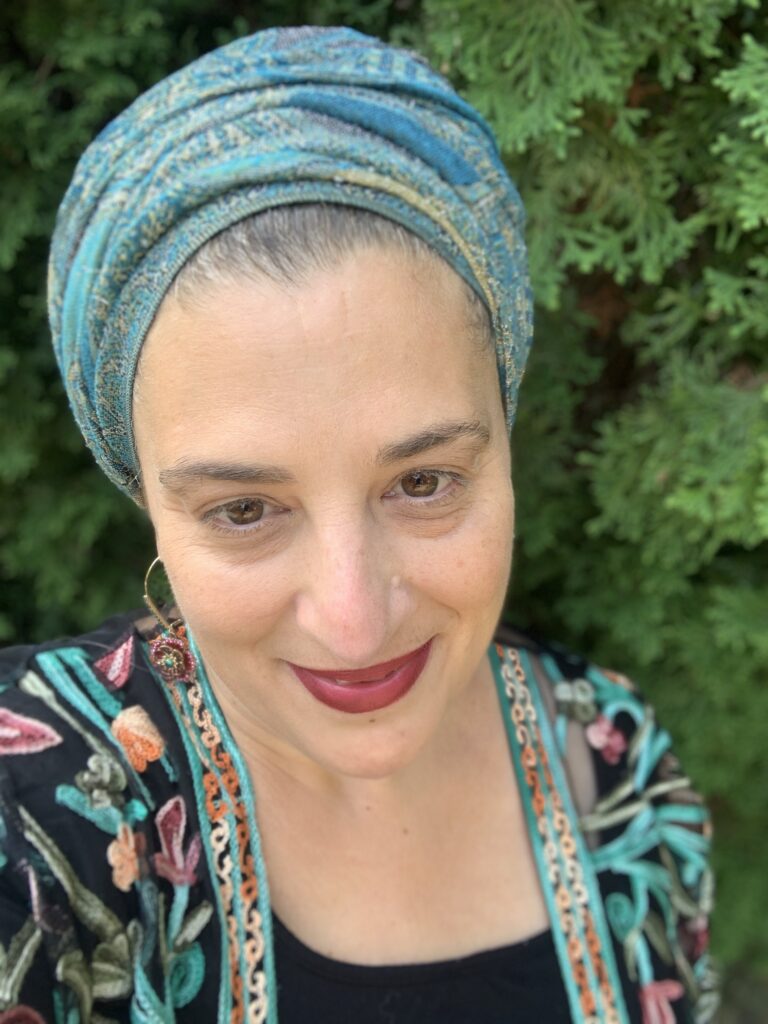 Photo: Courtesy of Amy Gelfman
Tell us a little bit about yourself and your background.
I have always thrived on creativity and imagination. As a child I used to draw whimsical characters, ladies with larger-than-life eyes and lots of swirly whirly patterns. I remember feeling discouraged because I could never draw realistically, so eventually I stopped and decided to spend my time doing other things. I developed my music and storytelling skills and have been in the music environment for over 25 years. Currently, I work as a private contractor for Ovation Communities and sing with seniors, many with dementia and Alzheimer's. Music is magical, evoking emotions and memories long forgotten. In addition, I have entertained for children's birthday parties for more than 20 years, playing guitar, puppetry, dance and movement. But it wasn't until December 5th, 2015, that I discovered my passion for painting. I owe this discovery to a friend and colleague of mine who invited me to her 40th birthday party at Splash Studio, a wine and paint place. One thing led to another, and I found myself painting between every nook and cranny of time I could find in my busy household.
My husband, Jonathan, has a B.A. in Fine Arts. He is a trained artist with a great talent and passion for painting and any creative endeavor. When the floodgates of colors, patterns, shapes and designs opened in my world, Jonathan and our six sons had no choice but to join in on the fun! Whether he likes it or not, he has become my in-house instructor. What fascinates me about Jonathan's talent is his ability to do a variety of styles. He can paint a realistic scene and add a dash of wild imagination. Collaborating has been a great journey for us as a couple. it's great fun to see each of our sons find their own unique style and it is a joy to see my husband's passion rekindled! Now, in my early 50's and sort of self/husband/world taught, I've decided to stop telling myself that I can't do "this" or "that." I've decided to face and nurture any creative challenge that brings me joy and ultimately makes others happy too.
What inspired you to become an artist?
While it seems that painting is my passion, my passion is truly connecting to my fellow human beings, facilitating opportunities for others to connect and enhancing those relationships. I believe we all have the capacity to create, whether it is through art, music, story-telling, food, etc. I believe that we all yearn to connect with one another. I feel tremendously fortunate that I have had so many opportunities to connect with others far and wide through creativity
What is your speciality?
Folk and Judaica are my "go to" specialities.
Where do you take your inspiration from? Are you pursuing any themes?
I get inspired by Jewish life and relationships, mainly. I am also inspired by the natural world…leaves, plants, trees, flowers, etc. I greatly admire the work of Marc Chagall, Itzchak Tarkay, Gauguin, Matisse and Picasso to name a few.
Do you take on commissions and create bespoke designs?
Most of my work is commission based though I do sell prints and originals of other work in addition to products with my art, like handbags, mugs, journals, pillows etc.
Which project have you enjoyed working on the most so far?
I was commissioned by a dear high school friend several years ago. She is first generation Pakistani and wanted a painting reflecting her roots. I loved this project because it enabled me to do what I love best, painting women with exotic patterned dresses. I love patterns! I absolutely love anything with a Middle Eastern flair as well! I'm crazy about the textiles especially from Turkey and Morocco. I do not know why, but I get strangely emotional when I see these ancient designs and feel compelled to emulate them in my work.
What do you want to achieve with your work and what are your wishes for the future?
My highest goal is that people connect to the paintings in their own way. I hope that they feel the emotion I have put into the piece and the messages I wish to convey. These themes include the love and strength of family bonds, mother/father to children, sister to sister. Additionally, my love for the land of Israel seems to find its way in many of my paintings. Often, I have themes of universal love and the desire to repair our world. Some people have told me that a couple of my pieces inspire feelings of the final redemption. I love that! I hope to spread this visual message far and wide to do my itty-bitty part in bringing us closer to the time of Moshiach, G-d willing!
Where can we find your work?
www.gelfmanstudiosboutique.com
Instagram: GelfmanStudios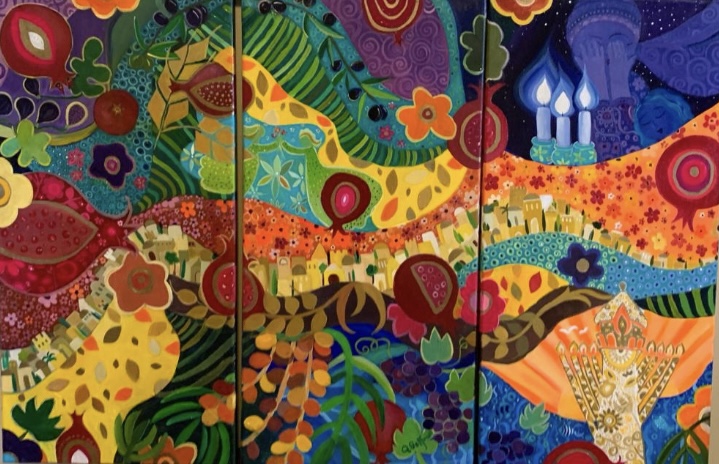 Photos: Courtesy of Amy Gelfman