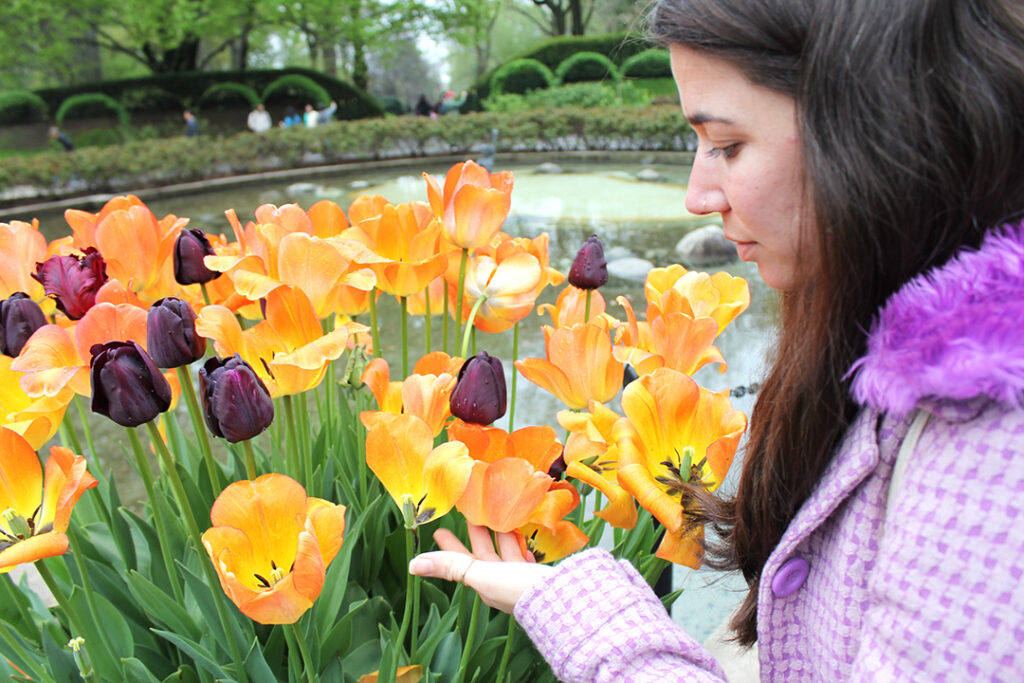 Britt Yudell's unique fusion of rare watercolor styles, bright colors and traditional embroidery has caught the eye of people around the world – helping to shape an entirely new and refreshing take on Ketubahs. Britt was born in Jerusalem to a pair of professional artists and began creating and selling works at a very young age. Growing up in Zichron Yaakov and Pardes Hana, she was able to hone in on her creative touch by studying with some of the areas most eclectic artisans before moving to Tel Aviv and studying at the Holon Institute of Technology and Design. Britt has created Ketubot for couples all over the world who are attracted to her ability to express the energy and vibrancies of life through her choice of mediums which dance between the traditional and the modern. In late 2016, Britt re-located to Brooklyn, New York where she now lives creating new unique Ketubahs and responding to the demand for her work in other formats.
Tell us a little bit about yourself and your background.
I was born in Jerusalem to the most creative parents in the world. Both are artists. My dad is a known ceramist and my mom is a jeweller. I also have a step dad who is an architect, and who has inspired me tremendously. We moved to Zichron Yaakov a short time after I was born. My whole life I was busy spending all my time on creative projects! In high school I focused on art and architecture, moving on to a bachelor's degree in interior design after serving in the IDF. Today I'm am working as an interior designer and running my art business at the same time. I moved to Brooklyn over two years ago to support my fiancée while he completes his masters and releases a new album of his amazing music.
What inspired you to become an artist?
Definitely my surroundings. It's hard not to become an artist when you are constantly fed creativity from parents like mine… it's everywhere!
What is your specialty?
Watercolors and paper embroidery. I have special techniques that I developed over time. I like that my pieces are very unique and cannot be copied so easily.
How and where do you work?
I have a small studio at home in Brooklyn and I love it!
What is the most indispensable item in your studio?
I have few… My brushes and some pictures of my family from Israel that move with me wherever I go.
Where do you take your inspiration? Are you pursuing any themes?
I think that like a lot of artists, I get inspired by nature. Nature is everywhere and touches every part of our lives in so many ways. In the past two years my main theme revolves around succulents!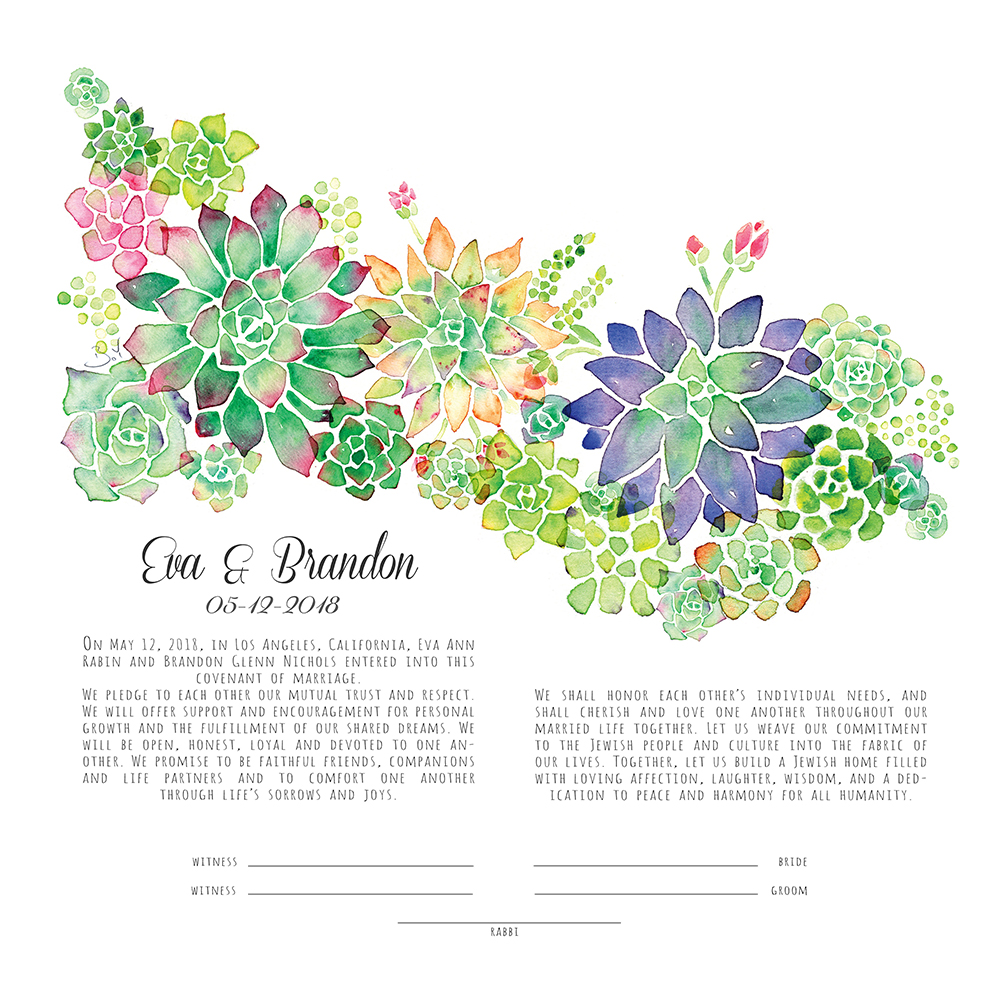 What projects are you currently working on?
The most exciting one! My own ketubah and wedding invitation for our big day at the end of June in Israel! This is the hardest ketubah yet, but I think it is hands down the most special and unique.
What is your favourite item in your current collection?
I just finished this amazing custom ketubah for a couple that collects sea glass together. They asked me to create a special ketubah inspired by the sea glass they love so much. There is nothing more special than to create something brand new that you really love, but which was commissioned by someone else.
How do you know when a piece is finished?
I just know… I can't explain but it's all about composition and balance. I think the fact that I studied both art and interior design sharpened my senses.
Do you do bespoke work?
I do and I actually love doing custom works. It's always interesting to step out of my box a little and have to be even more creative and surprizing!
What was the first artwork you ever sold?
Wow. I really don't remember the exact one but I was probably 8 years old, selling my mandalas and ceramic pieces in my dad's back yard. Every year he had this big art sale for local artists and I would sell my art there all the time (and not for cheap!).
Which project have you enjoyed working on the most so far?
I think the most fun project was the first ketubah I ever made. I never thought I would make a ketubah and didn't even know what I supposed to do. My friend asked for the ketubah as a wedding gift and I just went crazy over it! Because I had no idea what I was doing, it was the most interesting project that opened the door to a whole new career which I never had dreamed of.
What do you want to achieve with your work and what are your wishes for the future?
I think that the best thing I can wish for myself, is to be a part of many more weddings and to have my art hung in so many people's homes around the world.
Where can we find your work?
You can find me on my website : https://www.britcolors.com/
Etsy shop: https://www.etsy.com/shop/BritColors
Instagram: https://www.instagram.com/britcolors/
Facebook: https://www.facebook.com/BRITcolors
Ketubah.com : https://www.ketubah.com/artist/britt-yudell
© Britt Yudell