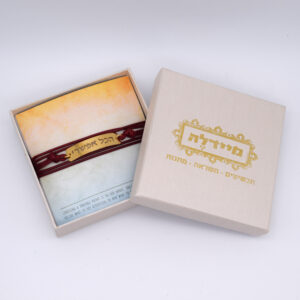 Photo: Courtesy of Judaica in the Spotlight
Not too long ago, we have interviewed Dafna Shemesh-David of Meydalle Jewelry for our magazine. Today, we have the great honour to review one of her delightful pieces she was so kind to surprise us with.
When it comes to jewellery, it is very important to us to choose pieces that we connect with on a deeper level. Pieces that are unique and meaningful. Pieces that inspire us every day.
Meydalle Jewelry's handmade "Anything is Possible" bracelet instantly found its way into our hearts! It was love at first sight. This beautiful bracelet comes in a multitude of colours with a variety of positive affirmations you can choose from. Be prepared to fall head over heels in love with each and every item in Meydalle Jewelry's online shop. Don't forget to visit their studio in person next time you are in Israel!
We believe that going through life with a positive mindset is tremendously important. To us, it is essential to try our best to remain positive every single day. This is one of the main reasons why we love Meydalle Jewelry's concept as much as we do. Their products are not just unique, beautiful, and trendy, but meaningful as well.
It has been known in spiritual as well as scientific circles for a very long time that practicing positive thinking will lead to self-empowerment which will then, as a natural result, lead to success in various aspects of life. Meydalle Jewelery's unique handmade designs are wonderful pieces that will remind you throughout your busy day to take a moment for yourself, to be grateful for the life you have, and to remind you with a positive affirmation, or symbol, what this life is all about and what you can achieve if you only put your mind to it.
This bracelet makes a wonderful treat for yourself yourself as well as a fantastic pick-me-up present for someone dear to you who needs to be reminded how strong they are and how much good there is in this world.
You can find Meydalle Jewellery's products here:
Etsy: https://www.etsy.com/shop/meydalle
Amazon Handmade: https://www.amazon.com/handmade/meydalle
Don't forget to follow them on Instagram!
Instagram: https://www.instagram.com/meydallejewelry_us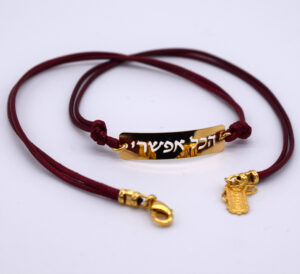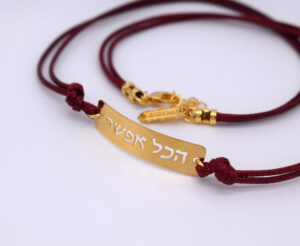 Photos: Courtesy of Judaica in the Spotlight