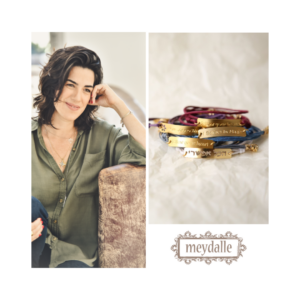 Photo: Courtesy of Meydalle Jewelry
Tell us a little bit about yourself and your background.
I was born in the north of Israel, and ever since I was a child I have been interested in design, art and the beauty of our world.
I am married with 2 beautiful kids, living in a village in the middle of Israel. I have a business degree and I have been designing jewelry in the last 15 years. I absolutely love it and it all started from a small booth in the streets of Tel Aviv and just continued to grow. In general, I enjoy cooking, travelling, reading, dancing, coming up with new and strange ideas – and really anything creative.
I am very interested in the connection of the body and the mind, in our ability to choose how to regard things that happen around us. I feel that the magical and mysterious processes in the world are what make our lives interesting, and it is important to be aware of them and listen. I try to share my experience and passion for the body-soul connection through my designs, and I believe it can make a difference.
What inspired you to become a jewellery designer?
My two favorite things are creation and personal development, and my brand is intended to reflect that. Since I have always handled materials and tried new artistic things, it was only a matter of time until I combined that with my personal process. When I started making jewelry, it seemed like the perfect way to remind me and my customers of encouraging messages and reminders. That inspired me even more – to be able to wear or send kind words through a beautiful piece of jewelry.
When you start to design a new collection, what is the process like? Where do you take your inspiration? How do you keep up with the current trends?
My process always starts with a mental idea. It can come to me in the most boring moment of the day or in the most hectic second, and it generates a whole process. Usually, I have a complete image of the piece in my mind before I even start working on it. The whole process can take a week or a year, but the beginning is always the same.
I can be inspired from everyday life, nature, personal experiences, and generally all life has to offer. I find potential for acceptance and fulfilment in every moment, and I try to convey this message in my designs.
What do you enjoy the most about the design process?
I enjoy the whole design process, from the idea part to the end. The concepts behind my designs move me and make me want to get even more creative. First, I draw, then I choose the best option, then I brainstorm the idea to create the best possible combination of idea, material and design, trying to include something unique in each piece. It also helps to get responses from people who feel my designs helped them accept or appreciate something in their lives. This is my favorite part in the process.
What are your favourite materials to work with?
I love working with materials that reflect the concept of the jewelry – each one and its specific message. Silver, gold filled, brass, stones and cords are present in the designs, but the message is what counts. The items are first of all made of the concept, and the materials are there to help me send it out to the world in the best possible way.
What are your favourite designs in your current collection?
It is not easy to choose a couple of designs, since they all have connections to personal processes and experiences.
One of my favorite designs is the Hebrew "Let there be light" bracelet, which I think is the gist of everything. It is the beginning of existence; it is our own inner light that we sometimes can't see. To me, it is one of the most important messages to remember.
Another one of my favorites is the Hebrew "You are beautiful" bracelet. This part from the biblical song of songs is considered one of the most meaningful writings in history. We all need to remember sometimes that we are beautiful – inside and out, and with this design, it is easier not to forget.
Another one is the Hebrew "Anything is possible" bracelet, which says exactly what I believe in. I truly believe in free choice, and our ability to reach our dreams. It is also one of my oldest and dearest items, and I was fortunate to hear many inspirational and happy stories from people who wore it. To me, that means everything.
What are your wishes for the future?
I would like to reach as many people as possible and convey these messages that I believe in, to many people all around the world. My hope is to use handmade, beautiful and meaningful pieces of jewelry, as a way for people to remember these important messages.
Through inspirational and delicate designs, I hope to create the same positive affect and help increase other people's personal emotional confidence, something very needed in the world today.
Where can we find your designs?
Etsy: https://www.etsy.com/shop/meydalle
Amazon Handmade: https://www.amazon.com/handmade/meydalle
Instagram: https://www.instagram.com/meydallejewelry_us
Photos: Courtesy of Meydalle Jewelry