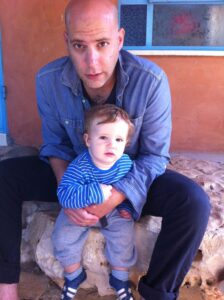 Photo: Courtesy of Itamar Heifetz
Tell us a little bit about yourself and your background.
My name is Itamar Heifetz. I was born in Jerusalem, lived and studied in New York, and am now working from my studio in Tel Aviv. I am a freelance graphic designer.
What inspired you to become an artist?
Art and design was always in the background. I started focusing more on the "art" side just a few years ago. Design inspired me more when I was younger. I guess I am a proud late bloomer.
What is your specialty?
Typography, lettering, calligraphy and printmaking. I write and draw letters in Hebrew, English and Arabic
How and where do you work?
I work from my studio in Tel Aviv. I share a space with fellow artists and designers.
My setup is half design based and the other half is always ready to print, draw or implement other ideas. It is important to me to be able to "skip" from design to art.
What is the most indispensable item in your studio?
A soft rubber roller. Love It!
Where do you take your inspiration? Are you pursuing any themes?
I am very inspired by work itself. I let an Idea "feel" the paper or any paint I use.
I find inspiration in some spiritual or mystic text and thoughts and my relationship with those ideas.
Music has a direct influence on my work
Do you do bespoke work?
YES!
What projects are you currently working on?
I am exploring some ideas combining different methods like printmaking and calligraphy. I am working on a series of hand written posters that are exploring how feelings and words work together.
What are your favourite items in your current collection?
I write notes that are repeating the feelings I have, like – "I am angry". These calligraphy based notes
blown up to poster sizes are trying to raise questions about who is writing? why? and so on. I like the tension between a personal note to a typographic poster.
How do you know when a piece is finished?
I sometimes imagine I am in a recording studio. So, whenever the session is over is a good sign.
I like the improvisation feel of my work and over planning is hard for me.
What was the first artwork you ever sold?
I come from a design background so I am used to selling my work in a way. The first item I sold
was a monoprint made in gouache of the letter K.
Which project have you enjoyed working on the most so far?
I love the collaboration with the dancer and choreographer Orly Portal. Orly's work is combining
Eastern and Western techniques. She is exploring the concept of "Blues" in an interesting way. The blues feeling in Eastern dance is fascinating.
What do you want to achieve with your work and what are your wishes for the future?
I want to keep exploring penmanship. I feel writing is an art form that is in danger.
Where can we find your work?
Right now, I post on Instagram. Soon, a print shop is coming!
Photos: Courtesy of Itamar Heifetz