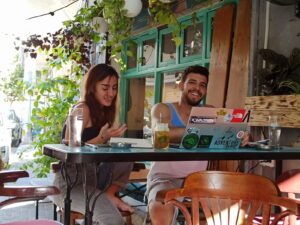 Photo: Courtesy of Hilel Mor
Tell us a little bit about yourself and your background.
My name is Hilel Mor and I am 24 years old. I grew up in Germany, where my parents studied art, and was educated within the Waldorf education system in Germany until I was seven years old and we moved back to Israel.
I have always studied arts and music in school and even took industrial design classes during high school.
After finishing school, I took a gap year and volunteered with at risk Ethiopian youth. This is when I discovered my love for leather and fabrics as I was always searching for things to do with the kids. I joined the army as a combat soldier and commander afterwards.
After two years in the service, I got injured and had the opportunity to join a development team where we developed and designed gear for the military. I dove into the product design world!
My business started as a hobby which I kept working on whenever I had the chance to.
After my military service, I worked in Canada for a while and travelled around China and Vietnam for a few months. When I came back because of COVID-19, I decided to open my own leather workshop where I develop leather goods with elements of pyrography drawing.
What inspired you to become an artist and designer?
I guess what inspired me to be an artist was my upbringing, my parents, my school, and my teachers. I always loved art and got the opportunity to work with so many different materials over the years and I think I just knew that this is what I wanted to do.
When you start to design a new collection, what is the process like? Do you tend to design with a certain type of person in mind? Where do you take your inspiration?
My design process – I mostly design bespoke pieces for my clients. They tell me exactly what they want to have in their wallet, for example, and I design and make it.
I start by drawing the design to then create a pattern for it before cutting, sewing, and putting all the pieces together. After everything is ready, I use a pyrography tool to draw directly on to the leather.
Recently, I have started to create my own designs and give my customers the option to choose colours and which drawing they would like to have on their item.
What do you enjoy the most about the design process?
I really enjoy the design and drawing part, especially the beginning and the end of the process.
What are your favourite designs in your current collection?
I have two wallets I really like: ODED and NADAV.
What are your wishes for the future?
I hope to one day have a big workshop for different kinds of leather products and other fabrics.
My biggest wish is to sell my work abroad and to further develop my YouTube channel.
Where can we find your designs?
I mostly use Instagram and Facebook for now and have recently opened an ETSY shop as well as a YouTube channel, but it is still very small.
Photos: Courtesy of Hilel Mor