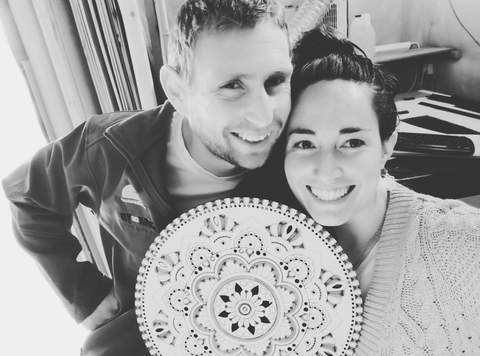 Photo: Courtesy of WoodfulArt
Tell us a little bit about yourself and your background.
Our story begins as two souls meeting in Israel for the first time with a mutual love for art, nature and for the land of Israel.
Shirlee grew up in California, and at the age of 18, Israel called out to her heart. She was brought up in a Jewish Zionistic home, destined to one day become an Israeli citizen. Shirlee made Aliyah and met her husband, Ofek, who grew up in a rural home in the heart of the Northern Galilee.
"We met while living in an Eco-Friendly farm near Jerusalem, living a peaceful and happy life close to nature. The feel of the fresh clean air, our feet upon the earth, and the smell of trees, rooted deep within and brought daily inspiration to us!"
After a while, we decided to move to a small village in the South of Israel, where we live in the community of Garin-Harel, a sustainable community living together with values of mutual responsibility, self-growth, and development.
Today, we live in the village, studying art, business and education as well as designing, creating, and selling our work.
What inspired you to become an artist?
Being artists has always been rooted deep within each of us.
Ofek uses his years of professional experience in craftsmanship and woodwork to bring dreams to fruition. Working with wood has always been inspiring to him, giving him opportunity to create from nature.
Shirlee finds her inspiration through nature, people, and the natural flow of life. She pursued her dreams and studied her bachelor's in arts to receive knowledge, experience, and inspiration.
Having the ability to do what we love, gives us the opportunity to create each art piece with passion and excitement! We smile with the magic of creation and with the thought of being able to bring new light to others!
What is your specialty?
Woodwork is our specialty! In our workshop at WoodfulArt, we place an emphasis on importing wood from plantations planted for felling purposes and we do not purchase wood that is cut from natural forests, out of consideration for the environment. We love the natural beauty of wood and the artistic touch that blends together flawlessly.
How and where do you work?
We built a humble studio next to our home, in the Negev, where we work and create our new designs with the creative desert spirit.
What is the most indispensable item in your studio?
In our studio, the most crucial item is our passion. The moment that the desire and enthusiasm die down, we know that then we have forgotten our purpose. Our passion and the fire in our heart keeps our art alive and allows us to continue forward and to thrive.
Where do you take your inspiration? Are you pursuing any themes?
Inspiration is around us all daily. All we must do is open our eyes and let it flow into our lives.
Do you do bespoke work?
We do offer personalized and custom-tailored designs in order to allow our customers to receive the exact design that will uplift and open their heart every time they see it hanging in their home. We believe that everything that comes into your home should be constructed with care, quality, and love. We are here to fulfil dreams and to give others the professionalism and experience we have accumulated in hundreds of works and provide them with admirable decorations that will illuminate their home!
What projects are you currently working on?
We are currently working on bringing a gentler collection for women including jewellery such as delicate earrings, necklaces and more! We have sold our first batch and are now continuing to expand our designs.
What are your favourite items in your current collection?
We are in love with each mandala we create but particularly our "Jerusalem Light" wall piece that lights up is one of our favourites! This unique piece offers a delicate yet bold touch to your home.
It fills our heart with a longing for Jerusalem and saturates your home with light. Its size is: 12 X 35 inches.
How do you know when a piece is finished?
There is that one moment after working on a piece for days, sometimes even months, that we look at the design and just know – THIS IS IT! There is something about a finished art piece that softens the heart and sparks inner joy and satisfaction.
What was the first artwork you ever sold?
Our first artwork ever sold was our large "Flower Power" mandala. Our family and friends went crazy for that design!
Which project have you enjoyed working on the most so far?
Creating our "Holiday Table Runners" have been lots of fun. There is a different style of art that is requested, and it allows us to bring a unique and personal touch.
What do you want to achieve with your work and what are your wishes for the future?
The goal of our family artwork, WoodfulArt, is to bring love and light into the homes of others. We wish to continue to wake up in the morning with a smile, with the smell of wood in the air as we step into our workshop and enjoy the opportunity that we have, to create an Israeli cultural experience here and transfer it straight to others.
Where can we find your work?
website
Instagram
Facebook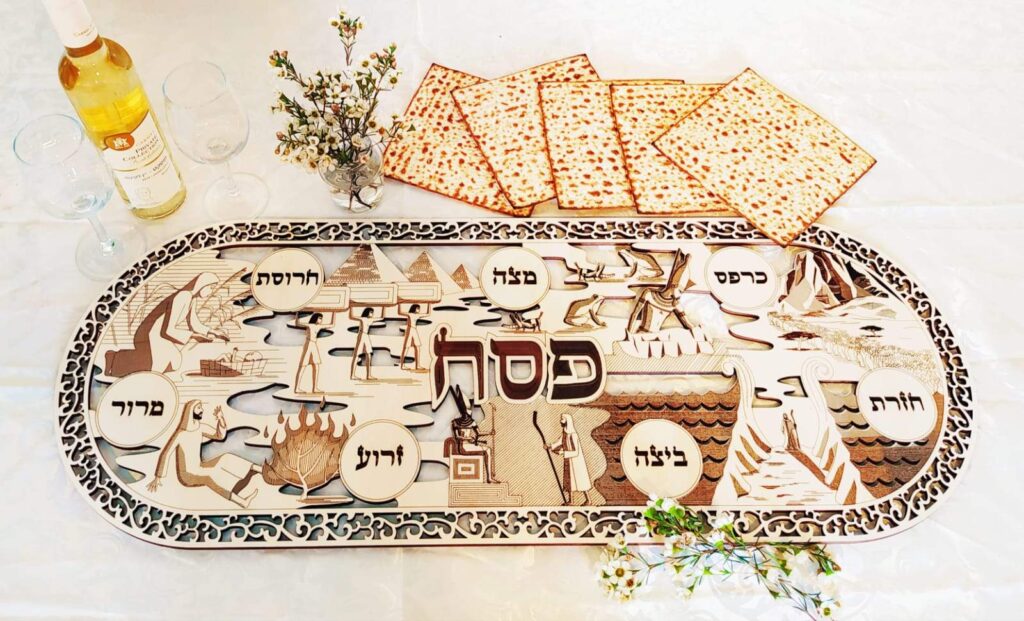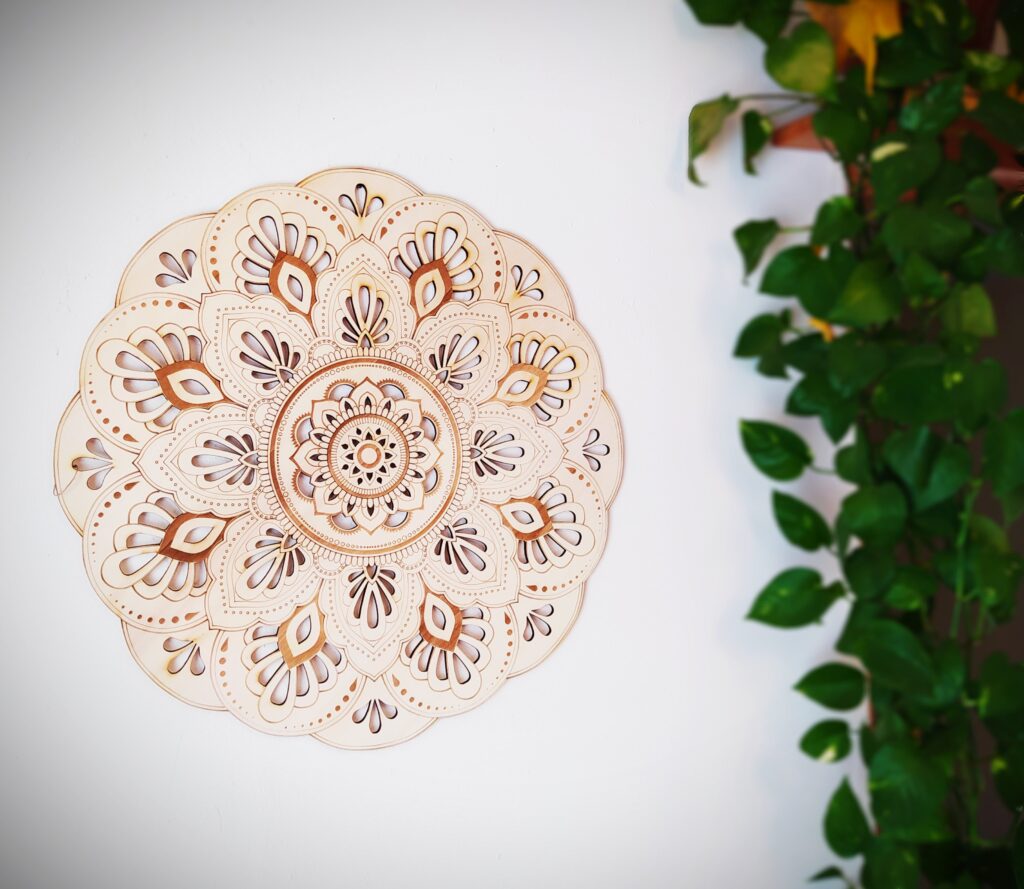 Photos: Courtesy of WoodfulArt