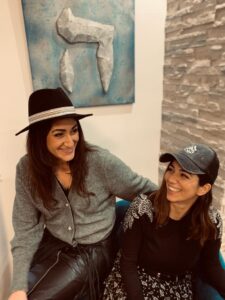 Photo: Courtesy of TovArt26
Tell us a little bit about yourselves and your background.
We, Charlotte Attia and Lévana Bokobza, have been friends for a long time. Charlotte has studied design and dressmaking and Lévana has worked as an eCommerce Sales Manager but trained as a multimedia graphic designer.
What inspired you to become an artist?
As a little girl, Charlotte grew up in the garment industry and Lévana has always been passionate about art, so they decided to bring their expertise together to create their own brand on Instagram, TovArt26.
What is your speciality ?
Our brand's specialty is the creation of Mezuzot. The idea is to sublimate religious articles in order to do a Mitzvah. We create them like little jewels by mixing modernity and religion.
How and where do you work?
We have a workshop in the heart of Paris, and everything is handmade, we use fabric,
paint, stones, etc.
What is the most indispensable item in your studio space?
High quality plexiglass, fabric, etc.
Where do you take your inspiration? Are you pursuing any themes?
We take our inspiration from the Torah, and our beautiful Jewish holidays we celebrate in our homes.
Do you do bespoke work?
Yes, a little bit, we try to adapt to individual tastes.
What projects are you currently working on?
We currently work on tableware for children, to make them fall in love with religion in a playful way.
What are your favorite items in your current collection?
For Charlotte, it is the white and silver marbled Mezuzah.
For Lévana it is the Tallit and Tefilin bags made out of a bandana fabric, displaying a fluorescent Nachman flame.
How do you know when a piece is finished?
When we both agree upon the design and like it, it is perfect.
What was the first artwork you ever sold ?
A concrete Mezuzah.
Which project have you enjoyed working on the most so far?
So far, on Mezuzot. Although there is a new project being launched in a few days, which we quite enjoy working on at the moment. As we are still preparing it to be introduced to the market, we can not tell you more about it but keep an eye on our Instagram page.
What do you want to achieve with your work and what are you wishes for the future?
Our primary goal is to inspire everyone to perform Mitzvot in the best possible way, for example, by having beautiful Mezuzot, a nice Shabbat table, etc.
And secondly, we want to make ourselves known and sell our products all around the world.
Where can we find your work?
You can find all of our creations on our Instagram account. We also sell some of our items on a on a community platform called "Communitik".
And soon, our products will also be available on ETSY.
Photos: Courtesy of TovArt26