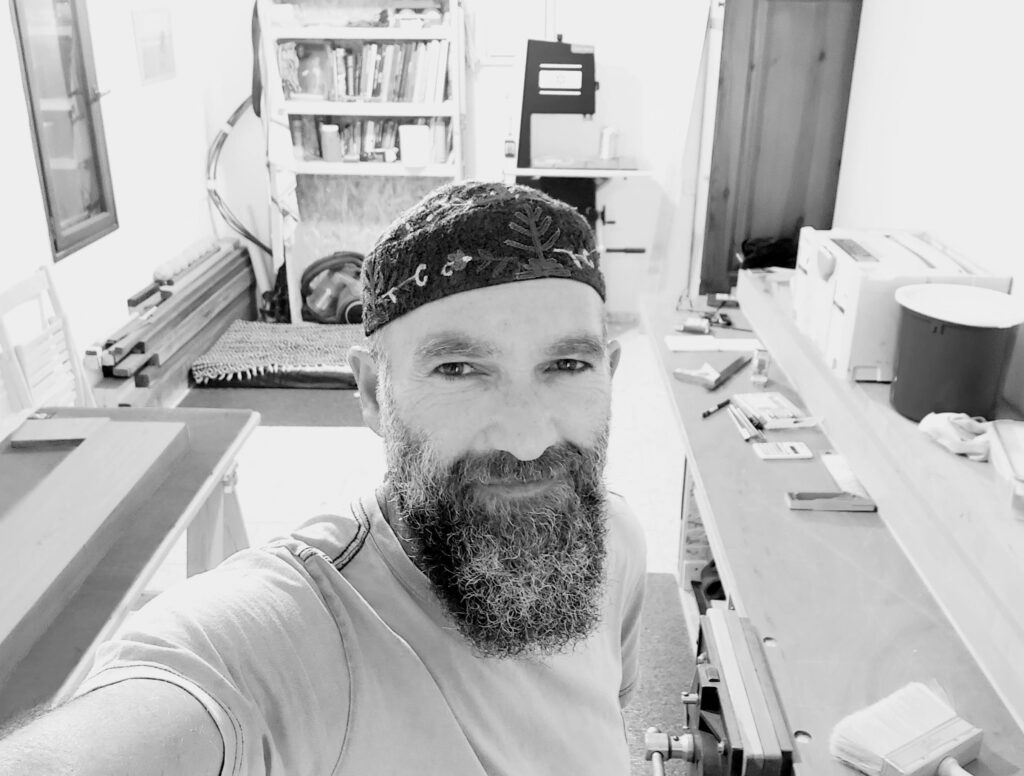 Image: Courtesy of Z'ev Brandon Perkus
Tell us a little bit about yourself and your background.
I live in Israel in the Golan Heights on Moshav Aniam, a wonderful community settlement with an artist village and rich culture surrounded by incredible nature and history. I made Aliyah in 2019 from South Africa. Having grown up on a farmland in the vicinity of the Highlands, Johannesburg, after many travels and visits to Israel, I found my way to the Cape Garden Route where I lived for over 20 years alongside coastal forests creating various forms of artistic woodwork.
Returning to Israel has been the best decision ever.
What inspired you to become an artist?
I've always been inspired by people who live life creatively and artistically in the broader sense, especially considering how we, the Jewish people and nation, naturally seem to exude amazing and ingenious talents in bringing creative energy and art to the world.
Whether in terms of human 'being' or human 'doing' artistically speaking, thankfully I have managed to explore various avenues of artistic expression, and somehow have managed with some consistency to make things from wood most of my working life.
My family and ancestry have exhibited some incredible eclectic streaks of creativity which thankfully inspires me too.
Over the last seven years my endeavours have primarily been focused towards creating wood artworks. Thankfully this medium affords me a sense of feeling grounded and connected, and coupled with that, a gentle sense of 'obligation' and of gratitude, inspires me to reciprocate that and dedicate myself to create art.
What is your speciality?
Wood sculpture essentially (with a penchant to occasionally incorporate other organic materials) oftentimes by way of bending wood and utilizing unusual woodworking and sculptural techniques. I especially enjoy free-form steam bending by hand in situ, which I began to explore initially in the original 'Wood for the Trees' series of sculptures. More recently, introducing concepts associated with light, source, wavelength, information and illumination as in the Shabbos Candles series of sculptures (and furniture).
Where do you take your inspiration from? Are you pursuing any themes?
Observing and appreciating an awareness of art forms in all creation in nature, and sculptural art and architecture all around us offers so much inspiration. I especially cherish the notion of those natural art forms being at home in our living spaces. I also tend to be inspired by the mystique and spiritual nature of things which motivates me to somehow try and figure out ways of actualizing those in the form of sculpture and furniture. By their very nature, the twenty-nine sculptures that I have created to date seem to have recurring themes of complexity – which can be quite intense and time intensive. That said, I'm equally happy with the notions of creating minimalist simpler forms too.
And as I mentioned previously, by virtue of the art-form of 'reciprocation' I feel inspired on a soul level to contribute – which hopefully too in some respects is an inclination towards the concept of Tikkun Olam.
Do you take on commissions and create bespoke designs?
Sure, absolutely and yes please
Which project have you enjoyed working on the most so far?
"Latest work" most often seems to be the one I enjoyed working on most – although in this instance my actual latest work (# 3000000000029, Infinite III) has been most enjoyable.
And the century old antique clock that I bent and transformed into 'plant-form' was exhilarating for me, especially because it still actually tracks time & chimes!
In a general sense I could also add that I particularly enjoy the dream-like hours / days of final preparation and fine finishing.
What do you want to achieve with your work and what are your wishes for the future?
I hope to evolve in my art through further exploring and reflecting upon facets of our relationships with the natural world, natural phenomena and spirituality – in the hope that I might stretch my imagination and discover new ways to express and reflect that in my artwork.
I would also like to find deeper authentic association with those who have high esteem for nature and the natural world we live in, and hopefully bring that awareness and sensibility to my art according to the principles of making more from less (figuratively and literally) as beautifully as I can with as much love brought to the equation as possible.
I relish the idea of continuing to develop and further evolve unusual woodworking techniques, which as mentioned seem to be presenting themselves as a theme of my artwork. And to perhaps explore various other artistic tangents too and hopefully find an avenue to share all those techniques freely with another generation of wood artists.
I also hope to be able to create art more prolifically with less constraints, which would be a dream come true – one that I feel I may be on the cusp of, PG.
As of time of this interview, to sell my first sculpture since immigrating to Israel would be very nice – which brings us to the proposition we all know, that the sale of any of our artworks essentially equates to the creation of another artwork. With that thought, many thanks to Judaica in the Spotlight for all your endeavours and the platform you provide us, and thanks so much for the exposure for me personally, and thanks to everyone who took the time to read this interview.
Best wishes and B'hatzlecha to all.
Where can we find your work?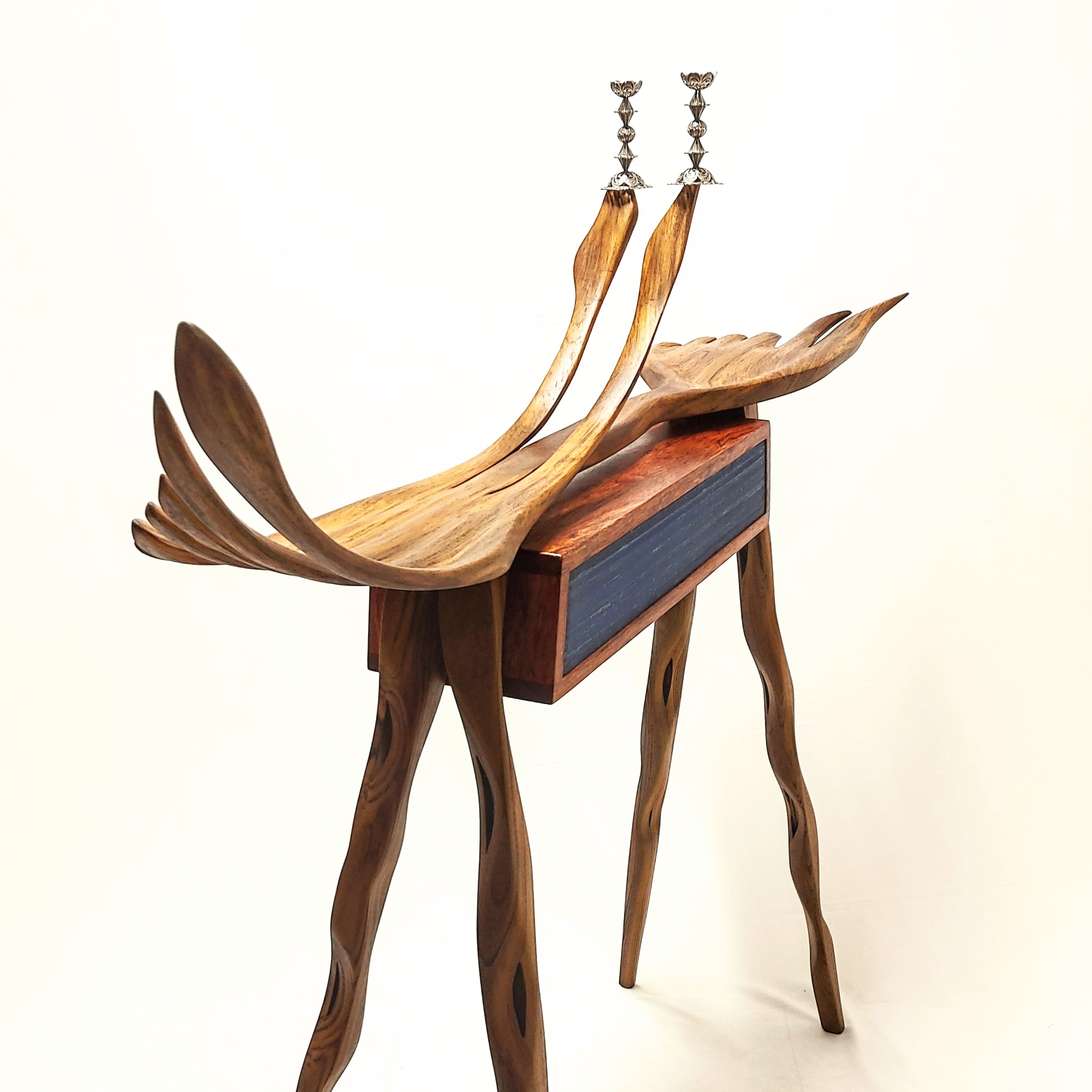 Images: Courtesy of Z'ev Brandon Perkus