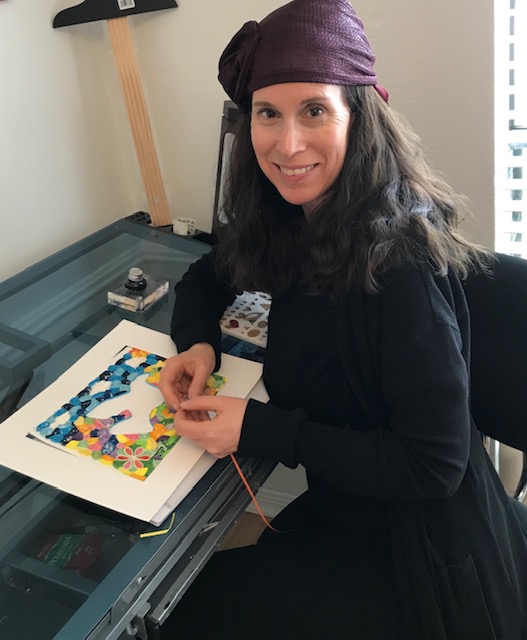 Tell us a little bit about yourself and your background.
My name is Yocheved Stock and I currently live in Houston Texas. I am from Washington DC and have also lived in New York. I have a fashion and art background. I graduated from the Fashion Institute of Technology and I currently teach art and am a Judaica artist.
What inspired you to become an artist?
What inspired me the most to become an artist is the transformation process that happens in your mind, body and soul during an art experience. Art is a form of meditation on colors and shapes that speaks to the essence of who I am and is the language of my Neshama or soul.
What is your specialty?
I enjoy all forms of art and have worked in oil painting, acrylic painting and watercolors. I also write Hebrew Calligraphy or Safrut blessings and names on my art. I very much enjoy the feel and the meaning of the Hebrew letters. I use a feather and quill and ink that is used to write a Torah. I also fell in love with quilling. The vibrant colors and shapes and swirls flow from me.
How and where do you work?
I work from an art room in my home and feel very blessed that I can do that. One day I hope, with Hashem's help, to move to Israel and make Aaliya and work from my home there.
What is the most indispensable item in your studio?
My most indispensable item depends on what project I am working on. Currently it is my feather quill and ink and my colorful treasure box of strips of paper for quilling. My drafting table is my nest to create.
Where do you take your inspiration? Are you pursuing any themes?
I take inspiration from where my soul is at different chapters in my life. The verses from the Torah and images of the land of Israel also bring me great inspiration, as well as sitting in shul on Shabbat and Yom Tov.
What projects are you currently working on?
I am currently working on personalized gift items. I like to make a gift personalized so it is one of a kind and invaluable to the receiver.
What are your favourite items in your current collection?
My most favorite items are those that use the most color and have the most movement.
How do you know when a piece is finished?
I know when a piece is finished when I look at it and there is a sense of excitement and satisfaction I can feel the positive energy flowing through my veins and that's when I put it down.
Do you do bespoke work?
Yes, it is my pleasure and I enjoy custom orders.
What was the first artwork you ever sold?
The first piece I ever sold was unique. I made it for a silent auction for my children's Hebrew Day school. It sold at a very high price and I was so happy to have the money given to the school.
Which project have you enjoyed working on the most so far?
Whenever I complete a work that is the piece that I enjoyed making the most ….until I get to the new work!
What do you want to achieve with your work and what are your wishes for the future?
While the gift of art is the process of making it. I would also very much like to share my greatest creativity with others and to enhance and decorate homes with the joy of being Jewish, our heritage and holidays through colorful art and blessings.
Where can we find your work?
You can find me @mazaldesigns on Instagram and send me a message for custom designed artwork that we can talk about for specifications. In the near future, I may be setting up an Etsy shop too.