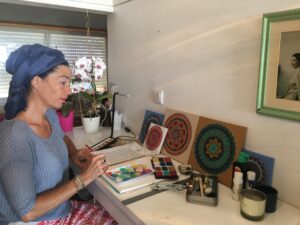 Photo: Courtesy of Yael Judaica
Tell us a little bit about yourself and your background.
My name is Yael, I was born in Holland in 1967.
My parents wanted to make Aliya after my father graduated from the University of Delft and they flew to Israel, the holy land, and I am very grateful to them for that.
I lived in France for 4 years from the age 7 to 11; it was a good experience.
I didn't like school at all until I discovered graphic design, this is when I came to live and found my path.
After the military service, I studied at University and graduated with a BA. I had a wonderful time and learned a lot.
I got married to my love Alex and had 5 wonderful kids.
At age 29, I slowly started becoming religious. It's a choice that I make every day and it gives me certainty and serenity.
I am a very active person and love sports. After giving birth to my second child, I decided to take a yoga teaching course at Wingate. Since then yoga is a huge part of my life, and today I am teaching small classes for 25 years now and love it.
In the last few years, I had the privilege to work in a ritual bath as a ritual bathhouse attendant for women.
When the plague erupted all other activities stopped, so it was the perfect opportunity for me to create a new journey. I started creating Mandalas with psalms and blessings, which opened a whole new amazing horizon for me.
Colors have a lot of influence on our life and there is s reason why trees are green, and the flowers are red or violet etc.
When you look at a colorful bird smile, it makes you happy, it cures.
What inspired you to become an artist?
What inspired me to become an artist are my three passions:
Art, yoga and God. I feel like I am able to combine all of these three within my art and you can see each one of them in my work.
What is your specialty?
I am painting with Japanese water colors and learned to write Hebrew Calligraphy with Japanese ink and quill, people around me say that my Mandalas heal them. I feel that my work comes from my higher self while I am simply the messenger.
How and where do you work?
I have my little home studio in the hills of Haifa, Israel, with the sound of birds singing and breath taking views of the ocean.
What is the most indispensable item in your studio?
I am very attached to my work, there are always pieces that I like more because they have a higher frequency.
Where do you take your inspiration? Are you pursuing any themes?
My inspiration comes from the bible and from the stories of the Hasidic Rabbi, the nature grants me with a lot of inspiration as well.
Do you do bespoke work?
I love to do bespoke work, but need some space for my ideas in my work as well.
What projects are you currently working on?
I am working currently on an "Eshet Chayil" Mandala project. I write it with ink and quill and it is a beautiful song for the woman of Valor. The frame of the greeting is filled with little Mandalas colored in bright colors and gold paint. The husband sings the prayer before the Kiddush of Sabbath.
What is your favourite item in your current collection?
My favourite item is a Mandala in orange and pink with the blessing of God's vibes at home.
How do you know when a piece is finished?
I know when a piece of mine is finished when I feel that if I will add anything to it, it will be too much. It is just a feeling of an artist. Although some simply remain unfinished.
What was the first artwork you ever sold?
There was a time that I was making jewelry and sold my creations at a fair, the feeling of someone liking my creation excited me so much.
Which project have you enjoyed working on the most so far?
I love all my projects. Every project brings something new and refreshing to the table, every piece has its time and moment.
What do you want to achieve with your work and what are your wishes for the future?
My wishes for the future are to continue creating and that my work will be hung at every home.
Where can we find your work?
You can see my work on Instagram and on Facebook .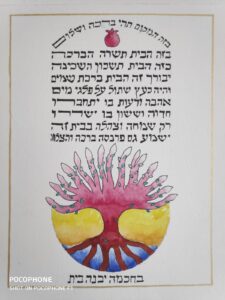 Photos: Courtesy of Yael Judaica