Toby Gotesman Schneier is an American Expressionist painter best known for her unique ability to transform objects, people, scenes, and events into jarring and provocative works of art.
Her compassion for the human condition, as well as her indefatigable belief in a higher power, are conspicuous throughout the paintings. It has been frequently noted that her work evokes a poignant sense of nostalgia and sentiment, even longing in the viewer, as the pieces appear to be laced with familiarity, ethnicity, and a heightened sense of irony and collective injustice.
Gotesman Schneier's unabashed use of color and shape, as well as her keen ability to shock the viewer into some sort of action with her bold and direct imagery, have gleaned her enormous praise and accolades throughout the international art community and in the Jewish community-at-large with her critically acclaimed Holocaust collection.
The daughter of Holocaust survivors, as well as a recognized figure in religious, philanthropic, and political life, Gotesman Schneier somehow inserts and embeds a level of "coding" and "mission" into her paintings. One never knows for certain whether the area in question was accidental or purely strategic on the artist's part. This intriguing symbolism has become asignature of her work.
Gotesman Schneier's latest passion is her insatiable need to depict the homeless community in all of its truth. The collection of paintings has an "in your face" quality, which reflects the artist's mantra that "Tragedy always happens in color."
Gotesman Schneier's paintings are housed in several known, private collections and have been exhibited in distinguished galleries nationwide.
Tell us a little bit about yourself and your background.
I'm a full time, working artist, living in Fort Lauderdale, Florida. I moved here from Englewood Cliffs, New Jersey in August 2017 with my son, Brendan, who is currently attending the University of Miami. The move was hugely successful with regard to my career as an artist. Astounding actually. I've exhibited more times and in more places than I can even count over the past year and a half.
I grew up in Portland , Oregon. My parents, Natan & Cipora Gotesman, (Zichronim Livracha), were Auschwitz survivors. My parents were significant leaders in the Jewish Community in Portland. I co-founded The Hampton Synagogue in Westhampton Beach, New York. I've been actively involved in Jewish Life, Humanitarian Causes, & so on for as long as I can remember.
What inspired you to become an artist?
Becoming an artist wasn't really a "decision", as much as it was an occurrence…I kind of picked up a brush one day about 20 years ago and began painting. The self-taught painting became a passion quickly, and I realized that I'd found a voice a cause really.
What is your specialty?
I have many different subjects and categories. The better known are my Holocaust & Homeless Collections.
Critics say that I possess an unusually unabashed ability to use color as well as a complete freedom of brushstroke, which I'm inclined to agree with.
How and where do you work?
My studio is in my home in Fort Lauderdale.
What is the most indispensable item in your studio?
Hmm…Indispensable? I'm not particularly attached to material things, so I would have to say that the GORGEOUS LIGHT that surrounds my home is something I can never be without.
Where do you take your inspiration? Are you pursuing any themes?Holocaust, Homelessness, Societal Shifts, Collective Injustice….You name it… I've probably painted it.
What projects are you currently working on?
I'm currently working closely with the Broward Partnership in South Florida with regard to my Homeless Paintings. Art being a vehicle toward creating awareness… My Holocaust Collection, as always, is near and dear to my heart. I'm also exhibiting in several galleries, etc.
How do you know when a piece is finished?
My FAVORITE response to that very question was Jackson Pollock's:"How do you know when you're finished having sex?"
Do you do bespoke work?
Yes, with pleasure, all the time.
What was the first artwork you ever sold?
My FIRST ACTUAL PAINTING sold within 2 days for $1000 ! I was in shock…
Which project have you enjoyed working on the most so far?
I love the Homeless work… It's RELEVANT… CRITICAL…And the Mayor of Fort Lauderdale, Mayor Dean Trantalis, along with the City, hosted a beautiful, Solo Exhibition for me at City Hall, called, "COLORS OF THE HOMELESS" recently in November, 2018…And the HOLOCAUST COLLECTION, of course, is my heart, as it memorializes and honors my family and the millions of others who survived / perished …
What do you want to achieve with your work and what are your wishes for the future?
I want the HOLOCAUST COLLECTION to be permanently installed in a University or any very public place, because FORGETTING IS NOT AN OPTION. I feel similarly about the HOMELESS COLLECTION.
Where can we find your work?
Are you based in Florida and want to see Toby's work in person? How wonderful! Toby currently exhibits at the BREWHOUSE GALLERY in Lake Park and would have for you to stop by.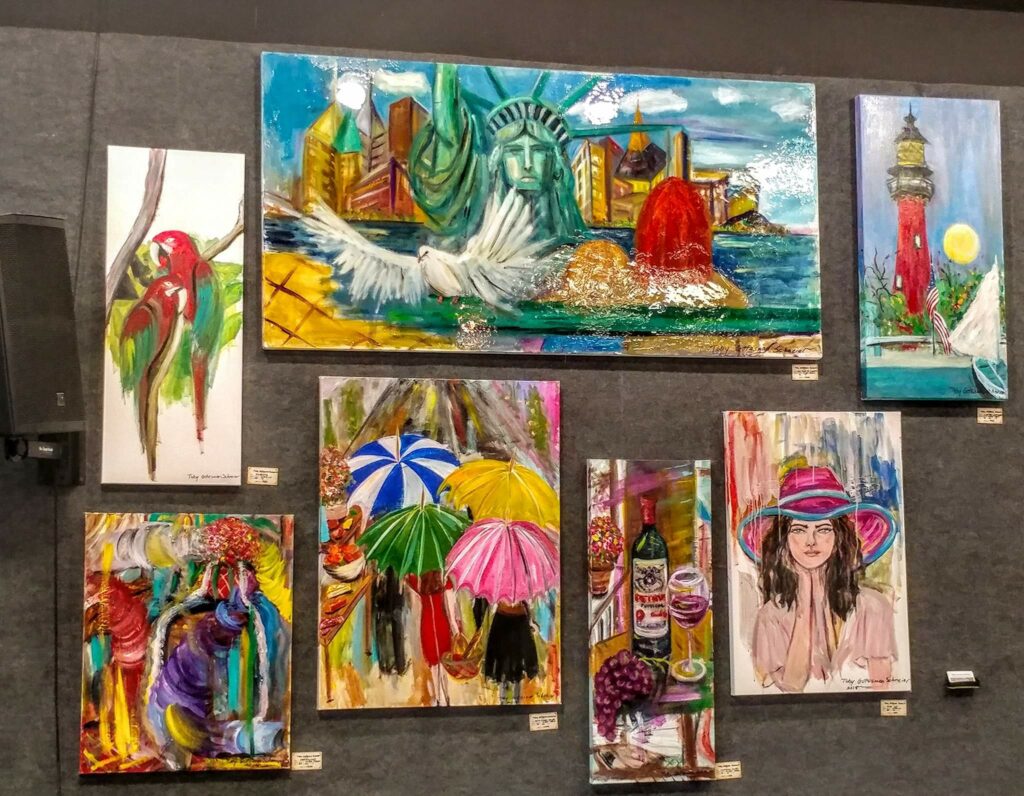 New Exhibition
BREWHOUSE GALLERY720 Park Avenue Lake Park, Florida
NOW through May 28, 2019