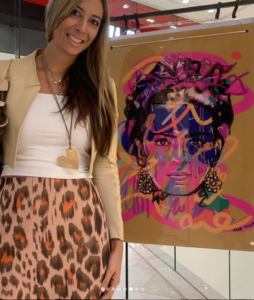 Photo: Courtesy of Taryn Treisman
Tell us a little bit about yourself and your background.
My name is Taryn Treisman, I am 36 years old from South Africa. I have three children, I am an artist who loves colour, and modern pop art.
What inspired you to become an artist?
I have always loved art, since I was two years old but as an adult I neglected my talent and did digital marketing until I was 34 years old. I went on a trip to Israel with a group of women called the Soulful tour, to connect with my roots and I discovered I need to get back into art and thus it all began, Thank G-d.
What is your specialty?
My speciality is modern pop art with a graffiti feel on Perspex.
How and where do you work?
I work in my art studio in Johannesburg, South Africa.
What is the most indispensable item in your studio?
My Ipad and paint pens.
Where do you take your inspiration? Are you pursuing any themes?
I have always been inspired by the colourful, fun, cute world of Kawaai such as artists like Takashi Murakami and Tokidoki and pop artists Like Roy Lichtenstein and Jeff Koons. My themes do change as I change.
Do you do bespoke work?
Yes 90% of my work is custom, I love making art more personalised and include special messages or words from client with sentimental value.
What projects are you currently working on?
I am currently working on commission pieces and a very large-scale project in New Zealand and new Pesach Matzah covers.
What are your favourite items in your current collection?
I love my Challah covers for Shabbat; they bring joy to my table every week. I don't get too attached to my artworks as I feel I improve with each one.
How do you know when a piece is finished?
I just know and I stop.
What was the first artwork you ever sold?
Someone asked my art teacher in Matric, the final year of school, for a commission piece of the LORD OF THE RINGS! I had to paint gollum, trees, wizards and the entire world of Lord of the Rings.
Which project have you enjoyed working on the most so far?
I love colourful pieces on Perspex but I get the most joy when I know the artwork has an amazing purpose. For example, I had to make 12 mini canvasses for 12 different Jewish day schools in South Africa. Each school had to paint by number the canvas and when all 12 were complete we put them together and presented them at a Unity Day with the Chief Rabbi of South Africa to Racheli, a mother who had lost her sons in Israel. Later the piece was hung on the wall at our Jewish old age home.
I have also enjoyed designing book covers for beautiful books which I know will teach and guide many people, I feel happy to be part of something like that such as the book cover I designed for Rabbi Suchard's Life Skills book. Recently I made my niece a challah cover for her Bat Mitzvah and loved how it came out, so I have been making a few. I love that I can be part of so many Shabbat celebration without actually being there through my art and knowing that I can beautify the mitzvah.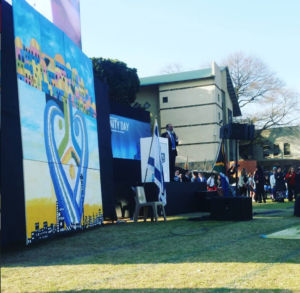 Photo: Courtesy of Taryn Treisman
What do you want to achieve with your work and what are your wishes for the future?
I wish to continuously create beautiful artworks, share messages of truth through my art. Use my art to help others and also to create a positive environment in one's home through my colourful art.
Where can we find your work?
The best place would be my Instagram as I upload all the time: www.instagram.com/taryntreisman or on my website, www.custompop.art.
Photos: Courtesy of Taryn Treisman