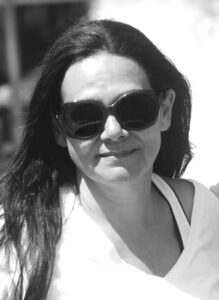 Photo: Courtesy of Sophie Selbiger Seban
Tell us a little bit about yourself and your background.
I was born in Versailles, France, in 1966 and made Aliyah to Israel in 1994. I got married and am a mother to four children. Three boys and a girl.
Up until about three years ago, I have worked full time as a freelance interior designer but, from a very young age, my love has always been for works of art.
My work as an interior designer has opened many artistic horizons to me. France has offered me an intense, varied, and rich artistic culture. Exhibitions, theatre, music, etc.
I loved working as an interior designer for over 30 years. In recent years, the ups and downs of life made it necessary for me to stop this activity. I started a process of reflection on myself with the aim of improving my quality of life and began to search for my deepest aspirations. This personal development influenced my creative process to finally lead me to the real thing that would fill my heart and soul: painting, but also sculpturing and photography… Art as a whole.
What inspired you to become an artist?
My source of inspiration, surely the most important one for me, was my little daughter Mia.
Watching her paint and draw sometimes strange, complex and inhuman characters, but also very sweet and colourful, she brought back to me my love for art and my femininity buried somewhere inside me since childhood.
At the same time, I became interested in neuroscience and learned to practice a certain kind of meditation. And during one of my meditations, I "saw the birth" of the precise face of the character that was to be the style, the guiding idea of all my creations: Square-headed figures whose different parts and colours would indicate the complexity of our brain.
I also took a course in Biodanza (Dance of Life), which gave me complete liberation of body and mind, and it was from there too that I began to feel the inspiration and the great desire to draw the women I saw dancing, characters with multiple and very colourful brains.
What is your specialty?
My speciality is painting – watercolour and acrylic. Sculptures are also part of what I like to create. I need to feel this relationship with the earth and the shape of my creations.
How and where do you work?
I work at home, in a small studio built by my husband and a friend less than two years ago. This workshop is located in my garden; a large bay window allows all the natural light to enter, technically necessary, but also the light, which for me is synonymous for freedom and inner calm.
What is the most indispensable item in your studio?
My indispensable tools in my workshop are my countless brushes and my tubes of Winsor & Newton quality watercolours!
But I still need music and a scented candle!
Where do you take your inspiration? Are you pursuing any themes?
Today, I also draw my inspiration from themes such as Judaism, including in each of my painting's distinctive signs of the Jewish religion, mezuzot, phylacteries, Star of David, etc …
I am very inspired by the wisdom of the Kabbalah that I study; Hebrew letters and more connected themes appear regularly in my creations.
Do you do bespoke work?
I illustrated a children's book. Otherwise, I have not yet had the opportunity to create custom-made paintings, but I am open to any proposal.
What projects are you currently working on?
I am currently working on a painting on a Home Blessing, and, in parallel, on an acrylic painting made on wood.
What is your favourite item in your current collection?
My favourite painting is "The Rabbi Michelin's dance". A large acrylic painting in 3 dimensions, painted on wood and plexiglas. A very lengthy work.
How do you know when a piece is finished?
It's quite difficult for me to answer this question, I'm a perfectionist… It is a feeling, a satisfaction, rather than something technical. A painting is perhaps finished once it is framed! Then, nothing can be altered!
What was the first artwork you ever sold?
One of my very large ceramic mezuzot.
Which project have you enjoyed working on the most so far?
I absolutely love to work on all my projects. But I love working with gold leaf finishes which give the painting its final glow.
What do you want to achieve with your work and what are your wishes for the future?
My work allows me to be myself and to develop myself spiritually. But my dream would be to have my work exhibited or admired by a big gallery in New York!
Where can we find your work?
https://photos.app.goo.gl/JxoUvrbVMHxhR1xP6
Instagram –   @by_so_art
Photos: Courtesy of Sophie Selbiger Seban