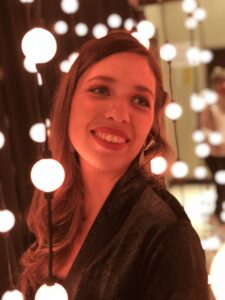 Photo: Courtesy of Sol Kaczka
Tell us a little bit about yourself and your background.
My name is Sol Kaczka (Jaia Mushka, Hebrew name). I am 29 years old, happily married, and living in Crown Heights-Brooklyn with my husband and a small dog ("Cookie"). I was born and raised in Buenos Aires, Argentina, and hold a degree in Graphic Design from Buenos Aires' University (UBA).
What inspired you to become an artist?
My mother says that from the moment I took a pencil when I was 2 years old I've never stopped drawing! I think drawing has been my gift and, as they say, "when life gives you lemons, you should make lemonade".
What is your specialty?
My specialty is drawing and painting modern religious art pieces. I like to influx on them energy, happiness, and movement. I imagine colors where we can't see them to beautify my scenes.
How and where do you work?
I work from home and I have a separate room that I use as my art studio.
What is the most indispensable item in your studio?
I'd say my window: having clear sunlight is a key element for performing my art.
Where do you take your inspiration? Are you pursuing any themes?
My inspiration comes from Judaism. I find our community's literature, heritage, custom, and wisdom passed from generation to generation truly amazing and I try to immortalize this within my brushes.
Do you do bespoke work?
Yes, sure. I have many clients for whom I do custom drawings based on their instructions.
What projects are you currently working on?
I am currently working to make more original acrylic over canvas paintings, and I'm also working on digitizing my art to be able to sell prints too.
What are your favourite items in your current collection?
I don't have any favorite items within my collection. All of them have something special: it can be related to the moment in my life where I created them, it may be related to the scene I try to represent or it can just be some of those art pieces you simply find harmonic.
How do you know when a piece is finished?
When I feel there is no more place for adding extra colors or brushes, it's done.
What was the first artwork you ever sold?
The first artwork I sold was in fact a set of 3 paintings. I was in Argentina and published my finished paintings on FB; someone wanted to buy them but this person was from New York. Luckily, my husband had to travel to NY for work so he was able to bring the paintings with him and deliver them to the final customer – borders aren't a stopper for art!
Which project have you enjoyed working on the most so far?
There is one specific Lubavitcher Rebbe drawing I made that my husband doesn't let me sell because it's his favorite!
What do you want to achieve with your work and what are your wishes for the future?
I would like to democratize the access to original art and have my artwork present in Jewish communities all around the world! Also, I'd love to create an illustrated book for children, why not?
Where can we find your work?
You can check my Instagram account to browse some of my art:
https://www.instagram.com/sol.kaczka/
Photos: Courtesy of Sol Kaczka