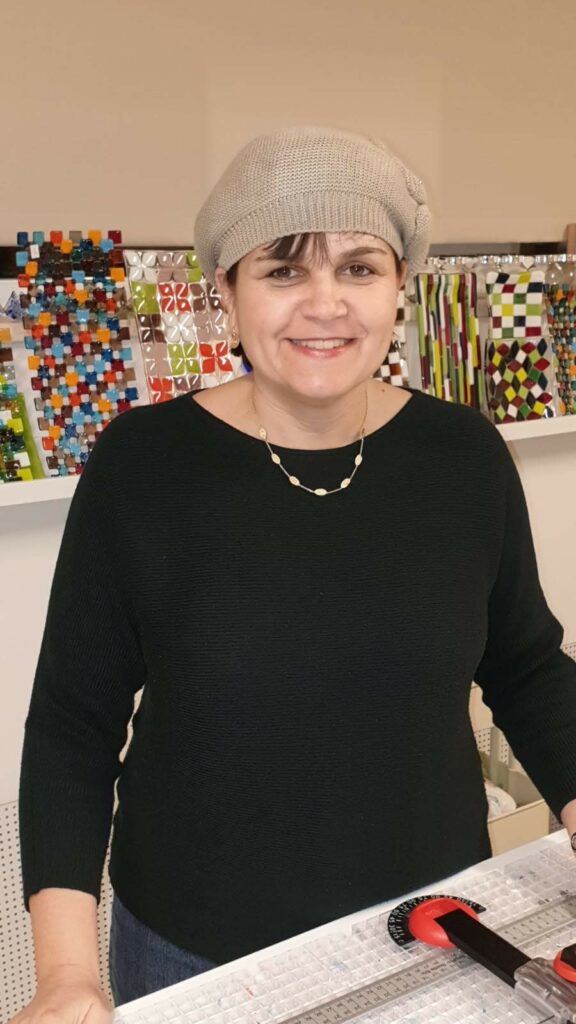 © SheviB Glass Creations
Tell us a little bit about yourself and your background.
I grew up in Toronto, Canada and attended Jewish Day Schools. Post high school I studied in Israel and then returned to North America where I earned a B.Sc. from the University of Toronto and an MA in Bible Studies from Yeshiva University in New York. I was a Judaic Studies teacher in Manhattan for numerous years. Almost twenty years ago, I made Aliyah with my husband and four children to Raanana. I opened SheviB Glass Creations and began selling my fused glass designs in the past year.
What inspired you to become an artist?
I have always enjoyed the creative process. As a youngster, I attended summer art camps and mastered many art forms. Later in life, I studied interior design. I have always gained satisfaction making things with my own hands.
What is your specialty?
My specialty is creating bold, distinctive and functional fused glass art.
How and where do you work?
I cut and arrange pieces of colored glass on a clear glass base and then fire it in a kiln at very high temperatures. The first firing can go up to 1500 degrees Fahrenheit. After cooling down, it is fired again to form the desired shape. Between the two firings, the glass is in the kiln for well over 24 hours.
I work out of my home studio.
What is the most indispensable item in your studio?
That would have to be the Beetle Bits Cutter. With this special cutter, I am able to make precise scores in the glass and can easily measure angles. And of course, the kiln…
Where do you take your inspiration? Are you pursuing any themes?
I like modern designs – especially working with geometric shapes and patterns. I am inspired by the art of Agam and his colorful and modern expressions.
The inspiration for the Yahrzeit candle holder was the unfortunate passing of my mother z"l almost 2 years ago. Lighting a Yahrzeit candle in her memory evoked many emotions. The simple Yahrzeit candle that I had lit did not do justice for me in representing the special person that she was. I was motivated to fashion a candle holder to reflect the color and beauty that she added to my life.
What projects are you currently working on?
I am always adding new color combinations to my collection of platters, bowls and candle holders. I have now begun making Matza platters for Passover.
What are your favourite items in your current collection?
My favourite items in my new collection are the Matza platters. I am making them with colorful, bold and funky designs. The coordinating Matza covers make a perfect set for the Passover holiday.
How do you know when a piece is finished?
After cutting and arranging the pieces, I either love it and it's done or I don't love it and then I rearrange the pieces by adding or removing colors, while photographing the various alternatives. After a break, I look at the pictures from a different perspective. Once I am satisfied – it's done. Into the kiln….
Do you do bespoke work?
I have done custom work. I have made challah platters and serving pieces to match challah covers that customers have chosen. Additionally, I have been asked to make candle holders to complement a certain décor. I am happy to color coordinate pieces to a customer's specifications.
What was the first artwork you ever sold?
My first piece that I sold was a Yahrzeit candle holder.
Which project have you enjoyed working on the most so far?
I love making the wavy platters and the candle holders as they accentuate the movement of the melting glass.
What do you want to achieve with your work and what are your wishes for the future?
Creating artistic Judaica to adorn the Jewish home is especially satisfying for me. I aspire to spark joy in people's homes with my colorful glass art. Additionally, I would like to elevate the Jewish memorial observance for those looking to add an aesthetic dimension to their Yizkor experience.
I have received extremely positive response to the Yahrzeit candle holders. Many customers have purchased them for friends to express sympathy for their loss. Facilitating such meaningful gestures is very rewarding and I hope to continue doing this in the future.
Where can we find your work?
Etsy : www.etsy.com/il-en/shop/SheviBGlassCreations
Facebook: www.facebook.com/GlassCreationsBySheviB/
Email: SheviBCreations@gmail.com
The entire collection can be seen at my home studio in Raanana. A visit can be arranged by email or facebook.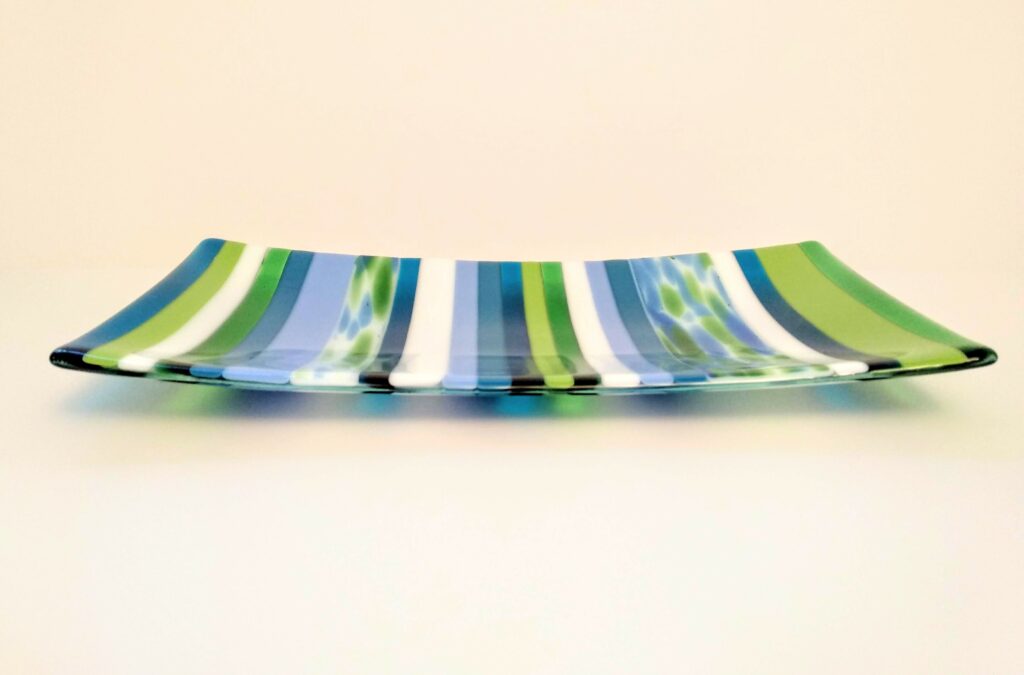 © SheviB Glass Creations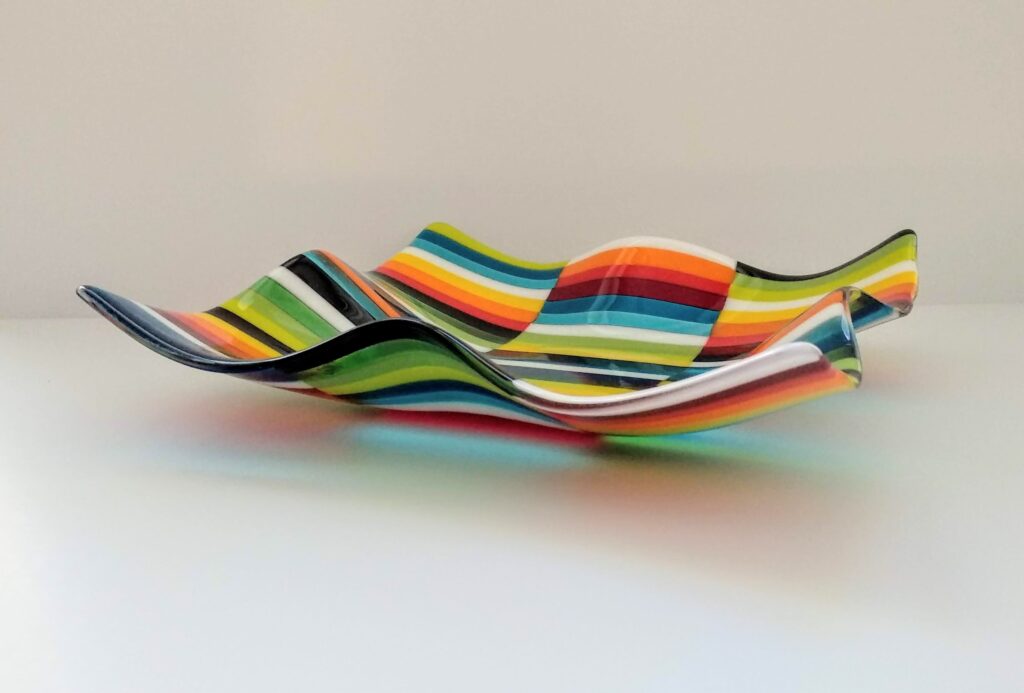 © SheviB Glass Creations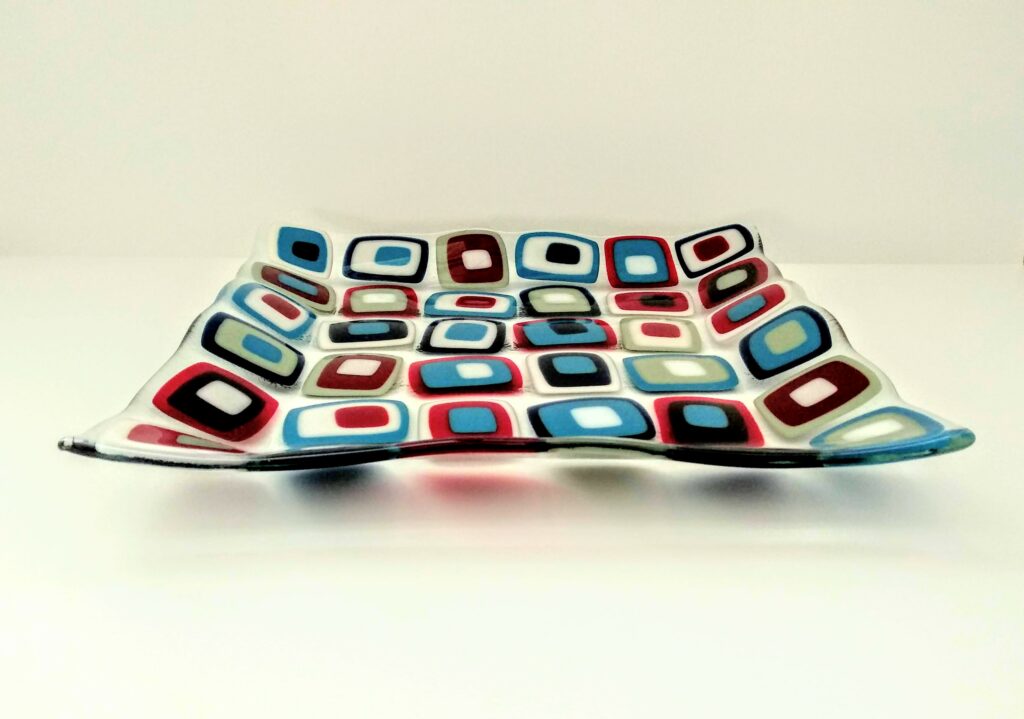 © SheviB Glass Creations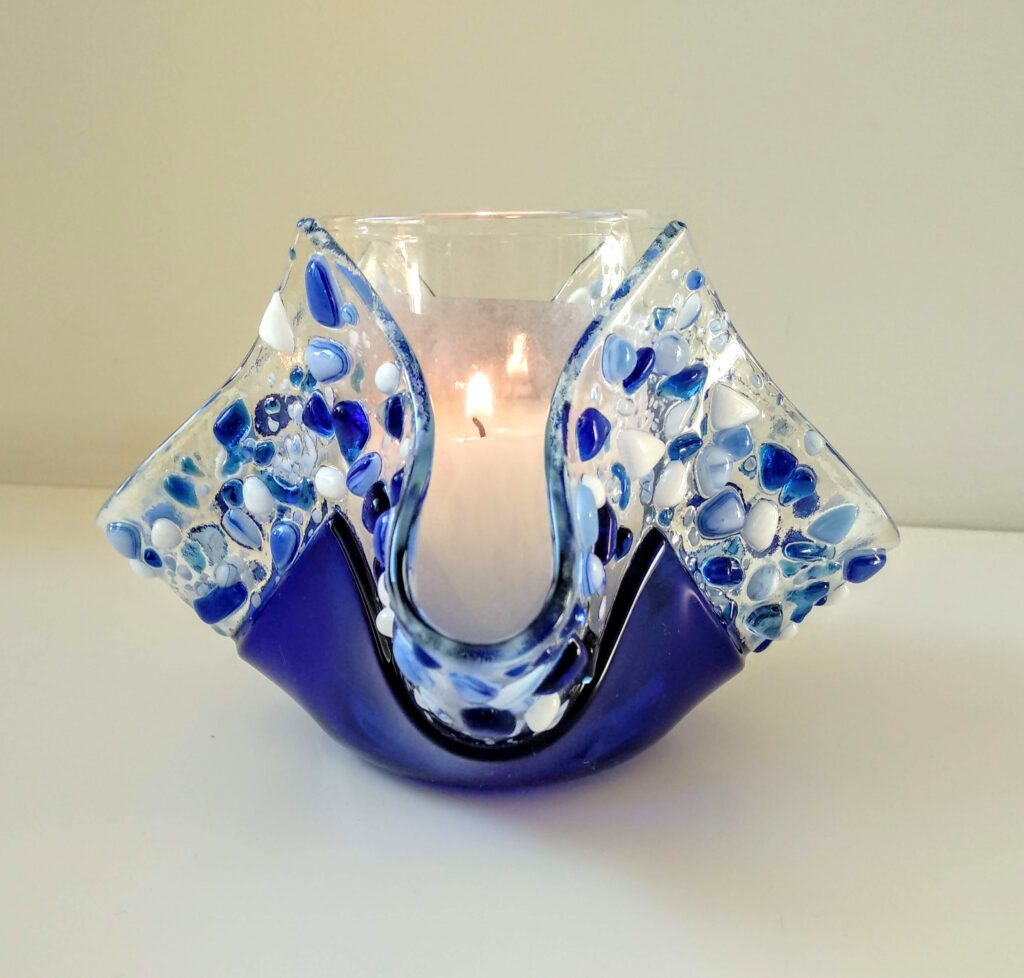 © SheviB Glass Creations