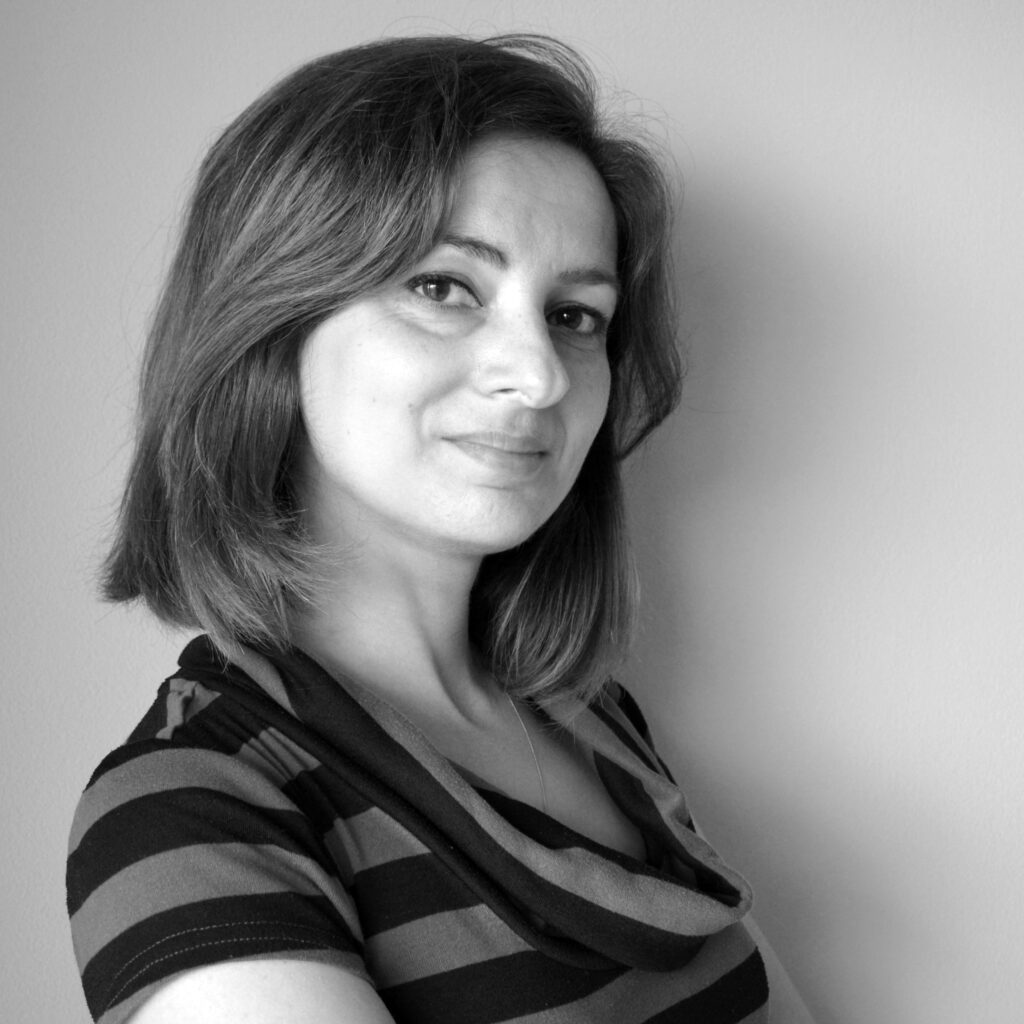 Born in 1980 in Kiev, Ukraine. Proud Israeli since 1992.
Graduate of the Department of Industrial Design at Bezalel. Married and mother of three daughters.She has 14 years of experience in developing consumer products in various fields and materials for both the Israeli and American marketsAs the owner of Wallaby Studio by Shelly Agronin, Shelly specializes in metal origami products sold in design stores and leading museum stores in Israel and abroad. She loves to dream and fulfill dreams.

ילידת 1980 , קייב – אוקראינה.משנת 1992 ישראלית גאה.
בוגרת מחלקה לעיצוב תעשייתי בבצלאל. נשואה ואמא ל-3 בנות. בעלת ניסיון של 14 שנים בפיתוח מוצרי צריכה בתחומים וחומרים שונים עבור תעשיה ישראלית (וגם אמריקאית). בעלת סטודיו Wallaby by Shelly Agronin. מתמחה במוצרי אוריגמי ממתכת שנמכרים בחנויות עיצוב וחנויות מוזיאונים מובילות בארץ ובחו"ל.אוהבת לחלום ולהגשים את החלומות.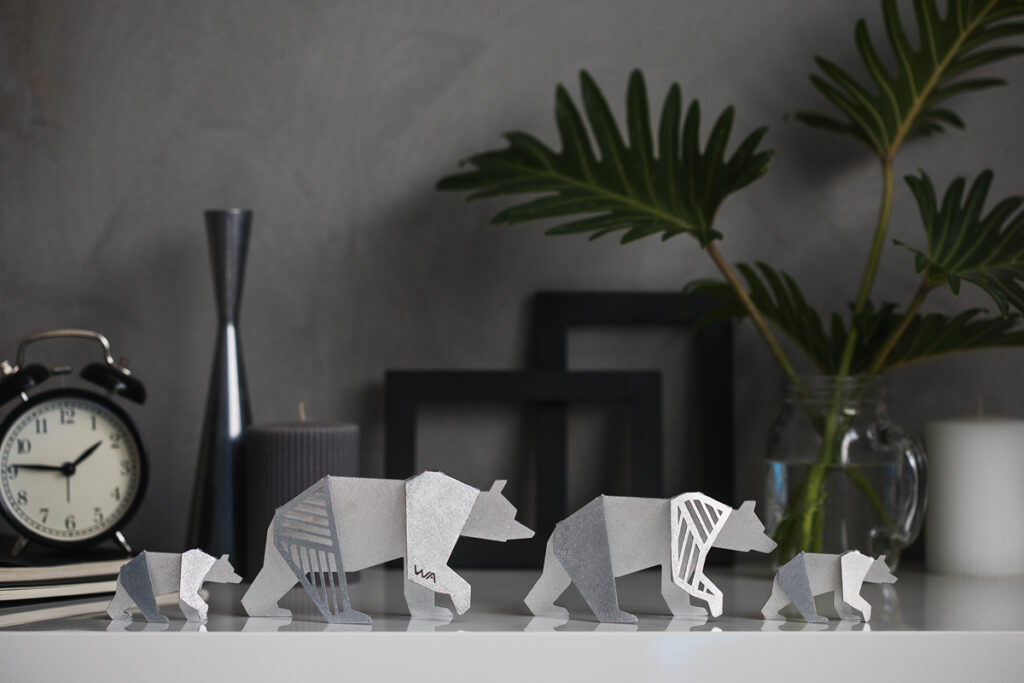 Tell us a little bit about yourself and your background.
My name is Shelly Agronin, and I am 38 years old. I graduated from the Department of Industrial Design at Bezalel. Since graduating 14 years ago, I have worked in the industry. I developed and accompanied projects both in Israel and abroad for various companies and entrepreneurs; I turned dreams into real products.
While working on one of the projects, I came across a technology of metal bending that immediately captivated my heart. Even after dozens of products, the transition from a two-dimension to a formed and functional three-dimension one did not stop moving me. About a year and a half ago, I have decided to turn my dream into a product and established the Wallaby brand of metal origami.
שמי שלי אגרונין, בת 38. בוגרת מחלקה לעיצוב תעשייתי בבצלאל. במשך 14 שנים אחרי סיום הלימודים עבדתי בתעשייה. פיתחתי וליוותי פרוייקטים בארץ ובחו"ל עבור חברות ויזמים, הפכתי חלומות למוצרים אמיתיים. באחד הפרויקטים נתקלתי בטכנולוגיה של כיפוף מתכת שמייד כבשה את ליבי. גם אחרי עשרות מוצרים, המעבר מדו מימד אנונימי לתלת מימד צורני ופונקציאונלי לא הפסיק לרגש אותי. לפני כשנה וחצי החלטתי להפוך גם את החלום שלי למוצר ולהקים את Wallaby-מותג של אוריגמי מתכת.
What inspired you to become an artist?
The possibility to explore, innovate, and surprise.
אפשרות לחקור, לחדש ולהפתיע.
What is your specialty?
Wallaby is a brand of folding ornamental products. All of the Wallaby products are sold as a flat layout and enable the customer to enjoy the folding and transition from metal sheet to a designed and functional product.
וולאבי (Wallaby) הוא מותג של מוצרי נוי מתקפלים.כל מוצרי וולאבי נמכרים כפריסה שטוחה ומאפשרים ללקוח ליהנות מהקיפול ומעבר מפריסת מתכת למוצר מעוצב ופונקציאונלי.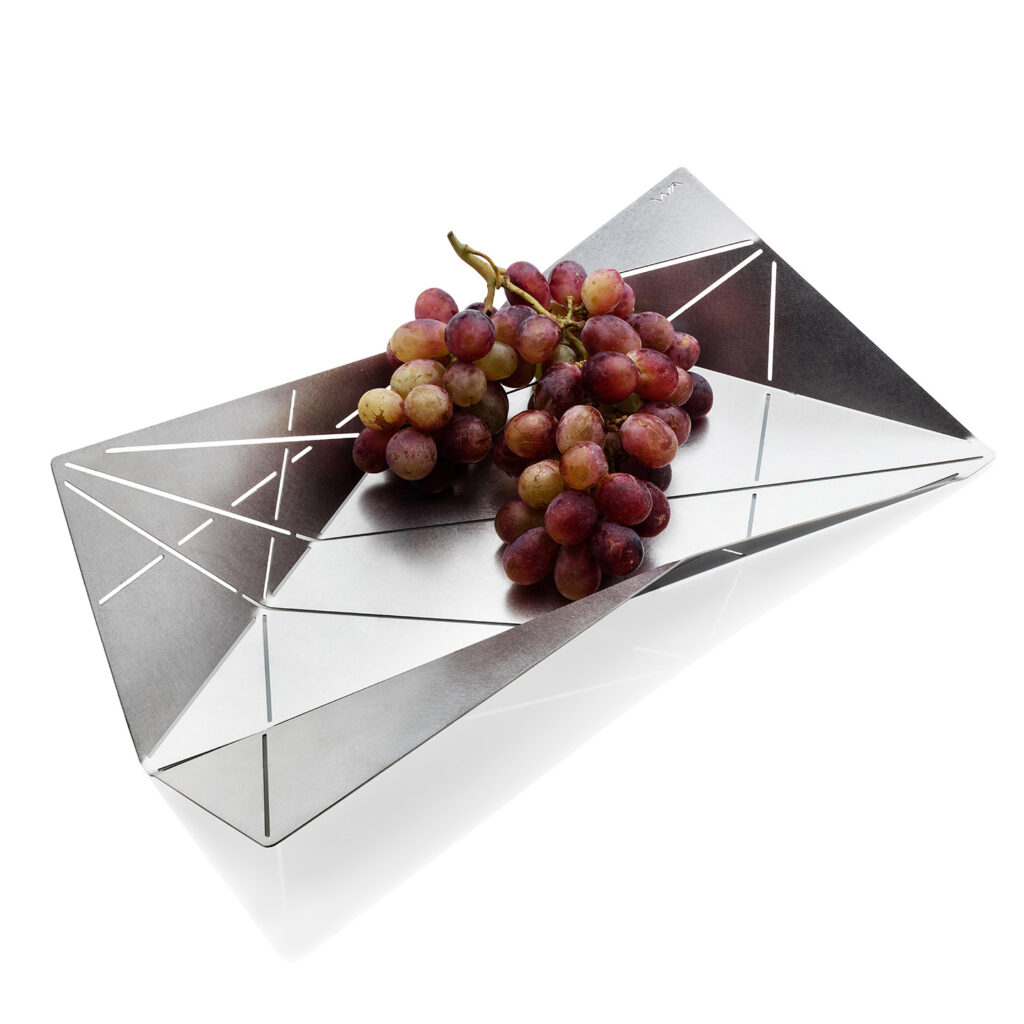 How and where do you work?
My studio is located in Yokneam Illit.
As a mother of three and a person who received Soviet education (until I was 12 years old I grew up in Kiev), I strongly believe in regular working hours. However, I often catch myself working until the early hours of the morning because I just can not stop.

הסטודיו שלי ממוקם ביוקנעם עילית.כאמא ל-3 ואדם שקיבל חינוך סובייטי (עד גיל 12 גדלתי בקייב), אני מאוד מאמינה בשעות עבודה קבועות ומסודרות. יחד עם זאת, הרבה פעמים תופסת את עצמי עובדת עד השעות הקטנות של הלילה כי פשוט לא יכולה להפסיק.

What is the most indispensable item in your studio?
My computer and a ballpoint pen with which I do many manual sketches.
המחשב שלי ועט כדורי פשוט איתו אני עושה הרבה סקיצות ידניות.

Where do you take your inspiration? Are you pursuing any themes?
It's very hard to point to anything specific.
One of the most important things I learned at Bezalel is to pay attention to as many things as possible around me and to be constantly searching for new ideas. Inspiration can come from a visual element, such as an impressive building or an interesting print on a woman's dress on the street. At the same time, I can also get a new idea while talking to a fascinating person or reading a good book.
מאוד קשה להצביע על משהו ספציפי.אחד הדברים החשובים שלמדתי בבצלאל, הוא לדעת לשים לב לכמה שיותר דברים שקיימים מסביבי ולהיות בחיפוש תמידי של רעיונות חדשים. ההשראה יכולה לבוא מגורם ויזואלי, כמו בניין מרשים או הדפס מעניין על שמלה של בחורה ברחוב. אבל באותה מידה אני יכולה להגיע לרעיון חדש תוך כדי שיחה עם אדם מרתק או קריאת ספר טוב.

What projects are you currently working on?
The new project is called Wallaby Wall. Work on the project has been going on for several months and will include a series of folding objects for the walls of the house.

לפרוייקט החדש קוראים Wallaby Wall. העבודה על הפרוייקט נמשכת כבר כמה חודשים והוא יכלול סדרה של אובייקטים מתקפלים עבור קירות הבית.
What is your favourite item in your current collection?
Candlesticks Karl & Klara. This is like magic to me, as a shapeless metal bar becomes a useful product in 4 folds.
פמוטים Karl & Klara . זה קסם בעיני, כשפס מתכת אנונימי הופך למוצר שימושי תוך 4 קיפולים.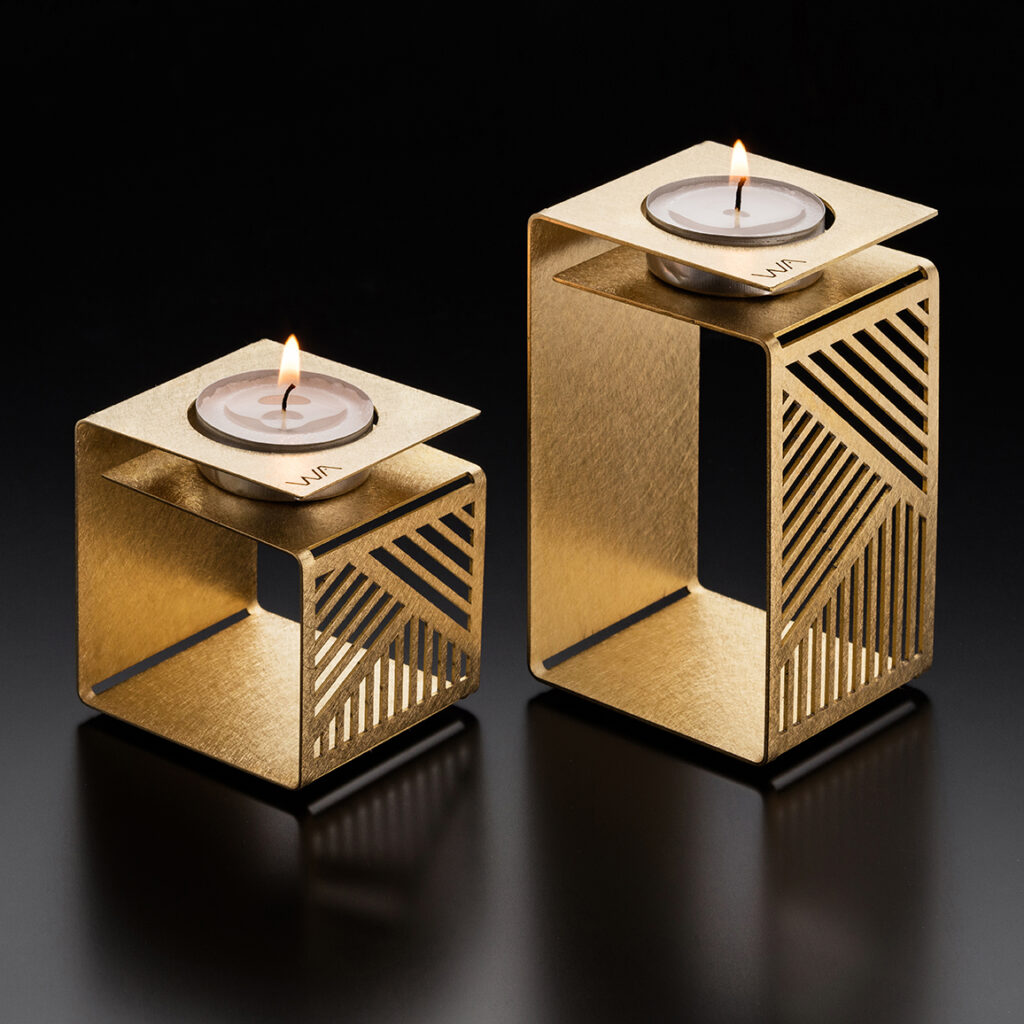 How do you know when a piece is finished?
That's an excellent question. There are no clear rules, each product has its own history. Some of the products continue to develop even after they are released to the market and receive second and third editions. They remind me a little of people who change and maybe even develop with age.

זאת שאלה מצויינת. אין חוקים ברורים, לכל מוצר יש את ההיסטוריה שלו. חלק מהמוצרים ממשיכים להתפתח גם אחרי יציאתם לשוק ומקבלים מהדורה שניה ושלישית. הם קצת מזכירים לי אנשים שמשתנים ואולי גם משתבחים עם הגיל.

Do you do bespoke work?
Yes. It is always very interesting to get out of my private creative bubble and listen to someone else's needs and desires. As I said, I like to fulfill customers' dreams.
כן. זה תמיד מאוד מענין לצאת מהבועה הקריאטיבית הפרטית שלי ולהקשיב לצרכים ורצונות של מישהו אחר. כמו שכבר אמרתי, אני אוהבת להגשים חלומות של לקוחות.

What was the first artwork you ever sold?
One of the first products I designed that went to the market was a bottle for "Tapuzina" beverages. There was something very megalomaniac about seeing entire supermarket shelves filled with "my work" for the first time.
אחד המוצרים הראשונים שעיצבתי ויצאו לשוק היה בקבוק עבור משקאות "תפוזינה". היה משהו מאוד מגלומני, בלראות לראשונה בסופר מרקט מדפים שלמים מלאים ב"יצירה שלי".

Which project have you enjoyed working on the most so far?
I like the bull statue most. Perhaps because of his visibility and perhaps, simply because his "birth" was very easy. Unlike most products, which I work on for weeks, increasing, reducing, changing the concept, regretting, indecisive, and making more and more sketches, the bull was born within one day.
At 8 am I made a sketch by hand. Towards the end of the day, I finished the planning and the next day the sketches were already in the factory. By the way, I did not sleep that night. I could not resist waiting for the end of the production and a day of photoshoot. So, that night I made computer simulations that I immediately distributed on social networks.
אני הכי אוהבת את פסל השור. אולי בגלל הניראות שלו ואולי, פשוט בגלל שה"לידה" שלו היתה מאוד קלה. בניגוד לרוב המוצרים, שאני עובדת עליהם שבועות, מגדילה, מקטינה, משנה קונספט, מתחרטת, מתלבטת, ועושה עוד ועוד סקיצה, השור נולד תוך יום אחד.
ב-8 בבוקר עשיתי סקיצה ידנית, לקראת סוף היום סיימתי את התכנון ויום למחרת הסרטוטים כבר היו במפעל. אגב, באותו לילה לא ישנתי. לא יכולתי להתאפק ולהמתין לסוף היצור וליום צילומים. לכן בלילה הכנתי הדמיות ממוחשבות שמיד הפצתי ברשתות חברתיות.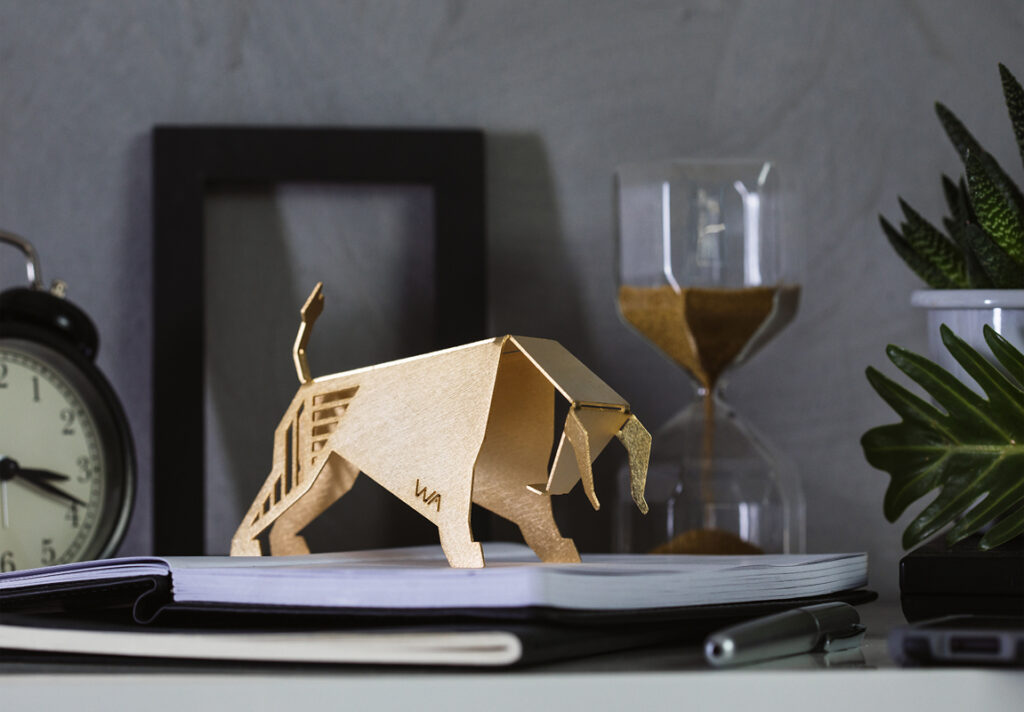 What do you want to achieve with your work and what are your wishes for the future?
I wish myself to continue to enjoy the development process and allow as many people as possible to experience with me the satisfaction of creating a design object from a piece of metal.
אני מאחלת לעצמי להמשיך להנות מתהליכי הפיתוח ולאפשר לכמה שיותר אנשים לחוות יחד איתי את הסיפוק ביצירת אובייקט עיצובי מפיסת מתכת.
Where can we find your work?
האתר של WALLABY : www.shellyagronin.com/shop
חנות ETSYhttps://www.etsy.com/il-en/shop/WallabyByShelly
Instagram: https://www.instagram.com/shelly.agronin/
Facebook: https://www.facebook.com/wallabybyshellyagronin