Photo: Courtesy of Shaina Botzer
Tell us a little bit about yourself and your background.
I am 37, I was born in the US, In Virginia, and made Aliyah at the age of 4 with my family. I was raised in Israel, and I've been married for 14 years to my soulmate David. We began our journey together by establishing an educational agricultural farm, but before that I was a journalist, writer and editor. For me, this was the culmination of my expression of a love of the Hebrew written word which has been guiding me through every stage of my life. I am a potter and a mother to 6 amazing children, which has brought me to a place of deeper understanding regarding my womanhood. This understanding birthed the desire to connect with other women – to help them explore and connect to their own femininity, which is how I became a "FAM"- Fertility Awareness Method consultant. FAM is a vehicle for assisting women with understanding and knowing themselves through their body. The two overlap in my 'feminine' line of ceramic vessels that speak to personal empowerment.
What inspired you to become an artist?
I didn't become an artist, it was really something that was always there and has expressed itself in every period of my life in a different way.
What is your specialty?
I am a potter, and my specialty is creating vessels at the wheel that elevate our everyday moments. My other specialty is words, and I find this art form to be the connection between the two.
How and where do you work?
I have a beautiful studio in a magical, ancient Templar stone house called "The Place of Inspiration" (in Hebrew: haMakom HaHashra'ah) situated in Alonei Abba, in the Lower Galilee in Israel. The ground floor is a sweet coffee shop/gallery, and the upper floor is filled with the studios of exclusively female artists.
What is the most indispensable item in your studio?
My Hebrew letters-stencils, which appear on all my work and are the most beautiful impression that I feel I can give to my ceramics.
Where do you take your inspiration?
I want to create vessels that enable people – through even the most routine and mundane activities of eating and drinking – to connect to themselves and to each other.
Do you do bespoke work?
Yes, if it's an idea I really connect with then I jump in the deep end and we go for it.
What projects are you currently working on?
Pesach(Passover)seder plates. For these special, ceremonial plates I chose to imprint upon them the hymn "Nishmat Kol Chai" (The Soul of Every Living Thing). It describes in all its poetic beauty the happiness and the gratitude of being free – of liberty, the underlying theme of Passover.
What are your favourite items in your current collection?
My coffee mugs for sure – the intention is for them to truly enhance the 'coffee break moments' during your day. I imprint each one with a Hebrew phrase or saying, sometimes a play on words, aimed to really set apart that moment you take a sip. Each mug has a word or a sentence to drink in. Plus, I love coffee!
How do you know when a piece is finished?
When I feel at peace with it.
Which project have you enjoyed working on the most so far?
Everything! If I don't enjoy it, it just doesn't happen.
What do you want to achieve with your work and what are your wishes for the future?
My hope for my work is to connect between the concepts of 'chomer v'ruach/guf v'neshamah' (material & spirit / body& soul) – spirit being represented with the word, the Hebrew words I imprint, and material being represented by the clay. I want to awaken people all over the world to connect to their depth of their selves, simply and subtly through their most routine, daily moments.
Where can we find your work?
@shainabotzerceramics | Shaina Botzer – FB | shainabotz@gmail.com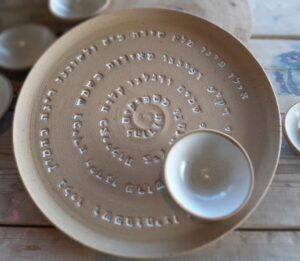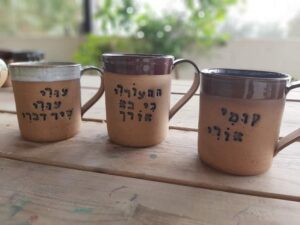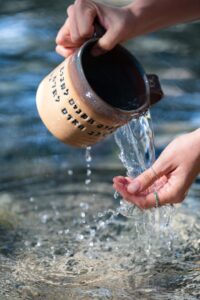 Photos: Courtesy of Shaina Botzer