Photo: Courtesy of Saba Shahriari
Tell us a little bit about yourself and your background.
I was born in Iran into an artistic family. As Baha'is in Iran we faced religious persecutions, and because of that we immigrated to the United States so we could practice our basic human rights, even as simple as access to higher education. I was able to finish my high school and pursue my education in Visual and Performance Art in the University of Texas at Dallas.
What inspired you to become an artist?
In my early childhood I would spend my springs and summers in the streets of Isfahan, a city which is renowned for its architectural and artistic beauty throughout the world. My beautiful home country and its fascinating culture has always inspired me as an artist.
What is your specialty?
I have worked with most mediums, but I would say ink (pen), watercolour and coloured pencils are what I feel most comfortable using.
How and where do you work?
I work in my little studio in my house.
What is the most indispensable item in your studio?
Each artist needs their supplies. For me I would say my sketchbook is the most indispensable since I write down new ideas and practice them before starting the final piece.
Where do you take your inspiration? Are you pursuing any themes?
My faith has a huge role in my art. Also being born and raised in a country where no matter what, women were always looked down on has definitely effected the way I create art as a female artist. I dedicated my Honours Thesis to Sacredness of women's role in society and not being the victims of objectification.
Do you do bespoke work?
Yes, I do!
What projects are you currently working on?
Currently I am working on a series of sketches from the Baha'i Holy places in Israel.
What are your favourite items in your current collection?
My most favourites so far are the Shrine of The Bab on the slopes of Mount Carmel in Haifa, Israel. And the Shrine of Baha'u'llah which is located in Bahji near Akka, Israel.
How do you know when a piece is finished?
Honestly, that could be the hardest part for me. I feel like I can always do more in my art pieces, but I stop once I am the happiest with the results.
What was the first artwork you ever sold?
It was an amazing coloured pencil drawing of Ironman and Robert Downey Jr.
Which project have you enjoyed working on the most so far?
A recent sketch of the Prison Barracks of Akka in Israel. It was a challenging sketch which turned into a great learning opportunity with a beautiful result at the end.
What do you want to achieve with your work and what are your wishes for the future?
Through my artwork I have been establishing the deeper spiritual and emotional connection of the viewer to specific places or figures and I really hope to make that connection even stronger in the future.
Where can we find your work?
You can find me on my art Instagram account @sabaartgallery and on my website. Most of my art pieces will be open to see and available to purchase.
Left: Prison Barracks of Akka in Israel.
Right: Mansion of Bahji, Akka- Israel. This is where Baha'u'llah resided from 1879 until His passing in 1892.
Left: The Shrine of The Bab on the slopes of Mount Carmel in Haifa, Israel.
Right: The Shrine of Baha'u'llah which is located in Bahji near Akka, Israel.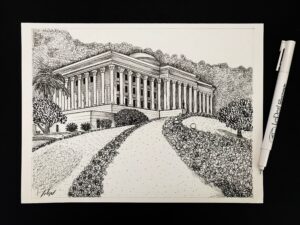 The Seat of the Universal House of Justice – Haifa, Israel.
Photos: Photo: Courtesy of Saba Shahriari