Tell us a little bit about yourself and your background.
Hi! Thank you for inviting me to share my work! My name is Ross Berman. I'm an artist and illustrator and I live with my wife and daughter in Los Angeles. We've made Pico-Robertson home for 23 years. My current project is 'Chai Life Gallery.'
I grew up in a happy, stable home. My parents were visual people: My mother had a pretty rigorous academic art training and my father was a photographer, then he was a manufacturer's rep for the gift trade. I grew up reading the World Book Encyclopedia, and the biographies of the great artists.
We weren't religious or particularly observant: the High Holies, Pesach, and Chanukah. My mother's grandparents came to the USA in the first wave of German immigration, and my father's grandparents from the Pale, by way of Nova Scotia and Portland, Maine. My grandmother had a special lobster recipe, though she wouldn't eat pork.
In the third grade I started going to a Reform Synagogue's religious and Hebrew school. I had no idea what anyone was talking about! I was taught to write in cursive, but not in classical block.
When I became Bar Mitzvah, I decided to keep Saturdays for my self; that became my best time to draw.
What inspired you to become an artist?
Well, I've always been an artist. I was very young when my mother started bringing my sister and me to Boston's Museum of Fine Art, where she had studied. I'm moved by the beauty of the world and by our human responses to pleasure and pain.
For me, being an artist is a way of looking at and being in the world. I know I see things differently than others . . . and I've been blessed with an ability to show others what I see. Artists are 'others', and it's the role of 'the other' to bridge our universes.
What is your specialty?
Right now, I'm deeply involved in my project called Chai Life Gallery. I'm taking the Hebrew word 'Chai' — Life — and using it as a picture's touch point, compositional anchor, abstract element, conceptual framework, integrating factor. As a word, 'Chai' carries folk wisdom and alludes to Everything-There-Is. I can easily see it as an abstract form and I don't get bogged down in it's word-ness. They're all 2D: paintings, drawings, vectors. I'm playing my part in the dynamic conversation we can call 'What is Jewish Art?' I want to create pictures that lift and energize. Isn't that what art is supposed to do?
How and where do you work?
I have a studio in my home and I rent space in a studio where I can work big and get messy. Since I've been making my Chai pictures for these last few years, I have trained myself to see the word 'chai' everywhere — in tree bark, the spaces between the leaves, the lines of a person's face . . . I'm always working, but it's not always work.
Where do you take your inspiration? Are you pursuing any themes?
I have very real experiences of the Presence. With Life as my theme, material is everywhere and I'm well poised to comment about everything! Peoplehood, the Almighty, the Land, vibrations . . .
I'm a long-time member of IKAR, the progressive Jewish community in LA. Between the heartfelt davenning, the music, and the call-to-action for Justice, I come away with a new picture idea at each and every service.
As a young artist, Chaim Potok's My Name is Asher Lev had a profound effect on me, and my aspirations, because it forced me to begin facing how I would live with the Second Commandment, prohibiting graven images. In many ways, my Chai Life Gallery is a response to the dilemma that the novel poses. Can I be authentically Jewish and make art? I've been thinking about this for a very long time.
One afternoon in my late twenties, I was really unhappy with my professional life. I sat down at my kitchen table with my Bar Mitzvah-gifted edition of Tanach and I started making up tunes. For hours I sang randomly chosen Psalms. It was so easy to have contacted the Divine! Years later, I found that working with Chai got me aligned with HaShem.
It's my good fortune that within this past year, I've attended an Immersive at the Jewish Studio Project in Berkeley. JSP is bringing something new to text study — process based art-making. Process arts are different because the product isn't important — it's about the making and the maker — "why did I stop? What's left to be said? What am I avoiding? What else does that bring up?" It's all deeply personal. Beginning with text study, in Chevruta if possible, you respond by making art. I've never been a fan of text study: I was certain I had it all wrong! But this isn't yeshiva, so the study isn't traditionally academic and any meaningful texts can be used. As artists, we take giant leaps and we're typically going for a fully felt Realization. The Jewish Studio Process has opened the doors for me to explore without reservation.
And this year I've also had the privilege of being an Inquiry Fellow in the Institute for Jewish Creativity at American Jewish University. In this program, we studied with great teachers and shared our art practices with each other. I think today's conversation about Jewish Art is probably richer and more interesting than it's ever been. Many artists today are seeking to transcend the tropes in Jewish imagery and create works that transmit the power in our Heritage.
What projects are you currently working on?
I'm always working on a picture! I have over 200 unique sketches that I am currently drawing from. I'm working on an exhibition for autumn '19. I 'm also completing a commission using mixed media, which is a first!
How do you know when a piece is finished?
Generally, it's a feeling where the intention of the piece is fulfilled. Sometimes I need to give myself time to be away from it so I can see it again with fresh eyes. Some pieces never come to rest in that sweet spot, so I start over again. By its nature, process arts denies a need for a piece's completion. It's a very freeing practice.
What are your favourite items in your current collection?
Most recently, I completed a drawing I call 'A Shacharit Chai.' It's a tallis in which the fringes form a Chai. I love it because it's my recording of something that I actually saw during Morning Minyan. It blew my mind!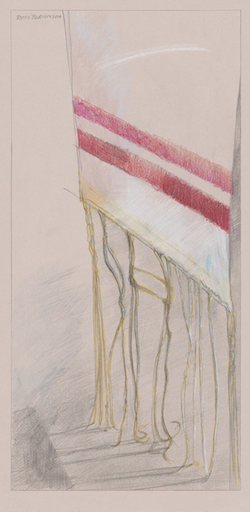 I also love my piece called 'The Map Maker's Chai.' It's a rendition of Earth from space and a Chai is part of the atmosphere. This was inspired by real life! In this case, I had been exploring the consciousness of our dear planet. At some point I experienced something I had never felt before and heard something I had never heard before. I believe I made contact with the living entity we know as Earth. I understood that the planet isn't a bag of rocks and that the planet doesn't end at the edge of the tallest mountain but ends beyond the clouds. We are on a living planet, a consciousness. I also found reason to speculate upon certain beliefs that we Jews may hold. This picture is my attempt to comment about all that ——but there's still more to this! Directly after that experience, I had the chance to tell a crowd of hundreds, and I did! Afterwards, a woman came up and introduced herself to me and told me how meaningful she found my message. We were married a few years later! (Her favourite piece is 'Chai Wave 1.')
Lastly, I have a collection in my gallery I call 'Shtick Chai Collection.' I like a good laugh.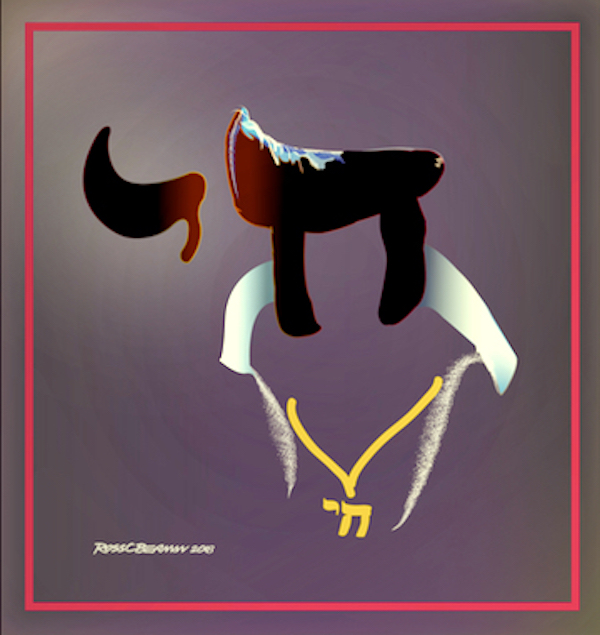 Do you do bespoke work?
I do! A few pieces on my site were commissioned. 'The Rothman Unetaneh Tokef' is a large piece meant to evoke the care that Mark Rothman endeavors in his Life. While it doesn't feature a Chai, it's all about Life. 'A Chai to Welcome New Life' was commissioned to hang in the waiting room of an infertility clinic. The challenge was to create an inspiring image that would keep a family's aspirations intact, while acknowledging the possibility of pain and unknown results. In real life, the picture feels like it's emitting light! I'm also working on one now based on a parable by Louise Hay ('You Can Heal Your Life'). It's not yet complete, but it's turning out to be stunning.
What do you want to achieve with your work and what are your wishes for the future?
I'd like to make work that helps people become stronger, bolder, more resilient, more be-ing. For the future, I wish that we all increase our love for humanity, and to bring more care and compassion into the world.
Where can we find your work?
My website is http://www.ChaiLifeGallery.com
FB: @RossCBerman.Art.Illustration
Insta: @rosscberman
Ross Berman is a proud member of the American Guild of Judaic Art.