Photo: Courtesy of Roslyne Smith
Tell us a little bit about yourself and your background.
My name is Roslyne Smith and I was born and raised in South Africa, where art was always a part of my life. At 5 years old, I began taking art classes and eventually studied graphic design before I pursued my career in the television industry. I moved to the United States in 2001 where I am a wife and mother to three beautiful children.
My work has evolved over the years and encompasses a snapshot in time of an event or experience that is personal to me. For example, my Jewish art was inspired by my recent Momentum trip to Israel last year where I traveled with a group of lovely women from Chicago. We participated in a naming ceremony activity in which women from all over the world could choose their own Hebrew name if they didn't already have one. Whether it was a name that had been passed down from generation to generation or simply a name with a strong spiritual connection, this experience allowed us to feel empowered in our connection to God.
When I came home, I felt immense inspiration to paint these women and identify them with their Hebrew names. I was mesmerized by the women I met in Israel with head coverings – they were so elegant, modest and significant. After painting and selling the first of my series, The Woman of Valor, I decided to paint a new woman every Friday to welcome Shabbat. My goal was to spread light globally, especially with the passing of my father around this time. It was my mitzvah to study Judaism and express myself in order to elevate his soul.
What inspired you to become an artist?
There was never a person, place or thing that inspired my art. Rather I felt a need to create and give others joy through my work. I find peace in problem solving through colors, composition, texture and shading.
What is your specialty?
Making a mess! If I didn't make a mess when I painted a piece, it means nothing was accomplished!
How and where do you work?
I work in my studio which is in the basement of our Chicago home. My favorite way to immerse myself in my art is to spread everything out on the floor. I find jubilation in the deconstructed workplace. Abstract art requires me to walk around the canvas and use my whole body to apply the paint. Whereas, for my Jewish women, I use an easel or table as they are much more delicate.
What is the most indispensable item in your studio?
Paint! I can't do anything without my paint. Working with mixed media, my supplies are crucial to the final product.
Where do you take your inspiration? Are you pursuing any themes?
For my Jewish work, I would like to create new and different paintings for upcoming holidays and Jewish charities. Whereas, for my abstract work, I want to continue to do custom paintings for interior decorators, while also growing and expanding my audience through social media.
What projects are you currently working on?
I'm currently working on a series of abstract acrylic pieces for a local interior decorator in Chicago. Although pink is my favorite color, I am broadening my color palette to incorporate warm fall colors such as browns, greens, greys, bronzes, etc.
What is your favorite item in your current collection?
My favorite item is a portrait of an African lady that I painted in my first year in America. It brought me back to my roots and I was longing to feel at home as I was going through a major transition in my life. I still hold on to her in my basement but now my work is much more bright, colorful and happy.
How do you know when a piece is finished?
This is a difficult question. Especially with abstract work, it's hard to tell when something is complete. I like to add color and texture and turn it upside down – Basically, I know when it's done when I look at it and want to hang it up on my own wall!
What was the first artwork you ever sold?
The first piece of art I sold was A Woman of Valor which was inspired by my Momentum trip to Israel.
Which project have you enjoyed working on the most so far?
I am particularly enjoying the abstract pieces I am working on right now. It is a textural series of juxtaposition full of wild movement and bold colors.
What do you want to achieve with your work and what are your wishes for the future?
The most rewarding aspect of this work is knowing that my art can bring someone joy and peace – that my colors can connect with people and evoke emotions. It is timeless and can be passed down from generation to generation! I really love when my clients share pictures of my work hung up in their home. Nothing makes me happier.
Where can we find your work?
I have a website, Instagram and Facebook account that showcase my work and up-to-date pieces. I also participate in event collaborations, as well, so feel free to connect with me!
If you are located in Chicago, I also have work at The Guild! This store has art, fashion, wellness and home and body products that are all made with sustainable and Fair Trade practices.
https://www.instagram.com/roslynesmithart/
https://www.instagram.com/theshabbatshalomartproject/
https://www.facebook.com/roslyne.leebsmith
https://www.instagram.com/shoptheguild/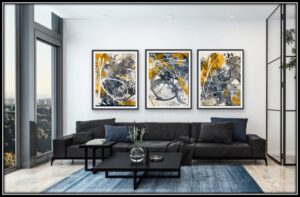 Photos: Courtesy of Roslyne Smith