Tell us a little bit about yourself and your background.
I have been a Wilmington, Delaware resident for my entire life, except for when I went to the University of Delaware (1971-1975) and lived in Newark 15 miles away. I learned about Calligraphy at U of D's Art History program when I took Medieval Art History. That is the moment when I began my Calligraphy path.
What inspired you to become an artist?
I don't think I was ever inspired to be an artist. I just gravitated to it and never looked back…drawing, coloring and painting from the age of three. I was the kid that the other second graders came to when they needed a drawing on a report.
What is your specialty?
Actually? Mind Reading. When a couple comes to me to design a document, I gather information from their body language, their speech patterns, their anecdotes, and mannerisms and respond to these clues with a clearer picture of what their words tell me.
Here is the answer you probably actually wanted. I combine Watercolor and Calligraphy into a complete document. Each document is bespoke starting from blank paper.
How and where do you work?
The Where:
Over the 43 years I've been doing this work, I have done it in a variety of ways. For the first 11 years, I operated out of an in-home studio while my children were young. My husband and I incorporated the business, Living Letters Studio, Inc., in 1988, and spent 9 years at our first storefront. It was a tiny downstairs store, right next to the Art Supply store in town. Living Letters then operated 15 years at a larger commercial space with big windows and poor heating. This was followed by 4 years in a Medical Offices building. In about 2014, we moved the business back home. There is less visibility but also less overhead.
The How:
When I meet with the clients, I typically sketch as we talk. The plan is to have a workable thumbnail by the time I end the first interview. As I begin to flesh out the composition, I will send a rough draft for the client to approve. Once I have their approval, it goes thusly:
If I'm doing a background painting, that goes down first, then the calligraphy, and then any additional artwork and borders. My principal is to let the difficulty of accomplishing any part of the composition lead the choices in ordering the process. In addition, a mistake in a painting may just be a choice. A mistake in the text is inexcusable and must be corrected or redone.
I work at either a slant board or a flat table depending on the type of project. In all cases, I have my supplies right at hand. A myriad of tiny things are necessary to complete projects: Watercolor Paints and Gouache, Brushes, Nibs, Pen Staffs, Oblique Holders, Inks, Tiny jars of Instacoll, PearlEx, Gum Arabic, Ox Gall Liquid, Gold Leaf, and on and on and on. Storing and finding these items is an ongoing challenge.
What is the most indispensable item in your studio?
My excellent Dietz T-Square, the Ames Lettering Guide and a Mars-Stadtler Plastic Eraser.
Where do you take your inspiration?
I take "inspiration" from my clients. I endeavor to read their thoughts and give them exactly what they had in mind, whether they originally knew it or not.
Are you pursuing any themes?
Right now, I'm working on a series that started with a Rainbow theme for my Rabbi that wanted the blessing for seeing a Rainbow. That has now morphed into deep space, sub-atomic particles, particle collisions…and Rainbow details. I don't do a full arc, because that seems cliché, but there's usually a spot of colors in an otherwise almost colorless image.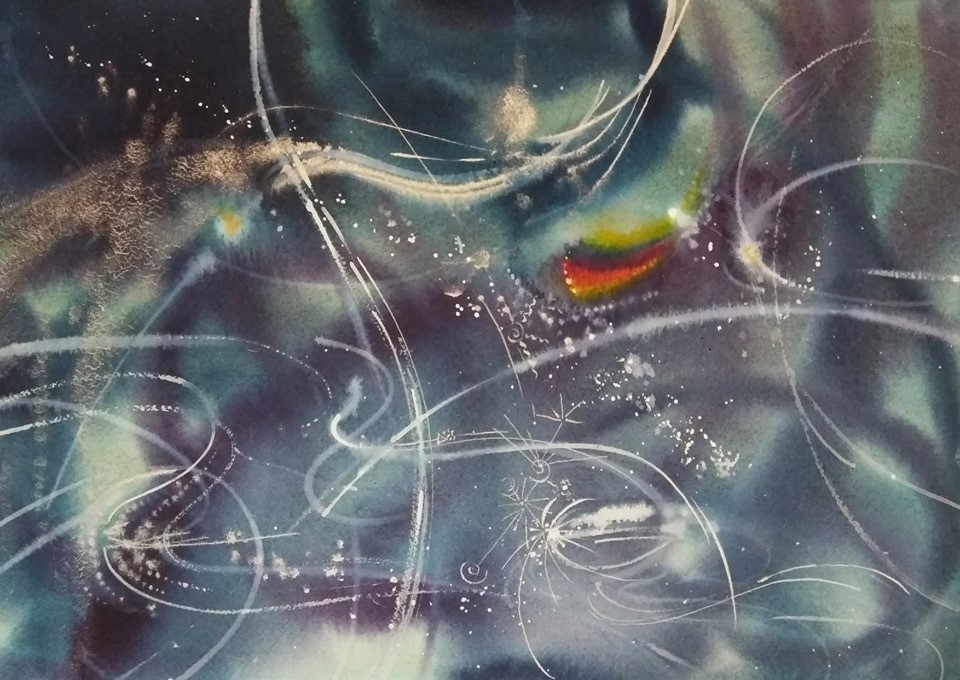 What projects are you currently working on?
Building my Website! I've had this site up for years, but recently realized I could make many improvements.I have made many. I will make many more.
The Store on the Website will be completed soon, but you can already shop there. It's not work I love, but it is satisfying to see it done.
What is your favourite item in your current collection?
"Eve. Bringer of Knowledge."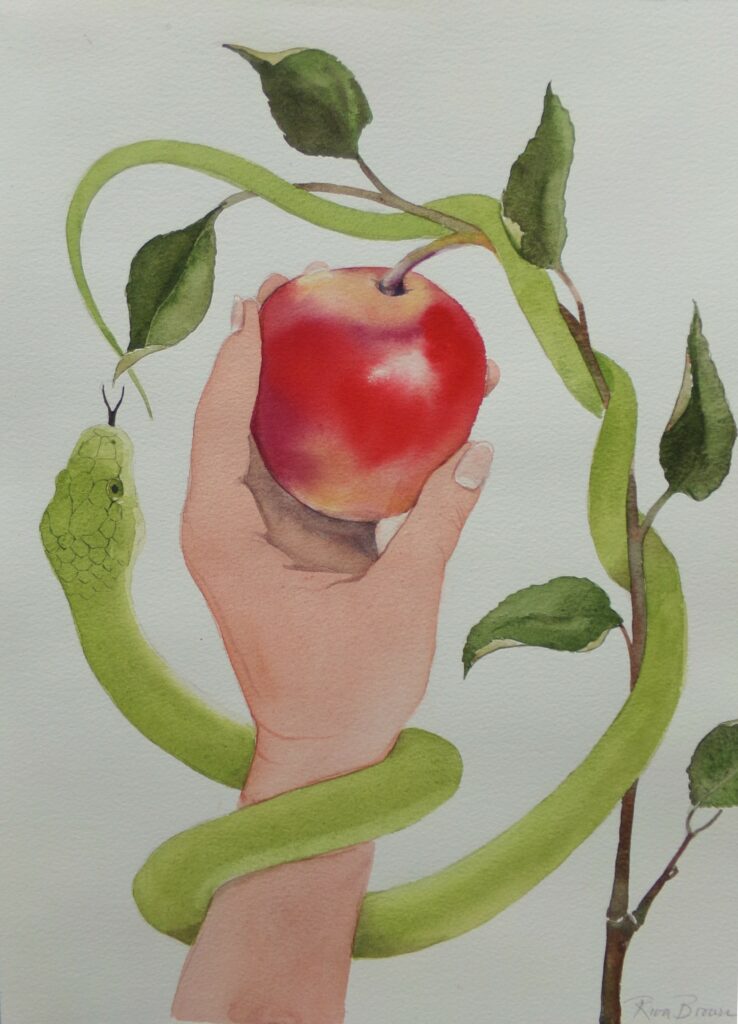 How do you know when a piece is finished?
It's usually obvious because I'm working to a specific goal. The other answer is "when more work will make it different, not better"
Do you do bespoke work?
Almost entirely
What was the first artwork you ever sold?
I believe my earliest commission was when my Great Aunt Gussie (z'l) asked me to make her a dozen cards. Of course, each one was different. Moreover, she paid me! I might have been seven.
My first paying job as a calligrapher was in 1976. I had barely figured out which side of the pen was up.
Which project have you enjoyed working on the most so far?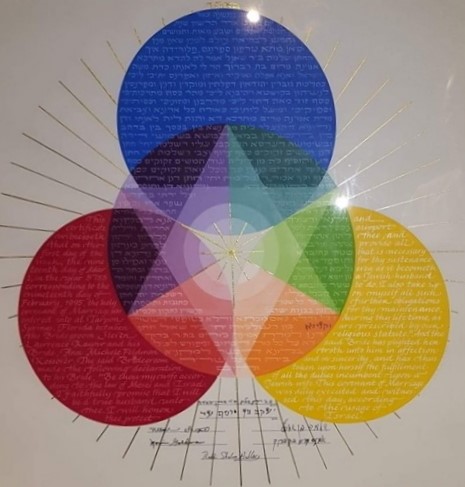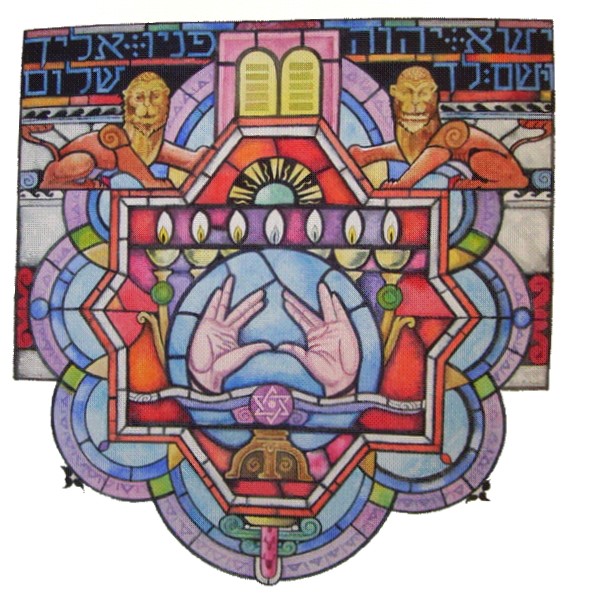 These two pieces are favorites in different way.
What do you want to achieve with your work and what are your wishes for the future?
I want to continue to serve the public with my unique skills. For the future, I will continue to perfect my lettering and watercolor techniques to meet the absolute highest standards.
Where can we find your work?
Instagram: @rivabrowncalligrapher
Facebook: Living Letters Studio or Riva Brown
biz.yelp.com
Living Letters Studi0
e-mail
info@livingletters.biz
302-656-2777
1603 East Latimer Place
Wilmington, Delaware 19805 USA