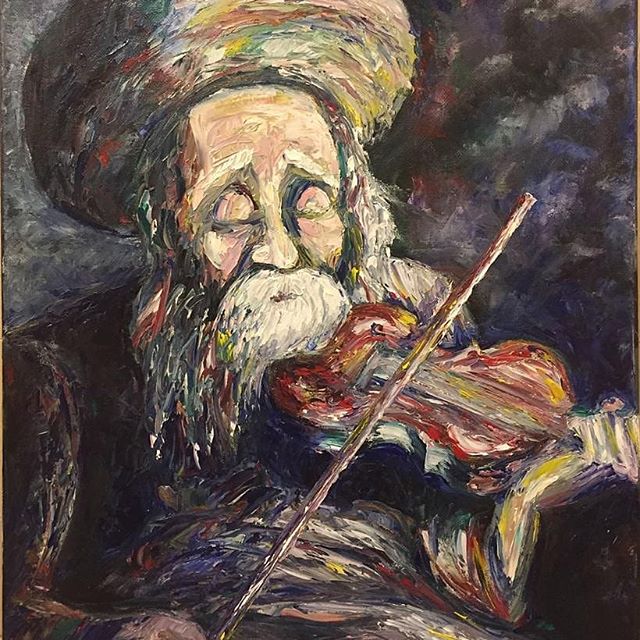 Photo: Courtesy of Ozi Babad
Tell us a little bit about yourself and your background.
I am 28 years old and I am blessed to have a beautiful wife and 3 adorable children, a set of twins included. During the day I work for a designer. I've always loved art and have been drawing as long as I can remember.
What inspired you to become an artist?
Art runs in my family. I guess you could say I have artistic genes. My mother bakes custom pastries, my sister is a graphics artist, and I have a brother who handcrafts custom wood furniture. I've been drawing since a very young age, I still have a box of some of my earliest works, many on the backs of school worksheets, paper plates and paper towels.
What is your specialty?
Since I have been selling professionally, I've been focused on oil paintings of Judaic scenes.
How and where do you work?
I do my best work from home, I have a studio set up in my home which keeps getting more crowded with canvases. I paint mostly at night, if I can't sleep I will go and paint with some music in the background, it really relaxes me. I can lose track of time, and before I know it's 4 in the morning…
What is the most indispensable item in your studio?
Actually, I find that nothing is indispensable. Art can be made from so many different mediums. If I don't have a paintbrush, I can use a palette knife. If I don't have paint, I can use charcoal, or pencils… sometimes having to be creative when lacking the proper supplies creates a real masterpiece.
Where do you take your inspiration? Are you pursuing any themes?
Inspiration is everywhere! My wife once came home from the grocery store with a tissue box. I loved the design on the box and I painted a piece based on the color combination. I often rip an advertisement off of a publication when I like the picture and throw it into my art room to use as inspiration for a future piece.
Do you do bespoke work?
I do custom pieces all of the time, though my favorite works are my own, when I don't need to follow a specific script of set of rules.
What projects are you currently working on?
I am currently working on a painting of the kosel, the Western Wall. I'm going for a reflective, minimalistic look, it's a different look than I am used to creating.
What are your favourite items in your current collection?
That's a tough question, I love so many of my pieces, each has a unique story to tell. Some of my favorites include a recent Har Sinai painting and I like a piece I once made of a Mosaic view of the Kosel. It has a very abstract look at first yet conveys the feeling of actually being at the kosel at night.
How do you know when a piece is finished?
Great question. It's very hard to know when a painting is fully "done". Sometimes I stop a painting in the middle and focus on something else for a bit. When I come back I can sometimes see what was missing and then finish the painting to my liking.
What was the first artwork you ever sold?
Actually, I used to sell sketches in elementary school, the first I can remember was in 7 th grade. I've also been commissioned to make monograms and portraits throughout the years. However, I've only been selling my paintings for the last couple of years.
Which project have you enjoyed working on the most so far?
There was once a painting I was working on and there was a blackout in the middle. I was very involved in it so I lit some candles and continued working. It was a lot of fun and when the lights went back on, thankfully it still looked great.
What do you want to achieve with your work and what are your wishes for the future?
I want to inspire people and tell stories with my artwork. I hope that my paintings will bring out emotions in people and that they will not just be looked at but that will touch people on a deeper level.
Where can we find your work?
@artbyozi Instagram- direct message for inquires
Zohara Art Gallery (732) 338-9697 12 America Ave Unit 4A, Lakewood, NJ 08701
The Print House Gallery 732 364 4254 332 River Ave, Lakewood, NJ 08701 Call for sale inquiries – 732 998 3634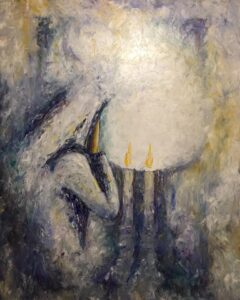 Photos: Courtesy of Ozi Babad