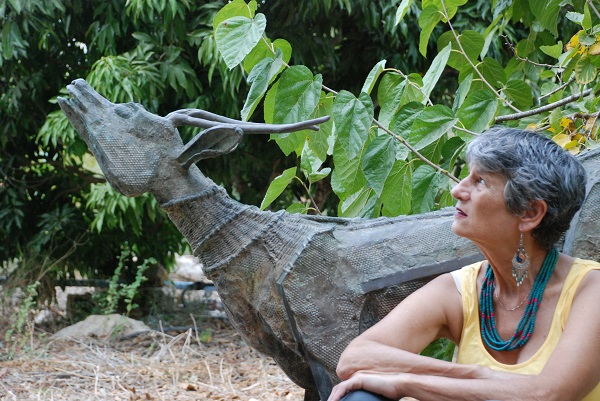 Photo: Courtesy of Or-nah Ran
Tell us a little bit about yourself and your background.
My speciality is environmental sculpturing. ​I have been creating environmental sculptures for 25 years. ​Many of my works can be found inside and around the City of Jerusalem.
​For the past few years, I have grown increasingly passionate about mosaic art. I studied Byzantine mosaic in Ravenna and visited Spielberg's mosaic school and artists' studios.
My education includes a bachelor's degree from the Bezalel Art Academy and an M.A. in Indian Culture at the Hebrew University in Jerusalem.
What inspired you to become an artist?
​I feel like art has chosen me rather than me choosing it.
​When I was a child, I won the first prize in a national painting competition, and my drawings were shown in an exhibition in Jerusalem. I was also inspired by the sculpture garden of Ursula Malbin as well as the sculpture garden of the Israel Museum, which was designed by Nagushi.
In high school, I wanted to study architecture, but I found that it did not meet my need for creativity, so I majored in art at Bezalel, and from that point on I've continued to create in diverse mediums such as environmental sculptures. ​ Having continued to work creatively throughout my life, I feel like I was chosen by art.
What is your specialty?
I distinguish my work by its suitability for the people who apply for it, its location in which it continues to exist, and in the presence of a creative atmosphere.
An environmental sculpture begins with an exploration of the surroundings and their characteristics. Once that is done, I choose what materials to use and how to use them.
In mosaic art, I seek to create meaningful elements.
Many of my works are constructed of many elements, which, at some point, create conflict. When I arrange them, everything always comes together harmoniously at the end.
How and where do you work?
My studio and home are located in Clil, in northern Israel. I create environmental sculptures on site using models developed in my studio.
What is the most indispensable item in your studio?
I value the studio the most. The combination of all the items in my studio allows me to create. Each has a meaning: the stones, the hammer & Hardie, the nipper, the books, the table, etc. All of them allow me to create. As in life, we are all connected and interdependent. Together, we make the whole.
Where do you take your inspiration? Are you pursuing any themes?
I begin my art creation process with exploration: listening, observing, and reading, anything that could contribute to my creative process. It is very important to soften the ego, to feel like a hollow tube, free from fixed opinions. Then to see what emerges. In this way, new and surprising things are reached, beyond the limits of ourselves. As a result, an inspiration for the piece begins to emerge and the story behind it begins to take form. Next, I sit down and start drawing, allowing my hand to guide me. During this process, I still keep an open mind.
Do you do bespoke work?
Absolutely. Most of the works were commissioned with plenty of freedom to create. It was hard for me to create for myself. However, I am getting better.
As an example: A tour guide commissioned me to create a mosaic for her home. I searched for topics and chose the topic "Ways". My choice pleased her and she told me that she has been collecting written passages on this subject for many years and uses them on her guided tours. Of all the passages she sent me, the song by Leah Goldberg caught my attention and became the subject of the work
What projects are you currently working on?
Today I am working on a mosaic depicting the goddess Durga. I first encountered the goddess in my studies of Indian culture. ​I explored a sculpted cave in Aihole, South India, where the goddess appears in large and impressive stone relief. I translated the work into a mosaic. A mythological story describes a god created by all the gods to fight the forces of evil.
The creation of Durga was especially relevant to me since she spoke of the extraordinary unity in the world that we now see in facing the corona epidemic.
​Overall, I am a believer in female leadership's contribution to bringing the elements of love, compassion, and kindness into the world.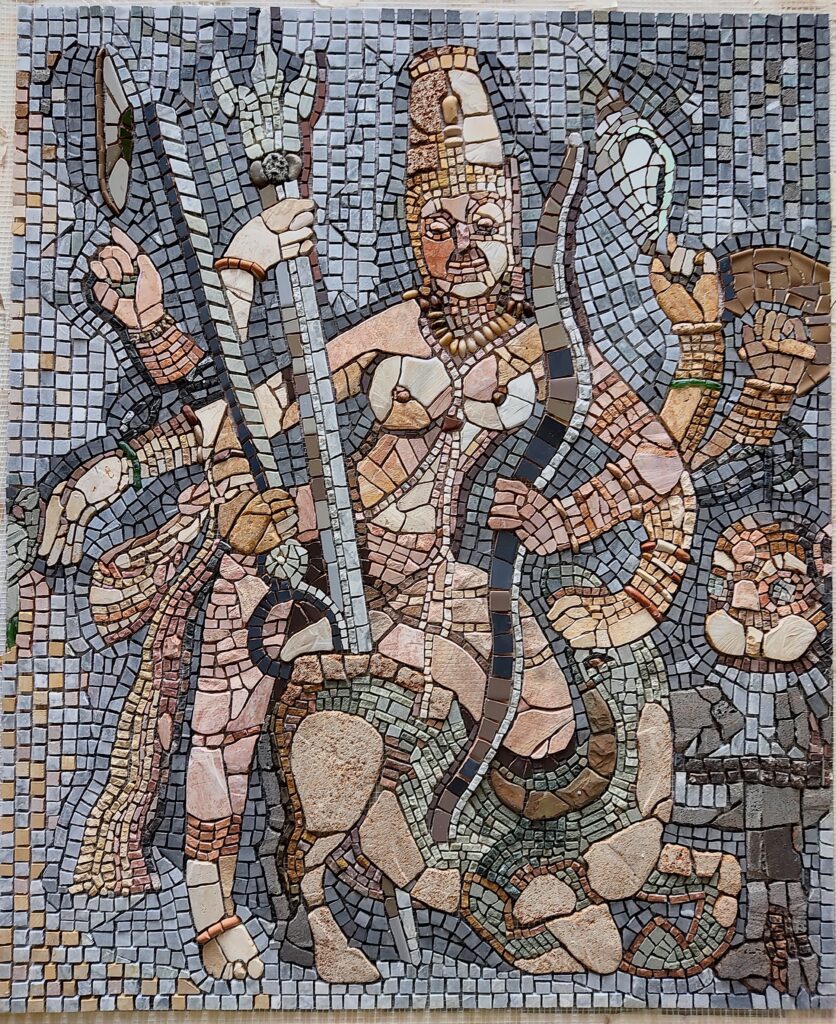 Photo: Courtesy of Or-nah Ran
What is or are your favourite items in your current collection?
Creating the mosaic – she deserves it. The Jewish Agency chose me to be part of a delegation of Jewish artists to Budapest. ​It​​ was the intention of the delegation to gather international artists and develop an exhibition centred on the theme "Home". As a consequence of Covid 19, we did not travel to Budapest and performed the artwork at home.
In my work, I wished to capture the five pregnant women who demonstrated during the Covid 19 pandemic to seek a better home. To protect their unborn babies.
How do you know when a piece is finished?
I often switch between emotion and mind while creating. Along with this, the internal critic does not stop. ​Step by step, I slowly progress, constantly checking where and what needs to be added or subtracted. Eventually, the moment comes when a balance is achieved, when things settle into place, and there is harmony among the bodies, colour, and materials.
What was the first artwork you ever sold?
​My first art works that were commissioned were acquired by the Youth Department of the Israel Museum. ​​
​I created a Spider-Man jumping over the roof of the youth wing. A life-size horse and donkey for an exhibition concerning pets. ​They were very enjoyable for the children, as they were able to ride them.
At the end of the exhibition, the donkey made of concrete was moved to the museum yard and the horse, which was made of epoxy material, was transferred to a school for disabled children on loan. Later on, the donkey won the first prize in a nationwide competition. The prize was the placement of a replica in the garden of an elementary school. ​The reason it won is because of a small pupil girl who saw humor in the animal and convinced the committee that we all are donkeys.
Which project have you enjoyed working on the most so far?
​Two years ago, the Partnership invited me to take part in a delegation to the United States. ​​ ​I suggested that we work in mosaic with ceramic fragments and ​it​ was ​happily accepted.
For several days, three Jewish communities hosted us. In Louisville and Youngstown, I taught mosaic workshops. In Indianapolis, a unique project was planned to create with the community in honor of Israel's Independence Day. The subject was birds.
We decided to create a replica of my designed bird reliefs, made of stone, and placed on a wall in the centre of Jerusalem. The design of the birds remains the same as in Jerusalem but the size has changed depending on the size of the new wall of the cafe in JCC. In addition, the material changed to mosaic on wood. The wooden pallets, ceramics, and materials were shipped from Israel.
The Bird Project in the US was challenging and very interesting and different from everything I have done before. This mission was a turning point in my life.
What do you want to achieve with your work and what are your wishes for the future?
I would be very happy to continue to create.
I would be very happy if my art would gladden the hearts of the people and praise the place where they are.
Where can we find your work?
Photos: Courtesy of Or-nah Ran