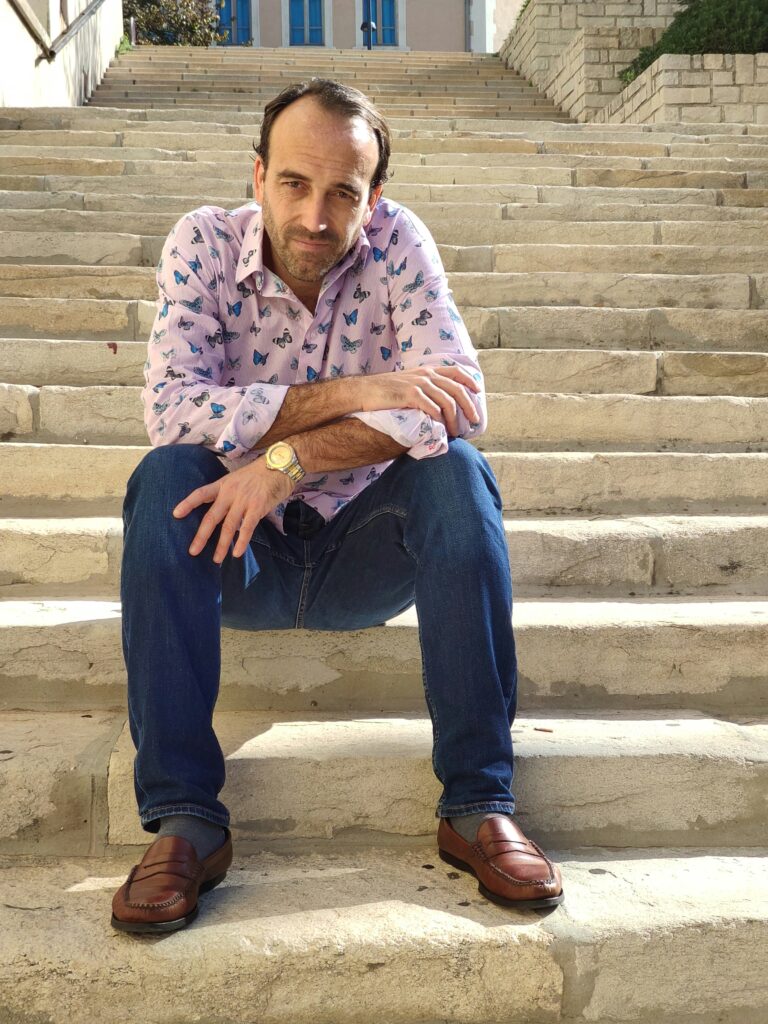 © Nicolas Cadi
Tell us a little bit about yourself and your background.
My name is Nicolas Cadi, I am 41. I was born in Provence (south of France), more specifically the Provence of the Popes that was, back in the middle ages, an independent enclave within the realm of France. The Jews were living in peace; the Church did not persecute them. They served as a control and deicidal people. I grew up in a secular environment, there was a great social and ethnic mix in the schools I studied in … France nowadays, to some extent.
Regarding the question of the roots of my passion for painting… I used to gaze at modern and sometimes more academic works at home or at my uncles' and aunts'. When I was a little child, I was gifted with a gouache kit. Throughout the years, my passion grew fonder.
Unfortunately, I did not have that much time to fulfil my desire. That was a close friend of mine, Stéphane (who graduated from the Fine Arts School of Avignon), who got me back on track on the basis of simple yet effective principles: a precise sketch, an alliance of well-matched colors, letting go with the paintbrushes … thanks, buddy! Since then, I have painted more than a hundred canvases, each one being quite unusual. A self-taught technique that matches my sensibility and my personality. I encourage you to discover my works.
What inspired you to become an artist?
The need to create. Gazing at major works from major masters: Delacroix, Matisse, Modigliani, Soutine.
What is your specialty?
Biblical sceneries along with the compositions I entitle 'mosaics' dealing with Jewish symbols. Tradition is never far from my art. I am currently working on nudes… I do not set myself any boundary… I like this subject. The overall is true to my contemporary figurative style.
How and where do you work?
I work following my instinct. I feel an inextinguishable will to create in the morning or the day before at night. It is impossible for me to work under pressure. The canvas embodies – at the different stages of the creation – a woman. Painting resembles a sexual intercourse. I can tell if I am satisfied only in the end.
I own a workshop in my adoptive city: Marseilles.
What is the most indispensable item in your studio?
Light.
Where do you take your inspiration? Are you pursuing any themes?
Everything happens in my head. I constantly have a A4 sheet of paper and a pen around… when comes the inspiration, I start drawing, often with numerous details. I know right from the start how to come to the point. Then, I refine the draft on the virgin canvas. Afterwards, I put on the main colors of the painting. The rest would follow.
The main topics of my work are Judaism and feminine nudes.
What projects are you currently working on?
I paint naked women bearing generous proportions on large canvases. It brings me well-being and serenity.
What is your favourite item in your current collection?
I carried it out two months ago. I have entitled it 'The Languid Woman' (la femme alangue)… so erotic, so beautiful on her plum and light brown background. Love it. Such an attraction, such an incredible magnetism emerges from it.
How do you know when a piece is finished?
I know what I want right from the beginning. When all the ingredients are there, when the tiny details are designed… the varnish spreads and the canvas comes to life.
Do you do bespoke work?
I had to… I don't like that. I was demanded a theme and colors; I became a craftsman. Yet, I am an artist. I care about my freedom.
What was the first artwork you ever sold?
In 2007, as soon as I took painting up again, I created a very colorful canvas in the workshop of my friend, Stéphane. It dealt with traditional Spanish celebrations. Thrilled, my girlfriend of the time sent it via MMS to her friends. One of them bought it without even having seen it in the flesh.
Which project have you enjoyed working on the most so far?
Judaism and the biblical scenes related to that. All the canvas that stem from it bear a paramount significance to my eyes. Like an offering to the Almighty.
What do you want to achieve with your work and what are your wishes for the future?
I mean to improve myself, unremittingly… I want to keep my inspiration. My dearest wish is to set up an exhibition in a New York gallery.
Where can we find your work?
My website www.artcadie.wix.com/bycadi (website both in French and in English) or… find me on facebook & instagram: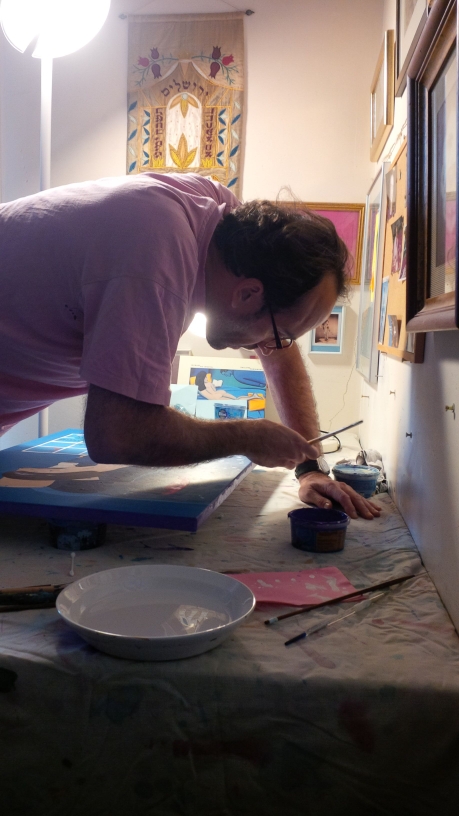 © Nicolas Cadi