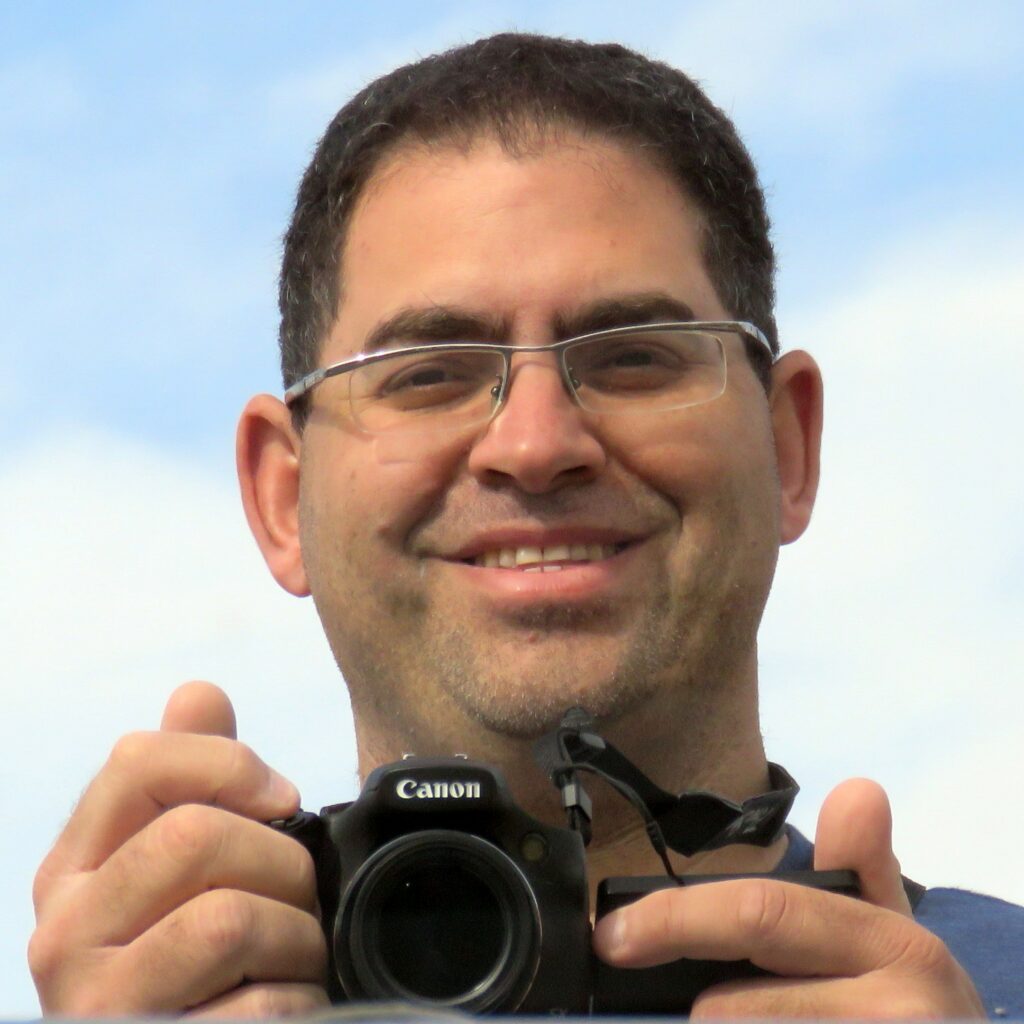 Moti Pinhassi, 46, Married+2 kids+4 cats+1 dog, is (at day) an urban and regional planner (Technion, 2011). Lives in Netanya and works for the municipality in the field of sustainable transportation. Apart from that, he's an artist of panoramic photography.
Tell us a little bit about yourself and your background.
I am an artist, creating hand made panoramas, mostly from the beautiful views of the land of Israel. My artwork is not produced by Photoshop or any other digital means. Rather, it is composed of pictures printed individually that are cut and glued together one by one to form a larger design.
What inspired you to become an artist?
Although I focus on views from the Holy Land, my first panorama was from the roof of the Montparnasse Tower in Paris, 20 years ago, with a film camera. I've seen this magnificent 360 degrees view of whole of Paris, and it is the best view in Paris since you don't see the Montparnasse tower. I decided to take this view home, and since then I continue to do so with the views I see.
What is your specialty?
I specialize in 360-degrees panoramas, so you can see the full skyline / horizon, forming a panorama that you cannot see in reality with your own eyes, except if you're a chameleon.
How and where do you work?
My studio is the dinner table at my home. You can see my work in the video:
First, I scatter the photos on the table, fitting them approximately; then I look for the perfect match and stick the photos together. If needed, I cut some using scissors or a utility knife. From about 100 separate photos I pick 20-40 that will form the panorama.Initially, I work with small 10×15 cm. photos as you can see in the video above; when I get an order for a large panorama that can be even 5 meters wide, I develop the selected photos to a larger size and hand-making the panorama again. Then I laminate it using a special oven, sticking it on a foamcore, and cutting the edges. Now it is ready for display.
What is the most indispensable item in your studio?
Little double-sided stickers by Henzo. I don't know what I'd do without them.
Where do you take your inspiration? Are you pursuing any themes?
I am inspired by beautiful views, that there are a lot of them in Israel. I love to photograph from places that extend from the usual ground, such as towers, piers, or the edges of a cliff.
What projects are you currently working on?
At my last trip to Jerusalem I've climbed a zillion stairs to the top of the Church of the Redeemer's bell tower. It has a great view on the Western Wall, Dome of the Rock, The Horva synagogue, and many of Jerusalem Old City's beautiful buildings. I haven't combined the photos yet to a panorama and anticipating it, I will do it soon enough.
What are your favourite items in your current collection?
I especially love the sunset panoramas from Netanya's beach elevator and Tel Aviv City Hall. I also love the panoramas with blue sea, green nature, yellow desert, dark night… how can I choose?
How do you know when a piece is finished?
I start from the middle and finish a panorama when the edges are complete – enough sky above and land below.
Do you do bespoke work?
Of course! I am very flexible for the clients' requests, if they like to emphasize or to hide certain elements in the view.
What was the first artwork you ever sold?
A lawyer in Netanya has bought the panorama of Island boardwalk in Netanya for her office. She said it makes her a proud Netanyan, and I'm very proud about that!
Which project have you enjoyed working on the most so far?
I've raised a crowdfunding campaign, which succeeded, and I've had a beautiful solo exhibition with large panoramas (2-4 meters wide) and published a book with the beautiful views of Israel. Both have made me very proud.
What do you want to achieve with your work and what are your wishes for the future?
With my art I make panoramas that arouse interest in people watching them, I like to see how people find out the 360 degrees concept – sometimes it surprises them. As for the future, I'm thinking of having another large solo exhibition with even larger panoramas, and perhaps publishing another book with more panoramas.
Where can we find your work?
Website: HolyGlance.com
Instagram: Instagram.com/HolyGlance
Facebook: Facebook.com/HolyGlance
Pinterest: Pinterest.com/HolyGlance
Etsy: HolyGlance.Etsy.com
Buy the book at: Amazon
Download the full book at: HolyGlance.com/book/HolyGlance.pdf