© May-Bell Bareket
Tell us a little bit about yourself and your background.
Shalom, I'm May-Bell Bareket, a Danish Jewish artist, currently based in Copenhagen, Denmark where I was born and where I also grew up. As both my parents are from Israel, I have always felt connected to Israel. During my adult life, I also moved to live there for several years.
What inspired you to become an artist?
Growing up I loved drawing, looking at art and design and being very creative! I never thought about becoming or being an artist until much later in life. After high school I leaned more toward becoming an industrial/product designer and I've also undergone long academic studies in parallel to my rather private artistic life.
Through the years, I kept on experimenting with many different art materials & artistic styles for my own enjoyment. During my time studying Industrial Design I also explored and engaged in anything from classical drawing, croquis, graphic design, illustration & abstract painting, learning from great teachers in the process. I continued to explore a broad range of styles for a long time, which all have played a part in achieving my style that you can see, in my current work today.
What is your specialty?
In 2013 when I was living in Israel, I began drawing my Hamsa Hand artworks! My work is a mix of illustration and painting and the drawings are made using quality Faber-Castell inks incl. silver and gold inks on paper.
My specialty is a graphic and modern take on the Hamsa Hand symbol, mixing my own Scandinavian & Middle-Eastern background. I love creating modern Judaica art, involving the Hebrew Letters, Jewish world symbols, and much more!
I also enjoy pursuing and shaping the elements I've developed stylistically over time such as doves, fish, eyes, eagles, & more. I get creative with these elements in new ways, and play around with them to create other artworks, outside of the Hamsa Hand symbol.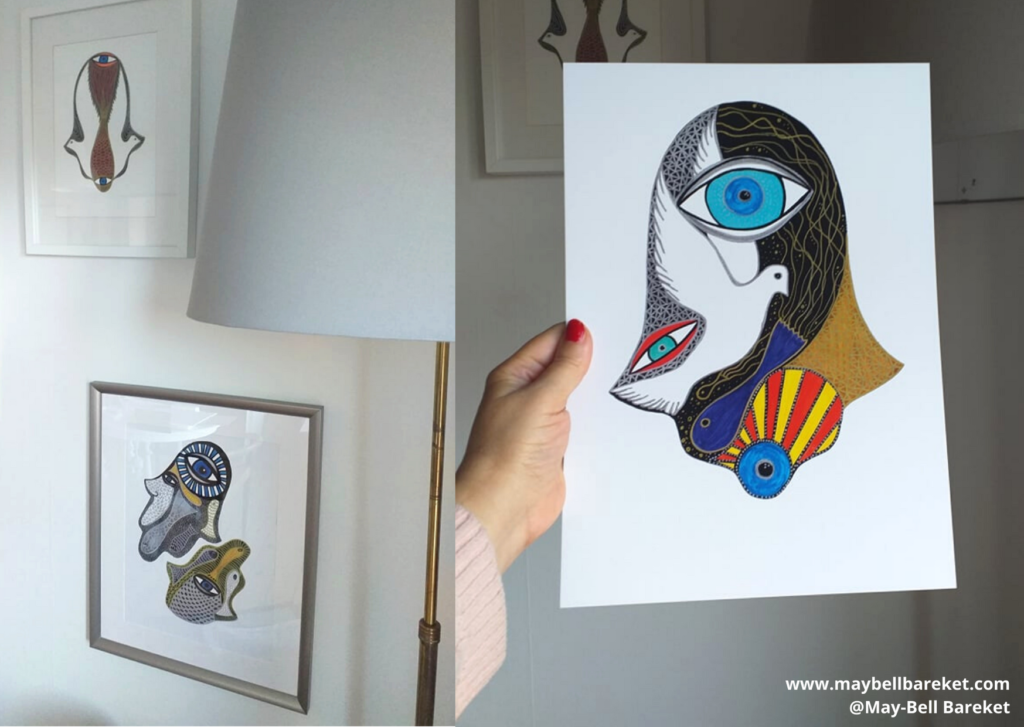 © May-Bell Bareket
How and where do you work?
I try to draw every day– even if it's just for a few minutes in a sketchbook! I like to work in an intuitive way without too many preliminary drawings. Somehow, that works best for me!
I create my drawings in a part of my home that is both my studio and dining room – it's a very cozy and creative space. Sometimes I draw by the desk, other times I like to bring my materials to my living room where I sit on the sofa and draw while I watch a movie! I have a special lap-desk for that purpose! If there is good light and I feel comfortable, then I'm able to draw pretty much anywhere. Ideally, there is also a cat somewhere in those scenarios.
What is the most indispensable item in your studio?
My Faber-Castell ink collection, different art papers and my French press coffee maker (& coffee).
Where do you take your inspiration? Are you pursuing any themes?
I am very much inspired by the world of the Hamsa Hand as well as Jewish symbols and areas of Jewish mysticism, but not limited to that.
In my HAMSA 22 – Hebrew Letter series, I have drawn 22 Hamsa Hand artworks, each containing a letter from the Hebrew Aleph-Bet. To be able to illustrate each artwork in the spirit of each unique letter, I studied the hidden meanings of the letters and I also learned a lot in the process.
On my blog on my website, I decided to write about the symbols that I use in my art and what I've learned along the way. The various themes, meanings and interpretations of the symbols in different cultures, also inspire and fascinate me very much – plus, it's helpful to those who are not so knowledgeable about these symbols, and who may want to explore some of my sources of inspiration.
What projects are you currently working on?
I've been working on some more graphic and geometrically inspired Hamsa Hand artworks and some different new shapes! I'm exploring a few directions, it's an exciting phase where I throw ideas around on paper. I'm also currently working on getting my art exposed to a larger Jewish community as it's very small here in Denmark, and to a wider audience in general, both in and outside of Copenhagen.
What are your favourite items in your current collection?
This is a tough question! There's several I really love. I'm very proud of my HAMSA 22 series as that was a special personal journey artistically as well as spiritual one.
The Hamsa with MEM / M letter was the first one I drew in that series, and then I created each letter-drawing relating to my parents and family members first names. After learning about each letter in the process, I was so absorbed by it, so I decided to continue with the rest of the letters. It was a lot of work, but also a great challenge! I've yet to have an exhibition of the HAMSA 22 series and I'm hoping to set up an exhibition in the new year.
I'm also very happy about my Hamsa: SHALOM Hamsa with MEM letter and big peace dove, in Blue & White. The MEM is not only the first letter of my name, but is the 13th letter in the Hebrew aleph-bet, representing the numerical value of AHAVA (Love). It also represents 'MAYIM' (water) which represents life. The artwork reflects many elements and themes for me; life, love, loyalty, friendship, protection of Israel and wishes for peace.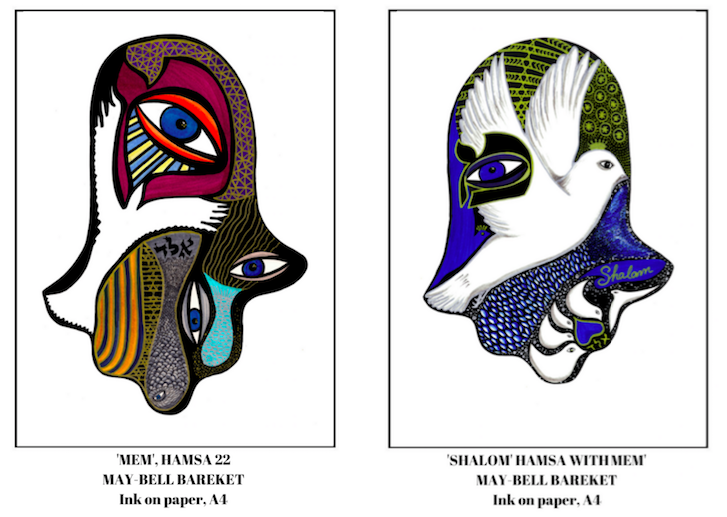 © May-Bell Bareket
I also really love my Pomegranate Hamsa – it made me want to draw more sweet pomegranates and fruits, so that's also something I'm working on.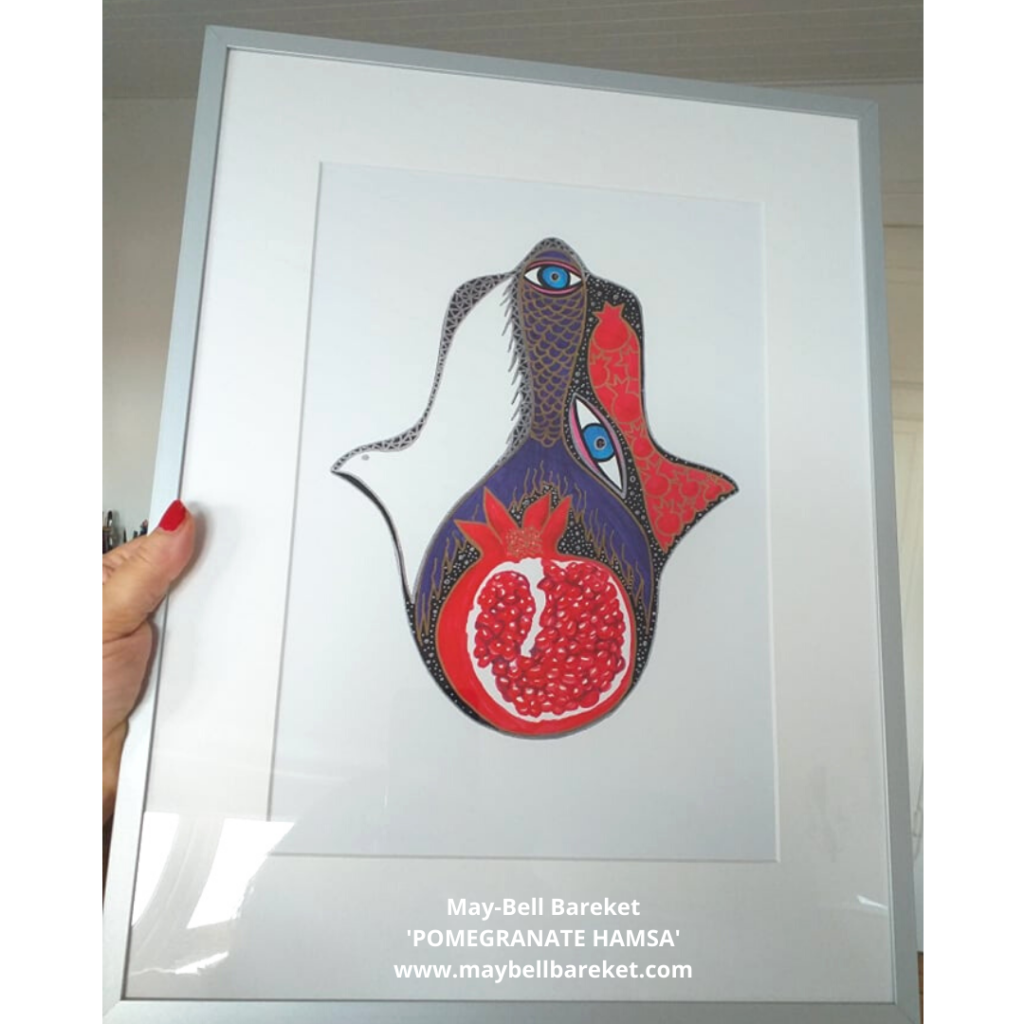 © May-Bell Bareket
My Hamsa 2013 series is naturally special to me, being the first drawings I made in my series, and from that series I love the 'Two Hamsa's' where I used Judaica inspired colours (silver, gold and blues).
From my Hamsa 2014 series I love the 'Lines' Hamsa. It's very calm I think, and it is also a very popular one.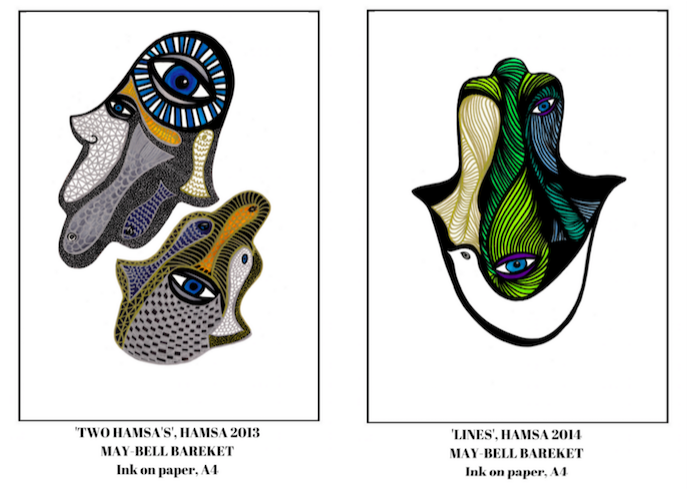 © May-Bell Bareket
How do you know when a piece is finished?
Usually it's when I have a good feeling when I look at it, and when all the elements I've included in the drawing seem to move well together, or when a new connection is created/developed in the drawing that I like. When the drawing just works, looks good to the eye and feels complete – and of course, when I'm happy about the result and want to share it!
Do you do bespoke work?
Sometimes, however it really depends on the contents of the requests and the purpose of the artwork. I prefer to work without too many imposed constraints or with a 'check-list'. I'm not creating a logo but an artwork, and I need pretty much 100% creative freedom for that.
What was the first artwork you ever sold?
Many years ago, I made some small paintings, and they were hanging in a local shop in Copenhagen. If they were sold I would get a certain amount paid. It wasn't much and it wasn't in my current artistic style. One day I was told by the seller that one had been bought by a man, an architect, as a gift for his wife, and well, I was very proud that day!
Which project have you enjoyed working on the most so far?
My first 14 Hamsa Hand drawings were highly enjoyable! It was really a time of new beginnings and artistic discovery. I wanted to create one Hamsa Hand artwork for my home at the time, but then one drawing turned into two, and two turned to three, and before I knew it I was showing the first 14 drawings, in an exhibition in Tel Aviv!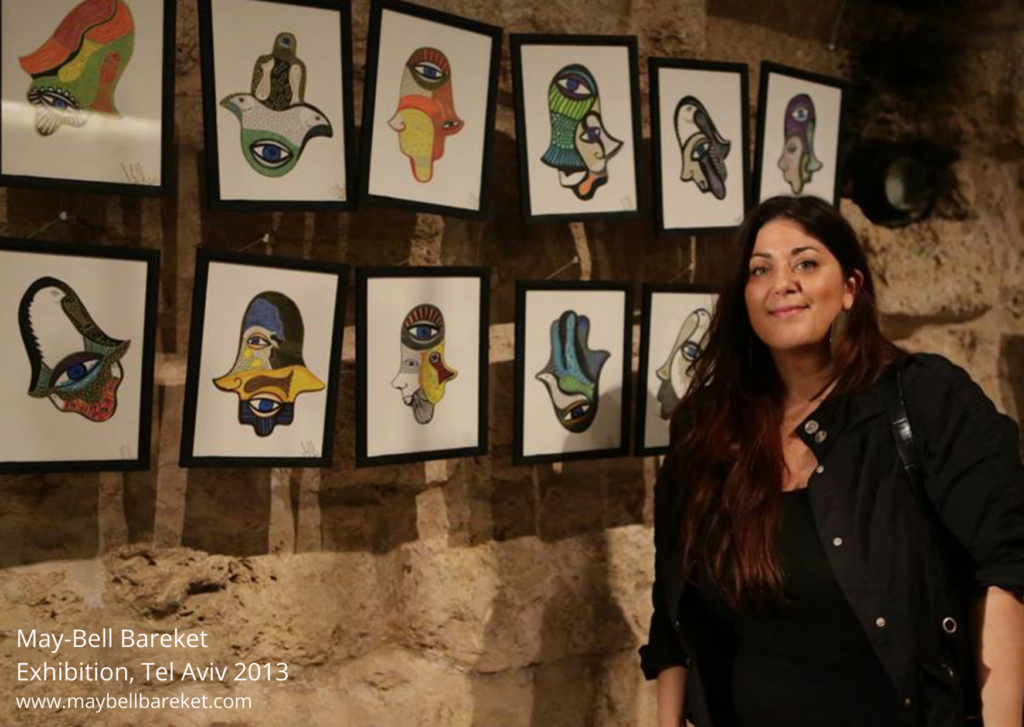 © May-Bell Bareket
What do you want to achieve with your work and what are your wishes for the future?
Creating my artworks provides me with personal meaning, enjoyment and a sense of fulfilment. My wish for the future is that I'll never run out of the creative impulse, well in to old age. It's good for the mind and soul to have an artistic outlet.
As a bonus, I hope that my artworks will continue to inspire others and that it creates meaningful connections for those that bring my art into their homes.
I find a sense of happiness and achievement in knowing that my work creates meaning or joy for people, and this inspires me to keep offering my art.
Where can we find your work?
You're welcome to read and see more about my work here, and you're also welcome to write to me if you have questions – either through my website or social media, or via e-mail: [email protected]
Website: www.maybellbareket.com
Etsy Shop: www.etsy.com/dk-en/shop/haamsa
I offer beautiful art prints of my artwork as well as greeting cards in my shop – and I ship worldwide.
Facebook Page: www.facebook.com/maybellbareketart
Instagram: www.instagram.com/maybellbareketartist
Pinterest: www.pinterest.dk/maybellArt/hamsa-hand-symbol-art-may-bell-bareket-artist/
On my website, you can also sign up to my newsletter and read my articles on my blog!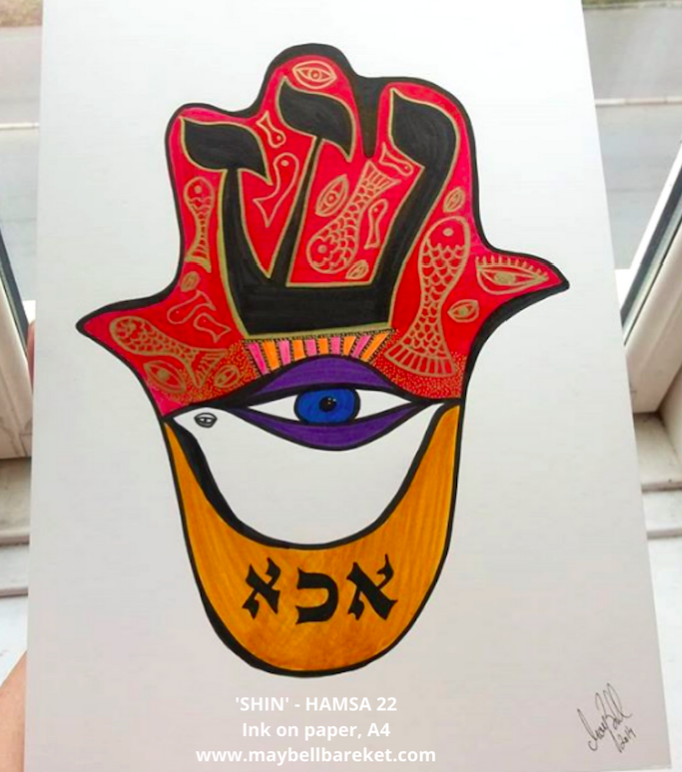 © May-Bell Bareket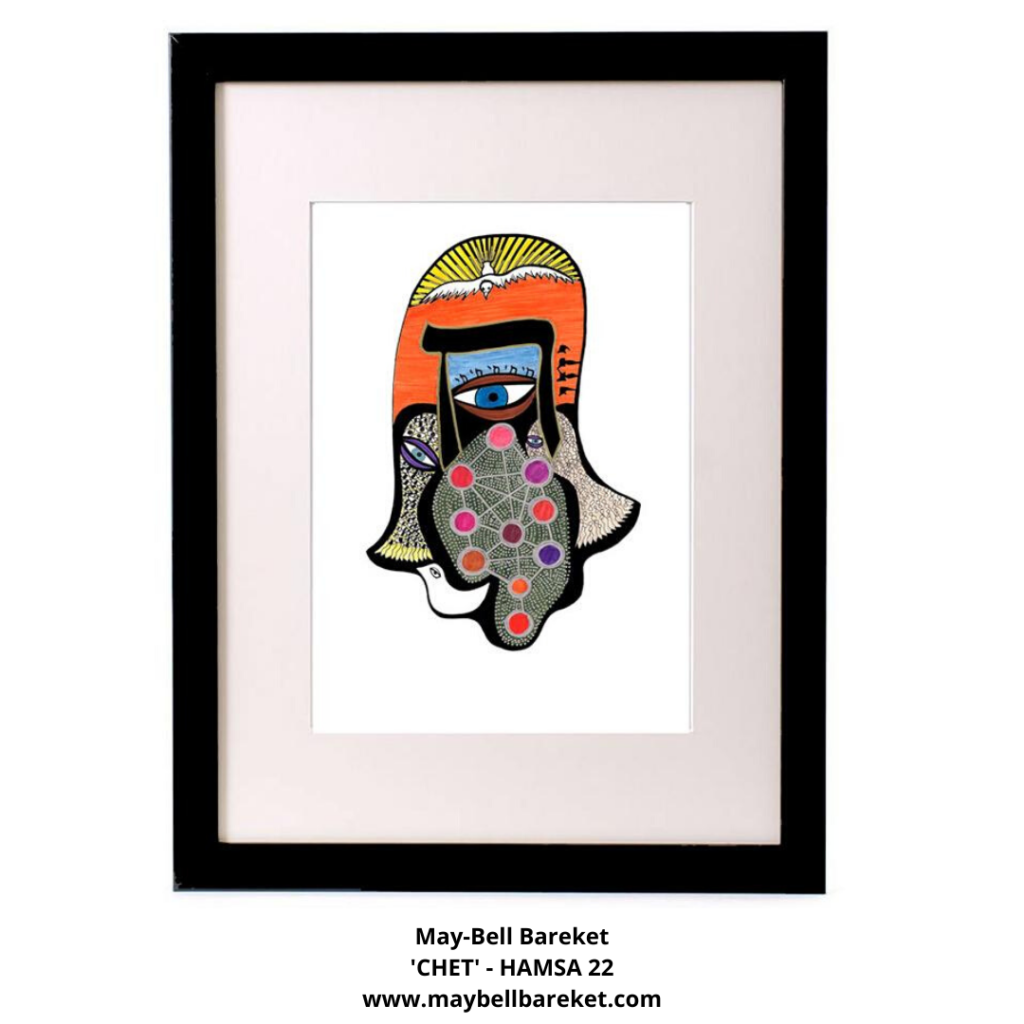 © May-Bell Bareket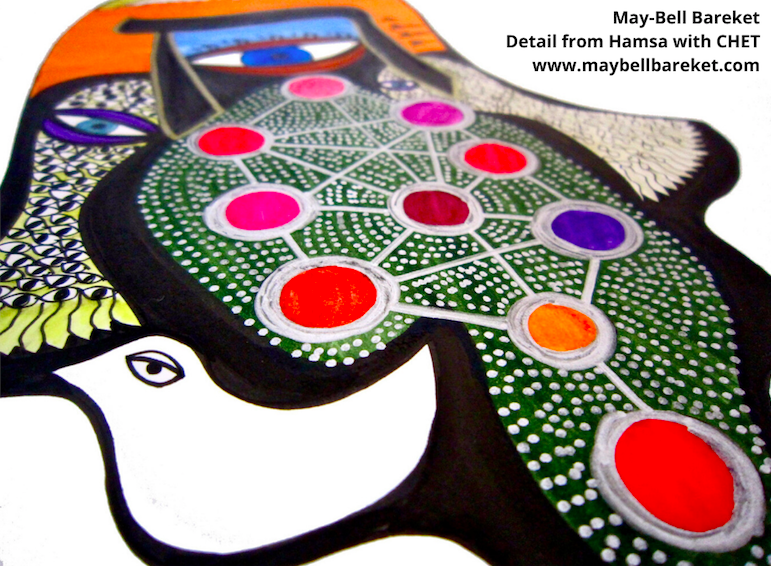 © May-Bell Bareket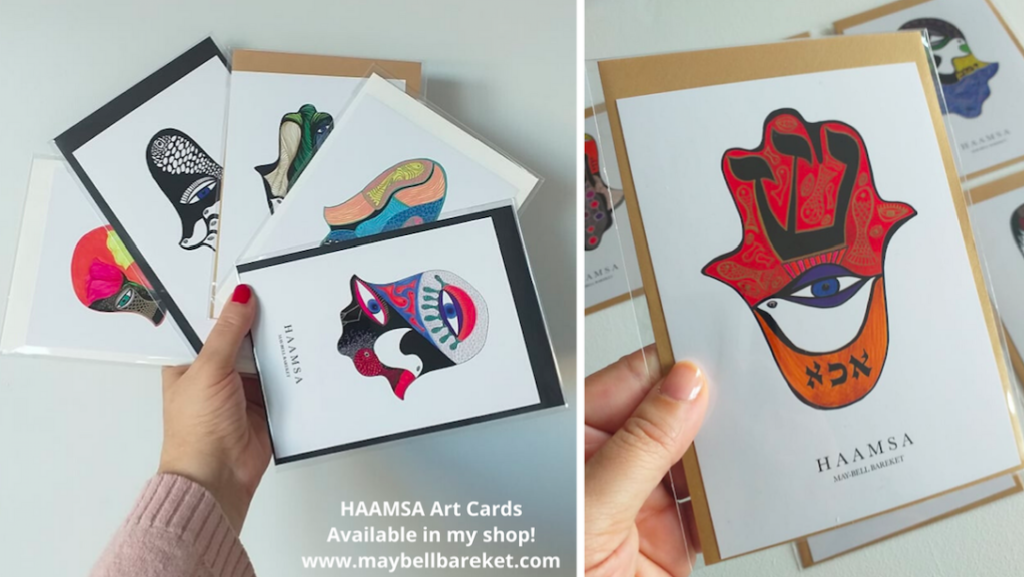 © May-Bell Bareket