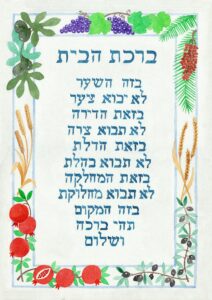 Photo: Courtesy of Mario Camerini
Tell us a little bit about yourself and your background.
My name is Mario Camerini, 67 years old; I'm an Italian Jew, not Ashkenazi nor Sephardic, but a proud Italian Jew. Born in Brazil, as my family moved there in 1939 due to the racial laws in Italy. We came back to Italy in 1962, where I studied and grew up.
What inspired you to become an artist?
My father was a painter before working in advertising agencies, and he drew very well. That probably influenced me. Since I was a kid, I drew well. I also studied art in Brera (Milan) and graphics in Lugano (Switzerland)
What is your specialty?
Drawing in black and white, I'm colourblind, but also in colour with a little help from my son, who works with me and has an amazing ability with colours.
How and where do you work?
I work in my studio in Milan, it's a little shop with one window to the street.
What is the most indispensable item in your studio?
My hands, a pencil and professional materials (paper, pens, watercolours).
Where do you take your inspiration? Are you pursuing any themes?
In this period, I am very interested in Jewish history and Judaica in general
Do you do bespoke work?
Yes, a lot.
What projects are you currently working on?
I'm working on different projects: a graphic novel about the history of Mount Moriah (Jerusalem), another one on a book by Jiri Langer, The nine gates, a beautiful history about Chassidim in Poland in the beginning of XX century, and a series of illustrated charts (50x70cm.) , about the history of the Jews in the world, from Abraham to today for kids from the ages of 10 to 18, and many Judaica items.
What are your favourite items in your current collection?
Judaica and graphic novels.
How do you know when a piece is finished?
When it looks complete to me.
What was the first artwork you ever sold?
A record cover when I was 16 years old.
Which project have you enjoyed working on the most so far?
"Judei de urbe", the history of the Jews of Roma (graphic novel).
What do you want to achieve with your work and what are your wishes for the future?
I think the best achievement is that sense of warmness when people likes my work. My wishes for the future are to keep working and maintaining good eyesight and hands agility.
Where can we find your work?
My site : www.mariocamerini.it
Instagram: camerinimario, cameriniandsons
Facebook: mario camerini
And Jud.art: