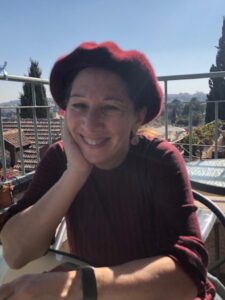 Photo: Courtesy of Liane Wakabayashi
Tell us a little bit about yourself and your background.
I was born in Montreal, raised and educated in the New York City area (Queens and Great Neck), graduated with a BA in Art History from UMass Amherst, received an MFA in Arts Administration from Columbia University, and dreamed of becoming a journalist. While at Columbia, in the planning of a research trip to Tokyo, I came across a little- known phenomenon in Japan—blockbuster art exhibitions in department stores. This led to years of research, two trips on magazine assignment to Japan, and falling in love with Tokyo to the extent that it became my home for the next thirty years, 1987-2017. Tokyo is where I met my (ex) husband, where we created a family, and raised our two children with help and inspiration from two Chabad Houses.
What inspired you to become an artist?
In high school I ran the art club and decided that with so much talent in the room, I definitely didn't have what it took, but that I would love to write about artists who had the oomph, the spark, and the confidence—things that I thought I didn't have. But in my mid-thirties, struggling with infertility, my ex, who was a practitioner of Eastern medicine and a popular lecturer in Japan, introduced art into his workshops. On the premise was that "seeing is believing," we drew what we wanted to see happen in our lives. Drawing myself fully pregnant turned on a switch in me. Seeing in art helped me believe that it could happen. Not long after, in 1996, at the age of 37 I became pregnant for the first time. I was ecstatic, and also a bit perplexed. I thought to myself, why with my art history background, with New York City's greatest museums as my stomping ground, with all the art history classes I've ever taken, and all the masterpiece signage and labels I've ever read, hasn't anyone ever discussed the spiritual power that is unleashed when our highest intentions are expressed through the art we make. To me, this was it! The power of art was not something gifted on the viewer but changed the interior life and spiritual understanding of the artist herself or his self. I wanted to know more.
There's an innocence too that I was experiencing that I wanted to know more about. When we draw without art school training, we become like children. When we were young, we could believe we were all powerful and create worlds through our imagination. Now at 37, I drew picture after picture, showing them to nobody but my family in Japan and my mother back in New York. Meanwhile I continued to publish articles for newspapers and magazines based in Japan. My mother could be quite the critic when she read my published articles, pointing out my mixed metaphors or malapropisms. But when it came to my art, she went into raptures. I knew I had to be onto something when she said after a few years of creating intuitive art with brightly colored pastels or paints that I ought to have an exhibit. And so, I did.
What is your specialty?
Since the year 2000 I've been teaching artists of all ages, backgrounds and levels of experience to draw from inspiration. This led to founding Genesis Art Workshops, training artists in intuitive techniques that lead to creative breakthroughs and experiencing the connection between self-love and beautiful art. In 2008, 44 of my paintings and drawings were made into a deck of cards. These Genesis Cards are a creativity tool that works on a method that I learned in art history—juxtaposition of two random images—and then looking for connections. It's in our DNA I think to find connections in our daily lives, whether its meeting someone new for the first time or looking at two dissimilar objects—a horse and a coach, for instance. A healthy, happy heart will gravitate toward seeing the connection. And over the years, I found that seeking connections worked to restore balance, and help people who are stuck or confused about their lives. I think what surprises people when they use the Genesis Cards for the first time while drawing is that they see synchronicities that feel miraculous. Who could imagine that a man wearing a King Street t-shirt would come to the studio for the first time and randomly choose the King Card? When these sorts of things happen, people tend to treat their intuition and their art with more awe and respect. They also want to find out how this works. And why.
How and where do you work?
I made aliya in 2017 and now I live and work from my home in the Baka area of Jerusalem. Until Covid happened, I traveled back to Japan to give workshops twice a year. Hopefully that will be possible again in 2021.
What is the most indispensable item in your studio?
The 44 Genesis Cards! They're used to inspire themes and colors, align with the positive outlook of hope and gratitude expressed in each card, and amplify unconscious thoughts, There's also a Genesis Art Card App in the works, which is due to go live soon.
Where do you take your inspiration? Are you pursuing any themes?
I'm inspired by Torah— and the mind-blowing concept from Bereishit that from our thoughts and the power of our speech we create everything. That's why its so important to have quality thoughts, think good and speak kindly. In Genesis art workshops, you can see these principles in operation-how kindness, encouragement and generous praise create miraculously beautiful art even in hard times.
Do you do bespoke work?
My customers and my community are Jerusalem lovers. Currently two of my paintings depicting the historic windmill of Yemin Moshe, which I was lucky to see outside my window for the past three years, are now on exhibition at Mayor Moshe Lion's office in Safra Square as part of a juried exhibition celebrating the diversity of beautiful and historic sites in Jerusalem.
What projects are you currently working on?
My next project will be working with a filmmaker to document the 12 lessons in the Genesis Art Foundation Course and make them available online. I offer annually an 8-month intensive Genesis Art Teacher Training course for artists and those with educational, psychological and other therapeutic backgrounds who have experienced the impact of Genesis Art on their lives and want to share the power of creating with the Genesis Cards. In these years of running Genesis Art Workshops, I've continued to write and publish and starting in mid-October Chabad.org will run excerpts from my forthcoming memoir about the trials and the joys of creating a Jewish family in Japan.
What is your favourite item in your current collection?
That's a hard question! The favorite of the month is a painting called Angel Convention that I painted more than ten years ago in Tokyo. It wasn't until I got to Jerusalem that I saw all these goats popping up in the windows of art galleries and thinking to myself who is this artist, Kadishman, and why is he so obsessed with goats? A few weeks ago, an insurance appraiser came to assess my art and he sniffed when he saw the Angel Convention painting. Oh, it's a knockoff of a Kadishman, he said dismissively. I just chuckled. This is what happens in intuitive art. You tap into collective consciousness and draw and paint things that already exist or will exist in far corners of the world that you have absolutely no way of knowing about.
How do you know when a piece is finished?
I've painted to excess enough times to learn restraint and to stop myself the minute my heart skips a beat.
What was the first artwork you ever sold?
I had an exhibition in 2007 at the Tokyo American Club just a few months before the Genesis Cards were published. The originals for the deck were on display but it's my wish that my children have them, and so they will remain in my collection. What sold were two drawings that referred back to a lotus pattern found on the Genesis Cards.
Which project have you enjoyed working on the most so far?
I really enjoyed creating an App with a developer in the UK. It's a bit like working with a genie. I tell him to make the Genesis Cards flip over and expand at the touch of a finger and he makes it happen.
What do you want to achieve with your work and what are your wishes for the future?
In these times when we're all at home way more than we are used to, or want to be, enmeshed with people we love but don't necessarily like their lockdown habits, having a tool like Genesis Art to create warm conversations and peaceful togetherness time can really help. My wish is to spread Genesis Art to every corner of the world both by offering the online App, Zoom and downloadable courses, and by highly training teachers who can work with their communities in their native languages and with the cultural sensitivity that comes from being an insider.
Where can we find your work?
http://www.genesiscards.com to learn more about the Genesis Cards, taking classes, and joining our worldwide community
http://www.lianewakabayashi.com for writing activities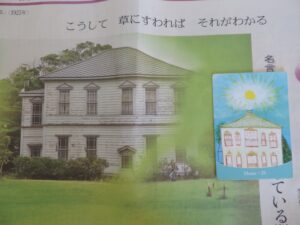 Photos: Courtesy of Liane Wakabayashi