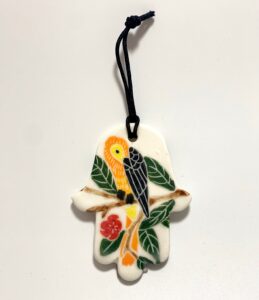 Photo: Courtesy of Leah Goodstein
Tell us a little bit about yourself and your background.
My path to becoming a potter has not been straightforward. My bachelor's degrees are in French Horn music performance and Environmental Geography. After graduating, I was drawn to scientific research which required me to further my education in biology, scientific methods, and my husband and I moved to Anchorage, Alaska for this education. While taking biology credits, I started taking wheel thrown ceramics as a counterbalance to my rigorous science course load. I started my career in cancer research in Israel, where we lived for a year while my husband matriculated his first year of Rabbinical School. I continued my career in Los Angeles for five years and in 2017, I moved back to Anchorage and started making ceramics again. I have been creating ceramics full time since 2019.
What inspired you to become an artist?
I have always loved working with my hands and being creative. What drew me to science was the complicated lab work and protocols. When my family moved back to Anchorage, I no longer needed to be the sole provider for my family, and I began working with ceramics as a way to exercise my creativity.  I found ceramics to be meaningful and exciting work and the more I pushed myself, the more I liked my work and wanted to pursue it further and in 2019 I decided to make ceramics full time. 
What is your specialty?
My specialty is working with underglazes to carve and paint my images onto handmade porcelain pieces. Perhaps it is the scientist in me, but I love experimenting with colors and I do extensive testing to make sure my vision is properly transferred to the piece.
How and where do you work?
Last summer I converted my garage into my studio and now working in my studio is a breeze. The only downside is that we have to park our cars outside and Alaska gets quite cold and snowy.
What is the most indispensable item in your studio space?
My underglazes, they are what makes my work what it is. I very specifically select and test underglazes to quality control my work.
Where do you take your inspiration? Are you pursuing any themes?
I am eternally inspired by nature. I have always loved being in nature, gardening, I grow orchids as a hobby, and find myself best able to recharge hiking or skiing surrounded by wilderness, which of course is easy living in Alaska. I found birds as a natural opportunity to explore color and texture and they pair perfectly with brightly colored fruit, flowers, and branches. I was also inspired from my time living in Jerusalem. Much of the greens and vibrant colors I use comes from warm memories of walking in parks and hiking in the wilderness there.
Do you do bespoke work?
I do, but so far, those projects have only been for close friends; however, I am open to more.
What projects are you currently working on?
I am currently working to make as many Seder plates as possible ahead of this upcoming Passover. The projects I make in between Seder plates are the rest of my ceramic line including, mugs, different sized serving pieces, challah platters, kiddush cups, and hamsas.
What are your favourite items in your current collection?
I am in love with my blue bird and pomegranate Seder plates, I love the contrast of strong colors and the wonderful symbol of the pomegranate.
How do you know when a piece is finished?
I know my piece is finished when it comes out of the kiln after a glaze firing. I do all my hard work painting and carving the piece while it is still somewhat wet clay, so once I cover it in glaze and fire it, then I can only hope it comes out as expected.
What was the first artwork you ever sold?
The first ceramic piece I ever sold was at a sale put on at the end of each semester of the ceramics classes I took at my local university. I don't remember the exact piece, but it was made of stoneware and was probably glazed blue, that was my favorite back then.
Which project have you enjoyed working on the most so far?
Large complicated seder plates, they are an excellent opportunity to put as much decoration as possible, which is what I love to do. The more color I can add to the piece the more I like it.
What do you want to achieve with your work and what are your wishes for the future?
I hope to be the first of many artists making Judaica that incorporate traditional elements along with egalitarian symbols to help expand Judaica. I want people to see representation of their modern values in Judaica whether that be egalitarianism, feminism, inclusivity, and LGBTQ+. I am extremely proud to feature an LGBTQ+ Inclusive Seder plate to boldly proclaim that all Jews have a place at the seder. In addition to symbolically representing egalitarian values, I also make seder plates that are completely outside of normal design and symbology. I believe that this art form does not have to be constrained to strictly traditional symbols either.
Where can we find your work?
goodsteinceramics.com, IG @leah_goodstein, FB @goodsteinceramics, goodsteinceramics@gmail.com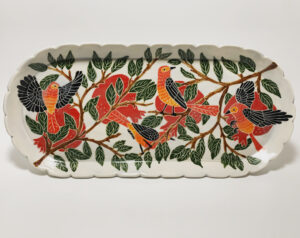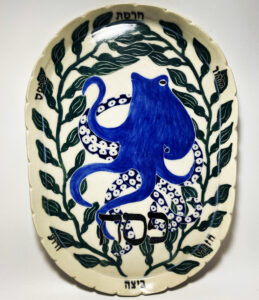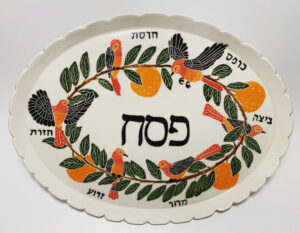 Photos: Courtesy of Leah Goodstein